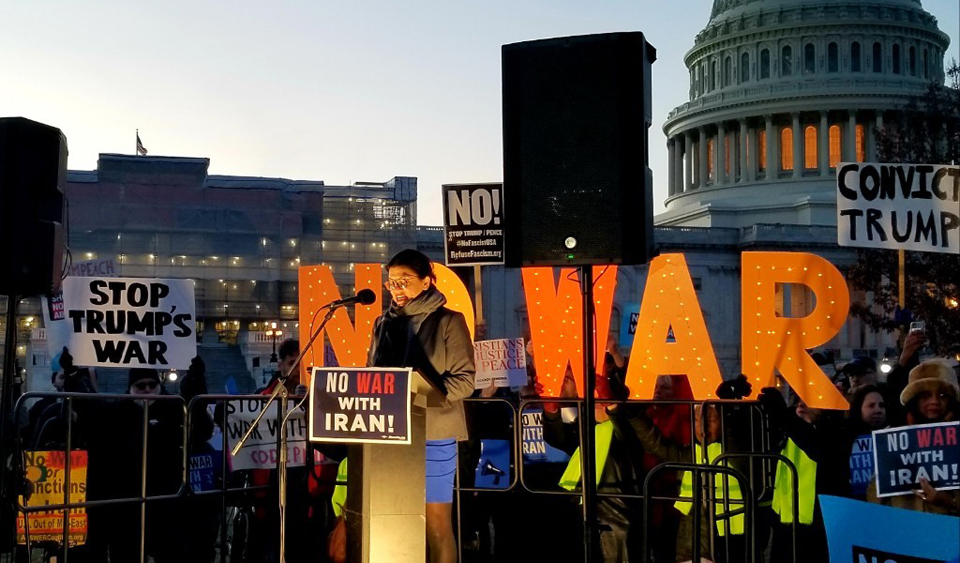 WASHINGTON—By a 224-194 vote, the U.S. House heeded mass anti-war sentiment and invoked the War Powers Act to stop GOP President Donald Trump's escalation against Iran.
Eight Democrats voted with Trump, while 220 voted against his war on Iran. So did three Republicans. The 186 others stuck with Trump. Independent Justin Amash of Michigan switched in mid-roll call from for Trump to anti-Trump.
The war powers measure, House Joint Resolution 83, now goes to the Republican-run Senate, which may vote on it within 10 days, Sen. Jeff Merkley, D-Ore., told a rally of approximately 1,000 people as dusk fell over the U.S. Capitol lawn, just as the House vote began.
"How about this?" he asked the crowd. "No war with Iran. Not now. Not during this presidency. Not during the next presidency. Not ever."
Chances are good that the Senate will also approve the measure, with several Republicans in that body already indicating support.
Other controls on Trump may follow, as the House's Democratic leaders promised votes, possibly as soon as next week, on measures to cut off all military money for any offensive action against Iran, and to repeal the 2001 and 2002 "use of force" authorizations Trump – and his predecessors – use to justify their war moves.
"Mankind must put an end to war, or war will put an end to mankind," Rep. Ilhan Omar, DFL-Minn., told the crowd before going in to vote. She also urged the crowd to continue the fight even after Congress decides "since the president is probably going to veto this."
The D.C. rally was one of more than 370 nationwide, drawing hundreds of thousands of people from coast to coast to protest Trump's war.
Twenty-five people, including several who protested the Vietnam War and another whose brother faced deployment to Iraq under Trump's orders, marched through downtown Fort Myers, Fla., the News-Press reported.  WCVB said a big crowd showed up in Cambridge, Mass. Chicagoans staged a protest at Trump's tower at 401 North Wabash the day before.
And they weren't the only ones.
Groups ranging from Indivisible to MoveOn to Win Without War to Democracy for America sponsored the mass protests. VoteVets, the progressive pro-worker organization of Middle East war veterans, chimed in online against Trump's war.
Karen Meredith, a Gold Star mother who lost her son in Iraq 15 years ago, asked other vets to sign the group's online petition against Trump's "recent erratic and dangerous foreign policy decisions."
"He has brought our country back to the brink of war where the only thing we can be certain about is the uncertainty of what is coming next at any given hour.
"I made a promise to my son when I buried him 15 years ago that I would do everything to stop any war, so no other mothers have to go through what I did."
Speakers at the D.C. anti-war rally, notably progressive lawmakers, hit the same theme, along with condemning Trump's bellicosity and erratic decisions. "It's hard to trust somebody like Donald Trump. Look at his record," commented Reggie Hubbard, MoveOn's legislative liaison.
"There was a push to go to war and not acknowledge the reality of war," added House Progressive Caucus co-chair Rep. Pramila Jayapal, D-Wash. And Rep. Jim McGovern, D-Mass., said people "are sick and tired of politicians like Trump, whose kids are not being shipped out to fight."
Jayapal also said impeachment responds to Trump's war push. She pointed out the founders feared putting all that power for war and peace in the hands of one person – the president.
"That is why the Founders gave the power" of war-making "to Congress, and that is why the House impeached the president," she said. Abuse of power is one of the two impeachment charges against Trump the House approved in December.
"Mr. President, you put our country in danger. You did not make us safer," stated Rep. Jan Schakowsky, D-Ill., a member of the House leadership team. "He did not and he does not recognize the Constitution of the United States. He recognizes only 'I' – his own ego."
"Congress must act now to put a check on Trump," added Rep. Barbara Lee, D-Calif., the sole U.S. House member to vote against the original authorization to use military force in the Middle East, in 2001.
Lee also voted against GOP President George W. Bush's Iraq War authorization the next year and has tried repeatedly to repeal both. A vote on repeal may occur next week, House leaders said.
Congress passed the War Powers Act measure "but we must repeal these overly broad and outdated" measures, Lee said. Added Rep. Rashida Tlaib, D-Mich., "we must go further to rein in the war machine. We must have no more for-profit wars."
Trump cited "an imminent threat" from top Iranian Gen. Qasem Soleimani, assassinated by the military on Trump's orders on Jan. 3, starting the president's drumbeat for war.
"But he didn't say what it was," Hubbard said, a point the lawmakers speaking to the frozen crowd in D.C. backed up.
Amid chants of "No war!" and signs reading "No Trump war," the solons also emphasized that war-making power is in the hands of the people of the U.S., through Congress, and not in the hands of the president.
"We have a little document called the Constitution of the United States and" that means "we are not going to roll over for you (Trump) and have another war in the Middle East," said Rep. Andy Levin, D-Mich., a former union organizer and anti-war activist against Ronald Reagan's Contra War and George W. Bush's Iraq War.