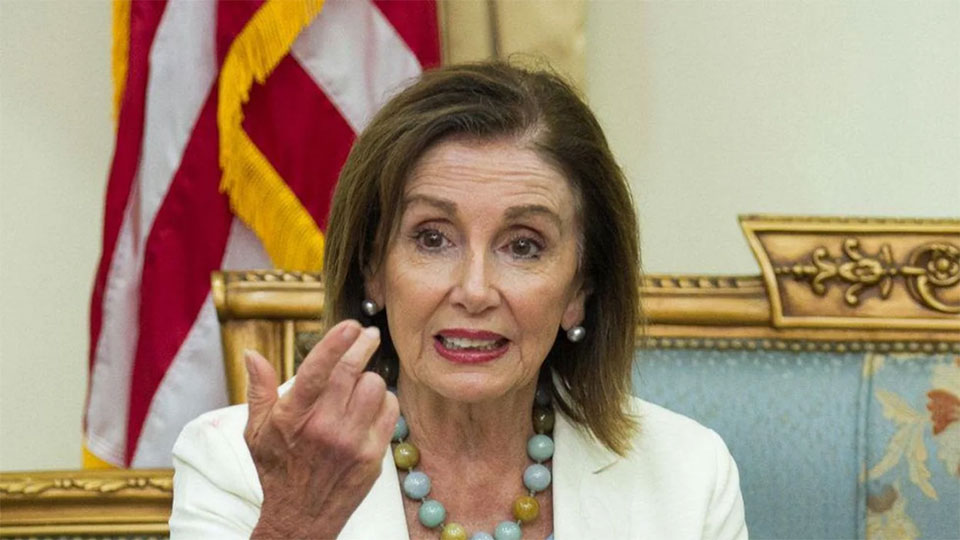 WASHINGTON—By a tense 220-212 party-line vote, the Democratic-run U.S. House approved a $3.5 trillion "reconciliation" budget blueprint, opening the way for massive social changes Democratic President Joe Biden envisions in his "Build Back Better" agenda.
The evenly split Senate previously passed the labor-backed blueprint, crafted by Biden officials and Budget Committee Chairman Bernie Sanders, Ind.-Vt.
With reconciliation and the John Lewis Voting Rights Act, "The House has taken a critical step forward for working families," AFL-CIO President Liz Shuler said. She called both "another victory" for them.
The reconciliation bill puts the U.S. "one step closer to providing major new funding for good jobs and our care infrastructure—including the first-ever federal paid family and medical leave benefit, affordable health care, education and enhanced enforcement of our labor laws…With discriminatory voting laws also proliferating across the country, the passage" of the John Lewis Act "could not come at a more critical time," Shuler added.
The 118-page reconciliation measure, filled with numbers and goals for Congress to meet, doesn't contain detailed measures such as the Protect the Right to Organize (PRO) Act, although it OKs comprehensive immigration reform. But its approval opens the way for lawmakers to pass those measures and others without having to run the gauntlet of a right-wing Senate Republican filibuster.
Reconciliation does, however, envision increasing the fines for labor law-breaking, as the PRO Act, the most comprehensive pro-worker labor law reform in decades, commands. The higher fines fulfill "reconciliation" requirements for including revenue-raising measures.
The reconciliation vote, which finished just after 4 p.m. Eastern Time on August 24, was the first of two key votes, all on legislation which Biden, organized labor, progressive forces, and their allies back. Technically, the vote was on a rule covering debate.
But practically, it was a vote on reconciliation and its social spending goals, because the "rule" lawmakers approved automatically passed that measure, without a separate rollcall. And the rule forced nine reluctant Democrats to go along.
"PROGRESSIVES WON! CORPORATE DEMS CAVED!" the Progressive Change Campaign Committee cheered, in boldface type and capital letters.
The other measures on the agenda were, in order, the John Lewis Voting Rights Advancement Act, HR4, and a Senate-passed bipartisan compromise $978 billion five-year "hard" infrastructure bill to rebuild and replace the nation's rutted roads, creaky subways, diesel buses—with electric ones—pitted airport runways and decrepit bridges.
Would produce millions of jobs
That measure would also produce millions of jobs over its lifetime, Biden says, and he declares they'd be union jobs. But it was postponed to September.
The larger $3.5 trillion measure opens the way for far more: The PRO Act, much of the Green New Deal, though not by that name, higher spending for child care centers and on child care workers' salaries, Medicare coverage of dental, hearing and eyesight costs and permanent paid family and medical leave, for example.
And it would raise money to pay for a lot of this by increasing taxes on corporations and the rich—wiping out much of the enormous giveaway former Oval Office occupant Donald Trump and the GOP-run Congress enacted four years ago.
The AFL-CIO strongly supported reconciliation, the infrastructure bill, and the Voting Rights Advancement Act. So did the rest of organized labor. The voting rights bill would restore the federal government's power to veto discriminatory anti-voter legislation in states, cities, and other governments. It passed at 7:30 p.m, 219-212 on a party-line vote. Then lawmakers quit for the evening.
"Senate Concurrent Resolution 14," the reconciliation bill, "makes the largest investment in America's working families since the New Deal, making critical investments in families, education, paid leave, clean energy jobs, and housing, AFL-CIO Legislative Director Bill Samuel wrote to lawmakers before the key vote.
"It also strengthens enforcement of our labor laws, provides a long overdue path to citizenship, and expands access to affordable health care and prescription drugs," among other goals, he added.
As for the John Lewis Act, "In our house, voting rights and labor rights are one," Shuler said at a D.C. rally the weekend before. Right-wingers "are taking voting rights away and corporations are trying to take away voting rights at the workplace.
"This is not coincidental."
Reconciliation's House passage presumably means the PRO Act, which would negate those corporate moves—against both voters and workers—can't be filibustered. That won't prevent the GOP from trying, and it won't prevent the corporate class from mounting an expensive campaign of lies against it.
Rep. Virginia Foxx, R-N.C., the top Republican on the Education and Labor Committee—who once told local media unions shouldn't legally exist—called the reconciliation bill "a socialist wish list." That was one of the GOP's milder comments during the debate.
House Speaker Nancy Pelosi, D-Calif., who put together the strategy that overcomes disputes within her own party over reconciliation, passionately defended its work in a floor speech during hours of debate. "We have a president with a big bold vision for our country (and) an unprecedented opportunity to keep our promises for the people," Pelosi declared.
"We promised for the people we would lower health care costs by lowering the cost of prescription drugs. We would increase paychecks by building the infrastructure of America, and we would have cleaner government by passing legislation for the vote. This does all three of those things and much more."