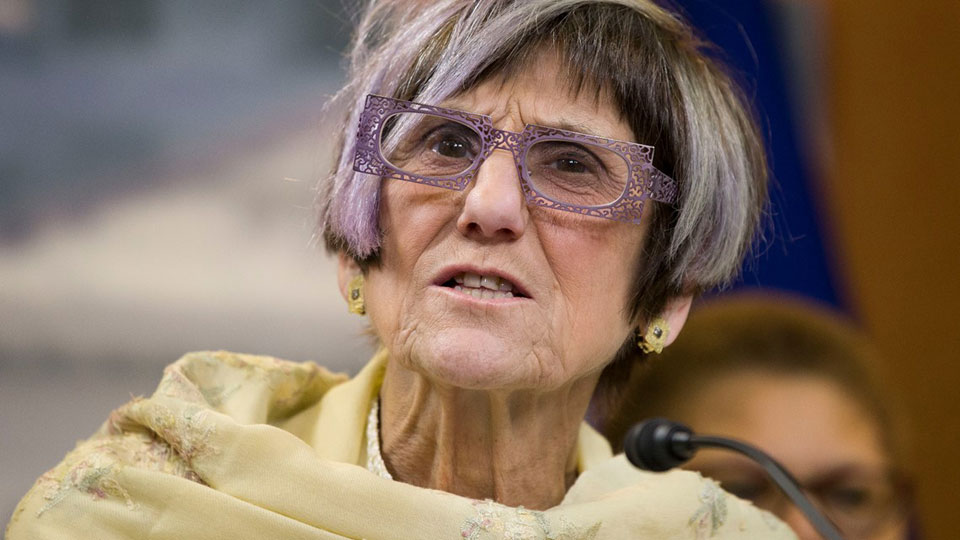 WASHINGTON —By a 27-20 vote, the Democratic-run House Education and Labor Committee approved a measure (HR1195) National Nurses United again pushed to have the government order firms to craft and implement plans to cut workplace violence.
The bill, by Rep. Joe Courtney, D-Conn., was one of three pro-worker measures the panel OKd on March 24, Equal Pay Day. Reps. Elise Stefanik, R-N.Y., and Greg Murphy, R-N.C., joined all 25 voting Democrats to favor it.  All other Republicans voted "no." Two pro-worker lawmakers, Reps. Frederica Wilson, D-Fla., and David Norcross, D-N.J., were absent.
The panel also approved the Paycheck Fairness Act, a long-standing cause for workers, women's groups, and influential Rep. Rosa DeLauro, D-Conn., and a bill, HR1065, to aid pregnant workers. Paycheck Fairness passed 25-22, with all Republicans voting "no."
DeLauro's paycheck bill would put teeth into the 1963 federal Equal Pay Act by allowing disclosure of salary data—though not individuals' pay—and forcing firms, not workers, to justify pay discrimination, among other actions. Democratic President Joe Biden supports it.
The Democratic-run House approved all three bills during the 116th Congress, but then-Senate Majority Leader Mitch McConnell, R-Ky., killed them—and more than 400 other measures, including the Protect The Right To Organize (Pro) Act—by refusing to allow hearings, much less debate.
This time, the future depends on whether McConnell leads a filibuster, or if Senate Democrats abolish that tactic, a position Biden hasn't quite adopted, yet.
The anti-workplace violence bill gives the Occupational Safety and Health Administration a year to write a temporary rule ordering firms, particularly in health care, to create and implement anti-violence plans. OSHA would have 42 months to craft a permanent rule. Corporate opposition, lobbying, and lawsuits often delayed OSHA pro-worker rules for 10-20 years. At corporate behest in 1995, the GOP killed one, against ergonomic injuries, entirely.
Workplace violence has been on the rise for years, even before the coronavirus pandemic hit, NNU says. "In 2019, health care and social service workers reported five times the rate of injuries due to workplace violence than workers overall," Zenei Triunfo-Cortez, RN, an NNU president, explained in a statement.
"Many employers failed to provide necessary protections, so it's up to lawmakers to pass this important legislation and give us what we have long deserved in the workplace."
No dates have been set yet for House floor votes on the three bills.
In an NNU survey of thousands of nurses, its fifth since the pandemic began a year ago, 22% reported increased violence on the job, from patients or families, compared to the year before. The nurses also said their bosses did little to protect them.
Prior federal reports showed that, depending on the facility, nurses and health care workers were five to 12 times more likely to suffer on-the-job violence than other workers.
The federal legislation is based on standards NNU successfully pushed through in California. They include requiring specific anti-violence remedies for hospitals, nursing homes, psychiatric facilities, assisted-living homes, and correctional institutions.
When it comes to the equal pay legislation, McConnell and the GOP may oppose it, but Biden backs it.
"America's economic recovery depends on us addressing the barriers that have hampered women from fully participating in the labor force, resulting in gender income and wealth gaps that have been magnified and exacerbated by COVID-19," he told an Equal Pay Day ceremony at the White House.
"We must begin by passing the Paycheck Fairness Act, which will take important steps towards the goal of ending pay discrimination.  For instance, it will ban employers from seeking salary history, removing a common false justification for under-paying women and people of color. And it will hold employers accountable who engage in systemic discrimination.
"The bill will also work to ensure transparency and reporting of disparities in wages because the problem will never be fixed if workers are kept in the dark about the fact…not being paid fairly," Biden said. The Paycheck Fairness Act also bans retaliation against whistleblowing workers, committee chairman Rep. Bobby Scott, D-Va., said.
The Pregnant Workers Fairness Act passed 30-17, as five Republicans joined the 25 voting Democrats. "It is unacceptable that, in 2021, pregnant workers can still be denied basic workplace accommodations that help them stay healthy during their pregnancy," Scott said. "These accommodations—which can include water, seating, more frequent restroom breaks, or even temporarily lifting restrictions—are not complex or costly," he added.
"However, without basic protections, too many pregnant workers are forced to choose between a healthy pregnancy and their paychecks," he added. It should be easy for firms to obey, Scott said, since they must follow similar protections in the Americans With Disabilities Act, which has been on the books for decades.
The committee's ranking Republican, Virginia Foxx, R-N.C., infamous for questioning whether unions should even continue to legally exist, piously declaimed she too was against workplace violence. Then she declared all three measures would benefit trial lawyers, a common GOP insult to workers, and opposed them all. Neither Murphy nor Stefanik, the Republicans who broke ranks and voted for the anti-workplace violence measure, issued statements.