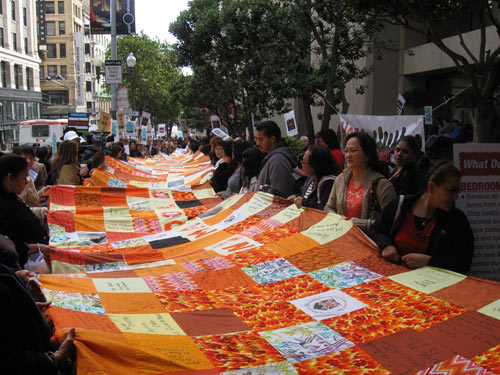 CHICAGO – Hundreds of women ending their shift as housekeepers at hotels along this city's "Magic Mile" didn't board trains and buses to go directly home to their families last night. Instead, they braved a raw, cold wind coming off Lake Michigan and marched on the Hyatt hotel here, demanding that the Chicago-based mega-chain rehire housekeepers it fired recently in Boston.
The women, members of Unite Here Local 1, rallied and marched in front of the Park Hyatt, stretching a 150-foot "hope quilt." They called on Hyatt to "bring back the Hyatt 100," housekeepers the chain replaced with cheaper labor in Boston, and demanding that Hyatt end what they called its "abuse" of housekeepers throughout North America.
The action followed one last month in which some 300 workers were arrested sitting in the streets outside the hotel, also protesting the Boston firings. Yesterday's protest was part of a second wave of coordinated demonstrations by thousands of workers in at least 12 cities across the United States and Canada in support of the Boston housekeepers.
Hyatt fired the 100 housekeepers from its three Boston hotels after ordering the workers to train "vacation backups" from an outsourcing agency.
The firings have triggered outrage across the country, forcing the chain to go on a defensive public relations campaign just as it tries to sell stock in the financial markets. The company became a publicly traded corporation on Nov. 5.
Among those condemning the hotel chain for its actions last night was Illinois state Senate Assistant Majority Leader Iris Martinez, who told the workers, "These people do the hardest work. It is dignified work. Your struggle is hard but we are with you all the way. We will prevail. Hyatt will not get away with this."
Local union leaders, a Catholic priest, Protestant ministers and Jewish community and labor leaders also spoke at the rally.
"What the Hyatt did to those housekeepers in Boston is unthinkable, and we're here to say to the Hyatt that enough is enough," said Claudette Evans, a housekeeper at the Hyatt Regency Chicago. Her mother is also a housekeeper at the hotel. "I'm standing up for those ladies, myself and my mother, because our health and our jobs depend on it," she said.
"Housekeeping is hard work that gets harder every year at the Hyatt," said Francine Jones, who has worked at the Hyatt Regency Chicago for 16 years. "I had carpal tunnel syndrome in both hands, which required weeks of physical therapy and surgery. I live with chronic pain in my back and knees from all the heavy lifting and bending I do to change beds, scrub floors and toilets, and push heavy furniture around to vacuum."
As she spoke, many in the crowd held up the "hope quilt" made by housekeepers from across the continent. The quilt, which is being brought to all the demonstrations at Hyatt hotels, stitches together the stories of Hyatt housekeepers and the pain they suffer daily in the struggle to provide for their families. Each of the thousands of patches on the quilt symbolizes a story of pain or injury associated with the job.
Luz Aquino, one of the fired Boston housekeepers, addressed the rally. "We were making $12 to $14 and hour and it was tough to get 19 rooms cleaned in a seven-and-a-half hour shift," she said. "They cut the pay for the replacement workers to $8 an hour and make them clean 28 rooms in a day. If they can't finish on time they have to stay until they finish all their rooms, without overtime pay. Some of them work 14 hours to finish but only get paid for seven-and-a-half."
Anne-Marie Staessel, communications director for Local 1, said Hyatt is using the economy as an excuse to dramatically lower the living standards of hotel workers all over the country. She said the company is eliminating jobs, proposing health care cuts and getting a smaller pool of workers to work harder and faster.
In Chicago, the Hyatt laid off a fifth of its staff between November 2008 and March 2009, while scheduling almost half of its workers to work overtime between December 2008 and April 2009.
The hotel has drawn the anger of Massachusetts Gov. Deval Patrick, who has called on his state agencies to boycott the Boston hotels if the fired workers are not restored to their jobs.
Hyatt made over $1.3 billion in profits from 2004 to 2008 and, as of late September, had $1.3 billion in cash in the bank.
Photo: www.hotelworkersrising.org