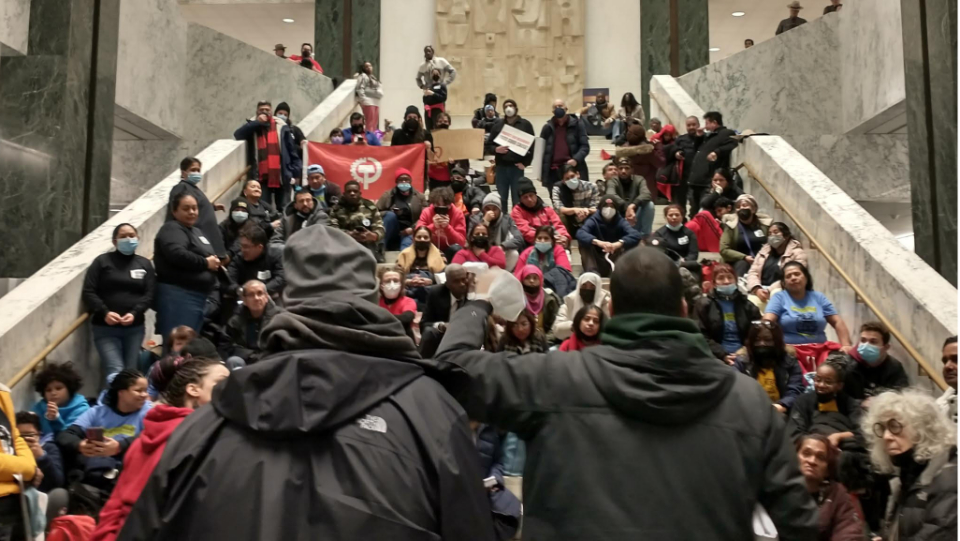 ALBANY, N.Y.—If housing and tenants' rights organizations have their say, it will soon be harder for landlords in New York State to kick renters out of their homes without a valid reason. That's the goal of new proposed legislation, officially known as "Prohibition of Eviction Without Good Cause," or Bill S2892B, introduced by State Sen. Julia Salazar.
Community groups massed inside the Albany Central Legislative Building on Tuesday to push for the passing of the "Good Cause Eviction" legislation, which would also provide tenants a right to a lease renewal and curb unjustified rent increases.
Anticipating the arrival of the demonstrators, Gov. Kathy Hochul shut down the inside of the Capitol, making it impossible for demonstrators to enter the chambers where legislative sessions are held. However, throughout the building, chants could be heard defending the protection of working-class tenants.
Protesters were not only in Albany for the Good Cause Eviction legislation; they were also responding to Hochul's "State of the State Address," delivered the same day, which included a plan titled, "Achieving the New York Dream."
Although Hochul introduced her speech by boldly declaring, "Housing is a human right," the Dream plan comes with none of the protections New York tenants need. Instead, it replaces a real policy to defend working class New Yorkers with an investment in the free market, a declaration to protect real estate, and abstract tenant support.
Her statement was seen by many as a lackluster replacement for the actual need for affordable rental units and protection from unlawful evictions.
In her speech, Hochul stated that she "reaffirms the state's commitment to affordable housing with a five-year, $25 billion commitment to create and preserve 100,000 units of affordable housing," with most of these being in New York City. She declared that over the next 10 years her administration hopes to build 800,000 new housing units, but there was no indication as to how many of those would be classified as affordable.
Repeatedly, it has been shown that what New York State and New York City define as "affordable housing" is often more akin to market rate apartments and homes than housing that is really within the budgets of most working-class families.
For instance, according to the New York City Housing and Vacancy Survey, the vacancy rate for apartments renting for between $801 and $1,499 is just 0.9%, the lowest in nearly 30 years. For people living paycheck to paycheck, this means it will be nearly impossible to access apartments that are actually affordable. As a result, any affordable apartments will be held onto desperately by their occupants, and market rate apartments will continue to be built.
Finally, there are already 61,000 rent-controlled units available that currently sit vacant in NYC. This is the phenomenon known as "warehousing," in which landlords intentionally leave units unhoused in order to create scarcity and raise prices.
To meet housing targets, Hochul seems to be determined to rely on the private real estate market to build new units for the upper echelon of New Yorkers rather than invest state dollars in housing protections, public housing, and rent stabilized apartments.
For the groups that rallied in Albany Tuesday, their action is part of a larger struggle against capitalist-based dispossession going on in New York—and around the country. Working class people everywhere understand that the combination of building additional unaffordable apartments, increases in rent, and a stripping away of tenant protections will make landlords and the state more likely to dispossess people of their homes.
Participating in the action were activists from a variety of organizations, including Housing Justice for All (HJ4A), Desis Rising Up and Moving (DRUM), People United for Sustainable Housing (PUSH Buffalo), Flatbush Tenant Coalition (FTC), Crown Heights Tenant Coalition (CHTU), Citizen Action of New York, the Communist Party (CPUSA), Neighbors Helping Neighbors, VOCAL NY, The Northwest Bronx Coalition, and Make the Road New York, and many more.
The breadth of the coalition that turned out displayed the interconnected nature of housing with a variety of social justice movements, as well as the essential part that housing rights occupies on their agenda.
One organizer, Sara Fraser, the Youth Development Street Team Coordinator for PUSH, noted, "I've been across the country, talked to folks from many areas, and it's all the same. There are slumlords everywhere, people who buy up property and don't want to maintain it. And then when residents ask them for a simple thing like fixing their broken window, they respond: 'Well you can get out if you don't like it.'
"They don't fix the window; [instead they] hike up the rent, then rent it out to someone else. This happens way too often. So rent stabilization is a part of the Good Cause Eviction, having a tenant fund is a part of that. So that when people fall on hard times we have a way to help, we need to get this out there!"
Hochul's main solutions for the housing crisis seem to amount to just tax exemption programs and the legalization of basement apartments. She's proposed revitalizing an older tax break program called "421A." Hochul argued that "the reality is that we can't meet the demand for housing without an incentive program like 421A in New York City. Without it, developers will only build condominiums or build elsewhere, which isn't the outcome we need."
421A was a program that gave property developers a tax exemption if they set aside a percentage of their units for low- and moderate-income tenants. The qualifying portion of affordable units per building ranged from 25% to 30%, based on area median income. In effect, the policy ended up being more of a drain on city revenues than a spur to major investment in affordability. It is not a working-class policy, nor an answer the affordable housing gap.
As the Community Service Society states, this program was responsible for "losses of more than $1 billion annually in foregone revenue to the city—more than the combined rents of the half-a-million tenants living in New York City Housing Authority buildings—while producing well under 14 cents of affordable housing investment for every dollar of tax subsidies. Of the tax revenue forgone through 421A, a majority of it is being used to subsidize buildings that would have been developed without the tax exemptions."
The policy was basically a tax giveaway and resulted in fraud that simply did not contribute to more affordable housing being built. The program subsidized more than 150,000 apartments, with fewer than 12,500 being "affordable."
Aaron Carr, who is with the Housing Rights Initiative, stated that a 2021 audit revealed that the 421A program is "the largest tax exemption program in NYC" and cost taxpayers an estimated $1.5 billion in foregone tax revenue. "An audit by our non-profit," he said, "has uncovered over 1,500 buildings that are likely out of compliance with the 421A program."
Finally, a part of Hochul's plan is to make basement apartments legal. Basement apartments led to dozens of people dying in New York after the flooding from Hurricane Ida. Hochul does not acknowledge the real reason why individuals must live in basement dwellings. The lack of available housing and high rent forces working class people into increasingly precarious living conditions because there are no available "affordable" units, and a landlord is happy to profit from a tenant's instability.
Housing organizers were disappointed and angry over Hochul's speech, seeing it as short on substance compared to the concrete protections found in S2892B. Good Cause would protect tenants who are in vulnerable positions because of disasters and who are dispossessed by a capitalist system which always prioritizes real estate profits over the welfare of working class people.
As Fraser notes, "We are here to show up for Good Cause Eviction. We just had a blizzard in Buffalo that was the most catastrophic in generations. If Good Cause Eviction was in place, it would have saved so many lives. So many people were displaced, people were living on the street, people froze to death in tents in our homeless area, and people froze in their cars.
"I was stuck in my car for eight hours and by the grace of God, I was not one of the people that died in the storm. Good Cause Eviction, tenant rights—these are things that we are asking our legislators to put in place to protect us as tenants. If we don't get these rights put into place, a lot more people are going to die."
Currently, 23 representatives support S2892B, which has failed to pass each legislative session since the first attempt in 2019. As Citizen Action organizer Barbara Rivera told People's World, there is a powerful movement throughout the state, including in Rochester where she's based, to protect tenants.
"There's definitely a tenant movement happening…. Even though we've always known there's been a housing crisis, it feels like finally now people are beginning to listen," she said. "People are a lot angrier. I think coming out of the pandemic, people are really starting to feel like they want to fight!"