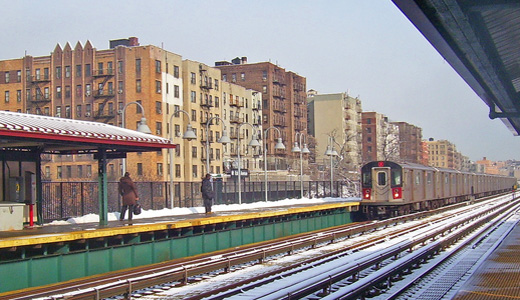 NEW YORK – The foreclosure crisis which continues to ravage communities across the country is also harming working people in New York City, even though 64% of the city's 8 million residents live in rental apartments.
Here's how.
Between 2003 and 2008, hundreds of apartment buildings in the city were purchased at inflated prices by real-estate investors and private equity firms, who got their financing from banks (sometimes up to 80% of the capital). Many of these purchases were intended either to flip (quickly re-sell at a profit), or to use as collateral for even bigger investments. Needless to say, in these situations maintenance and repairs were neglected.
Congressman Jose Serrano, who represents New York's 16th Congressional District, said in a recent letter to the FDIC, that there are "hundreds of distressed properties across the city whose mortgages are held by banks."
One of the worst offenders is NY Community Bank (NYCB), which has 34 properties in foreclosure across the city, with a combined total of almost 5,000 code violations. 16 of these buildings are in the Bronx.
Code violations range from broken boilers to vermin, to holes in walls and ceilings, and worse.
The number of tenants affected is in the hundreds of thousands. According to New York City's Department of Housing Preservation and Development (HPD), there are now more than 110,000 occupied apartments in multifamily buildings that may be over-leveraged and at serious risk of disinvestment and/or foreclosure.
Serrano wants the FDIC to investigate the mortgage lending practice, because of the following scenario: "if a property is facing foreclosure, in many cases, the bank simply seeks to sell the loans as quickly as possible, with seemingly little regard for the buyer's intention for the properties."
Unfortunately, the banks that hold these mortgages do not take into account dilapidated conditions when they sell them, and such buildings are still being sold at prices "far in excess of their true value."
This then means that new owners have little interest in doing significant repairs, and risks tenants' health and safety as well as putting enormous financial strain on the city, which ends up having to bear the cost of major rehabilitation work.
Serrano said he is concerned about "how banks are valuing the mortgages they hold for severely distressed multifamily buildings, and whether those valuations honestly reflect the physical condition of the properties." The key change, according to Serrano, would be for the property's value to "reflect the cost associated with making that property livable and non-hazardous again."
In other words, banks shouldn't be able to sell a loan on a building that's valued at 10 million dollars for that amount, if it needs $5 million in repairs.
In his letter he asks the FDIC to develop safeguards to ensure that multifamily buildings are more closely scrutinized for possible decreases in value when landlords let the conditions deteriorate, as so many do.
In his position statement on the housing issue, he says that he is working to prevent New York City from becoming a place where only the super rich can afford to live. One of the proposals he puts forth is the "establishment of a National Housing Trust Fund, which would create a permanent, ongoing source of money … to build, rehabilitate and preserve affordable housing."
Photo: CC BY 2.0