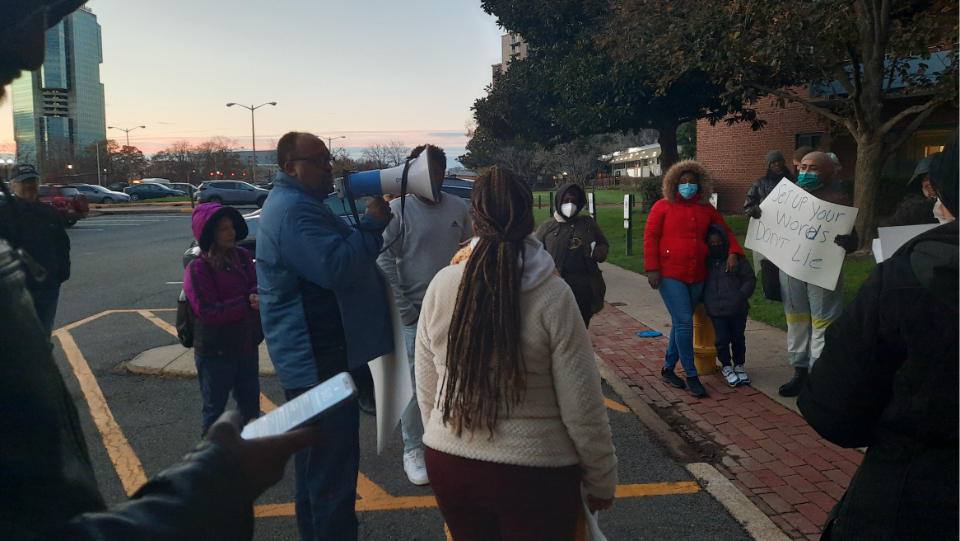 ALEXANDRIA, Va.—The fight for housing rights is heating up across the United States, especially when it comes to the issues of rentals and tenancy. And in Northern Virginia, the organization African Communities Together (ACT) is involved in the thick of this struggle.
ACT held a demonstration at the Southern Towers apartment complex in Alexandria on Nov. 16 to protest moves toward gentrification taken by the new company managing the residences, CIM Group.
Research by ACT revealed that the Los-Angeles based private real estate company purchased Southern Towers for $506 million in 2020. The transaction was backed by financial support from Freddie Mac and a number of public pension funds.
"As the largest multifamily transaction of 2020 and one of the biggest in Alexandria's history, CIM has also been one of the most aggressive landlords seeking to evict its residents," ACT says. "CIM has led 27% of all eviction proceedings in Alexandria, obtaining almost half a million dollars in legal judgments against families unable to pay rent."
And, as ACT points out, the racial angle of the situation is another inescapable reality. Approximately "two thirds of the residents of Southern Towers are Black, and over 60% of residents are foreign born."
In the past few years especially, rent costs have been skyrocketing around the U.S., pricing many poor and working-class communities out of their neighborhoods. Often, the communities targeted by the highest rent increases are immigrants, Black and brown tenants, or both.
Evictions are also a particularly problematic issue being focused on in tenants' rights spaces, as many apartments are evicting working-class families in favor of doing superficial renovations to market to higher-income tenants. This is one example of the massive move for gentrification, eviction, and displacement of minority and lower income working class families that is happening all across the country.
In Northern Virginia, as in the entire Washington, D.C., metropolitan area, the eviction and gentrification problem has reached a crisis level. But working-class and minority tenants are fighting back, and the ACT struggle at Southern Towers is proof of that.
At the Nov. 16th demonstration, a group of residents and supporters came together outside the apartment complex in an attempt to force CIM to meet with the tenants to hear their list of demands, stop the evictions, and provide crucial maintenance to Southern Towers apartments.
Chants were a main feature of the event and drew the attention of fellow tenants, as well as the management of the building. Slogans such as "The people united will never be defeated," and "We are the tenants, the mighty mighty tenants," echoed through the parking lot and courtyard of Southern Towers in a heartwarming show of solidarity between working-class immigrant families, as well as supporting individuals and organizations which came to attend and participate in advocating for the rights of residents of the complex.
Readers who want to support the fight by African Communities Together for the rights of the residents of Southern Towers can head to their website. Scroll down to see "How to support the #ACT4SouthernTowers campaign" module, and open the toolkit to learn what you can do.

Another way to participate in the fight for tenants' rights is to organize your own community. Just as workplaces can be unionized, so too can rental residences—it can happen if groups of tenants living in a building can come together. Collective demands are a powerful way to influence your living conditions for the better.

If you live in an apartment complex or a rental unit, speak to your neighbors about their concerns. Is the rent too high? Are they being priced out? Is maintenance being ignored? Are they being threatened? Make sure to learn your rights as a tenant under your state's laws and stick together with other tenants.