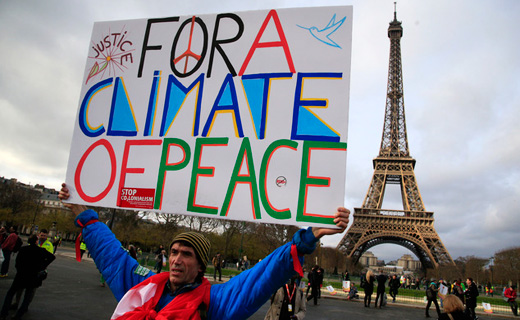 Though climate change persists to the tune of desperate urgency, it must be said that 2015 is ending on a high note. At the UN Climate Conference (COP 21) in Paris, talks have, for the first time, resulted in a real, legal, global agreement on climate between leaders of nations. This is, of course, a complex and multifaceted issue that is far from cut-and-dry, but the ability of world leaders to come to the table for the sake of the environment is, nonetheless, a triumphant turn of events.
We have achieved similar victories for Mother Earth throughout the year, though the planet has also had more than its fair share of disasters, most of them manmade. As 2016 approaches, it's time for careful reflection on the many battles, wins, and losses that we have faced these past 12 months. And then, it's time to think about where we go from here.
Good news: Keystone XL defeated
Instead of TransCanada laying down miles of pipeline, the ambitiously destructive Keystone XL project was laid to rest. The announcement came Nov. 2 that the corporation was suspending its U.S. application for approval, prompting cries of relief by the many indigenous people who would either have been displaced or exposed to dangerous health hazards by the project. It was also good news for the sensitive ecosystems and wildlife that would have been put in direct contact with the pipeline – and any potential oil spills that resulted from a mishap.
The defeat of the project was powerful and symbolic. According to 350.org founder Bill McKibben, it meant that "people aren't going to stand for our governments ignoring climate change and environmental degradation any longer. The Keystone XL pipeline was indicative of the things we cannot continue to do: dig up vast tracts in faraway places to produce more carbon than the atmosphere can stand. It's the epitome of senseless destruction."
Bad news: Arctic ice melting fast, cities to suffer
Experts have been documenting the melting of Arctic sea ice – and the disastrous ripple effects – for a while now, and that information has been in the public eye for just as long. It still came as a blow, however, when scientists declared that, as a result of ice melting faster than initially predicted, North America could be at risk by 2100. Tentative maps of the continent show that many major U.S. cities will be partially or completely underwater by that time period, if serious measures aren't taken before then.
New Orleans will be completely submerged by 2200, Miami and Boston partly underwater by the same time, and New York City could end up looking scarily similar to Venice, where storms frequently swell the New York Harbor until water fills the streets, and avenues of the financial district become canals. Ironically enough, the One Percent, say researchers, will certainly be touched directly by climate change. "We could expect water to be lapping around Wall Street," said oceanography professor Malcolm Bowman from Stony Brook University in Long Island. "We could also see vital infrastructure, hospitals, sewage treatment plants, and communication conduits all paralyzed by flooding."
Good news: Arctic oil drilling leases canceled
Activists know the struggle against Shell's campaign to drill in the Arctic quite well. They know about the kayaktivists who swam toward oil rigs in huge numbers, blocking them and crying out in protest. They know about the embarrassing and costly blunders the oil corporation has made, which have continually set back their own project. And they know that on Oct. 18, the Obama administration canceled the two drilling leases for the Beaufort and Chukchi Seas, effectively ending Shell's bid to disturb those waters in their endless greed-driven search for oil.
"This is a historic decision to keep Arctic oil in the ground," said Greenpeace spokesman Travis Nichols. "It's great news for the Arctic and for everyone fighting against extreme fossil fuel projects. This is also the right move for President Obama to secure his climate legacy."
Bad news: Wildfires decimate the landscape
Sea ice has not been the only casualty of climate change. Extreme droughts have persisted throughout the southwestern U.S., and in many other parts of the world. At best, the seemingly endless dry spell has endangered species and even browned the redwood trees of California – the first time this has happened in such a severe fashion. And at worst, the drought in the states has led to wildfires that have ravaged the land (particularly in the Golden State), left people dead and structures destroyed, and challenged firefighters who are overworked and whose efforts are underfunded.
Capitalism, which, together with Big Oil, is no stranger to blackened landscapes, has managed to exploit the situation, with companies selling ludicrous products to the wealthier residents of Los Angeles so that they can keep up appearances by painting their dying lawns green. But that is no fix for the many working class people who are suffering the consequences of the parched climate, nor does it save the wildlife being negatively impacted, or prevent the many lush woodlands in the U.S. from burning.
Good news: Maryland bans fracking
Following in the footsteps of Connecticut, Vermont, and New York, the state of Maine imposed a moratorium on fracking this year, but there's a catch: the ban will only remain in effect until October 2017; afterward, the matter must be dealt with once more. However, this was a good development and the result of a statewide grassroots movement to fight the harmful natural gas extraction practice, although some credit an EPA report released around the same time, declaring – admitting, really – that fracking was indeed a dangerous, toxic practice.
"The EPA confirmed what communities living with fracking have known for years," said Earthworks policy director Lauren Pagel. "Fracking pollutes drinking water. Now the Obama administration, Congress, and state governments must act on this information to protect our drinking water and stop perpetuating the oil and gas industry's myth that fracking is safe."
Bad news: Report says oil trains endanger millions
Speaking of safety, many communities in the U.S. and Canada experienced just the opposite of that when oil trains derailed and exploded in their areas. This has been happening for years, but in 2015, the number of these disasters seemed to drastically increase as companies tried to market oil-by-train as a safer way of transporting the fossil fuel (compared with pipelines). But when the Center for Biological Diversity released a report Feb. 19 offering new insight into the huge risks posed by unregulated train-based oil transport, those who paid attention became aware that an estimated 25 million Americans lived within the one-mile evacuation zone recommended by the U.S. Department of Transportation in the event of an oil train derailment.
"The potential harm from oil train derailments cannot be easily ignored," said the report. "The amount of crude oil beings transported by rail throughout North America has increased dramatically in recent years. In 2008, only 9,500 rail cars of oil were transported on America's Class I railways. In 2013, more than 400,000 rail cars of oil traveled the nation's railways, representing a more than 40-fold increase. Recent reports indicate that it's continuing its dramatic escalation."
Good news: Leaders reach agreement at COP 21
If environmentalists were hoping for any sort of Christmas miracle, it arrived when the UN Climate Conference talks came to a close, with leaders finally establishing a proper climate agreement. COP 21, and the many side events (Climate Generations, the People's Climate Summit) and civil societies based around the worldwide fight against climate change, meant that Paris became, for two weeks, the true center of the environmental struggle. Nevertheless, analyses of the agreement have ranged from optimism to pessimism, and every ambivalent reaction in between.
Sierra Club executive director Michael Brune's response was more on the enthusiastic side, remarking, "The Paris agreement is a turning point for humanity. For the first time in history, the global community agreed to action that sets the foundation to help prevent the worst consequences of the climate crisis while embracing the opportunity to exponentially grow our clean energy economy."
However, 350.org's Bill McKibben warned that those who are rejoicing must not underestimate the strength of the fossil fuel industry. He said, "Every government seems now to recognize that the fossil fuel era must end, and soon. But the power of the fossil fuel industry is reflected even in the [agreement's] text, which drags out the transition so far that endless climate damage will be done. Since pace is the crucial question now, activists must redouble our efforts to weaken that industry."
Samantha Smith, leader of the World Wildlife Fund's Global Climate and Energy Initiative, concluded, "Governments have critically agreed to keep warming well below two degrees C. Everything they do from now on must be measured against that goal. Our leaders must make their actions stronger and stronger over time, in terms of mitigation, adaptation, and finance. This is vital."
Photo: An activist held a poster during a demonstration near the Eiffel Tower, as COP 21 came to a close. | Thibault Camus/AP