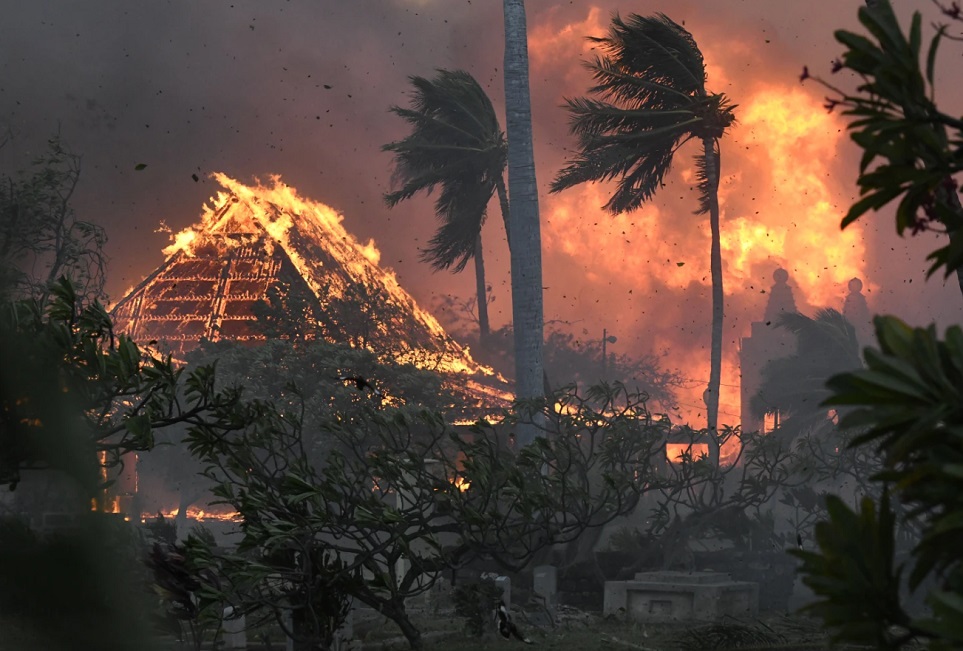 The wind picked up on Maui the night before the fires broke out. By early morning on August 8, gusts were whipping fast enough to topple trees and rip roofs off buildings in the historic Hawaiian town of Lahaina, on Maui's west coast. Then came the conflagrations. Fanned by the blistering winds, flames hurtled as fast as one mile per minute as they engulfed Lahaina and other towns in Maui, like Kula, killed at least 96 people, and incinerated homes, businesses, and churches.
As thousands of displaced people take refuge in makeshift shelters and hotels, cadaver dogs and search crews are still trying to determine the true scope of damage from the deadliest wildfires in the United States in more than a century. Photos from Lahaina show harrowing scenes: rows of charred buildings behind the scorched shells of cars, consumed by fire as they sat in traffic; corpses of boats burnt on the water; a historic church reduced to rubble.
"Ultimately all the pictures that you will see will be easy to understand," said Josh Green, Hawaii's governor, "because that level of destruction in a fire hurricane — something new to us in this age of global warming — was the ultimate reason so many people perished."
Wildfires are not new to Hawaii. According to the state's wildfire management organization, roughly 0.5 percent of its total land catches fire every year, on par with other U.S. states. But conditions — many of them connected to climate change — have evolved to make parts of the state more likely to ignite. The blazes in Maui, for instance, were brought on by a "flash drought," a major hurricane south of the archipelago, invasive weeds that acted like kindling, and winds that ran as high as 81 mph, according to the governor. There are allegations that Hawaiian Electric's power lines played a role in the fire, too. The result: a wildfire even deadlier than the Camp Fire that incinerated the town of Paradise, California, killing 85 people, in 2018.
Though it's too early to say exactly how climate change contributed to Maui's wildfires, scientists have long been saying that similar disasters, like wildfires in the Western United States, should be expected with more frequency and intensity on a warming planet.
Climate change is "leading to these unpredictable or unforeseen combinations that we're seeing right now and that are fueling this extreme fire weather," Kelsey Copes-Gerbitz, a postdoctoral researcher at the University of British Columbia's faculty of forestry, told the Associated Press.
This summer, parts of Hawaii experienced a "flash drought," a rapid drying out of soil and plants that occurs when hot air sucks moisture out of the ground. The drought left parts of Maui especially dry and ready to combust. Such droughts are likely exacerbated by climate change — although a longer-term trend of declining precipitation, which also contributed to the fires, may not be directly connected to human-caused climate change, a scientist told the Washington Post.
Compounding the drought, a proliferation of grasslands on abandoned plantations made vast fields into fuel for the fires. "There's all these huge, huge quantities of vegetation, and it's all papery thin and ready to go," Clay Trauernicht, a wildfire scientist at the University of Hawaii, told Grist. As much as one-quarter of the state is covered by invasive grasses.
Adding to the drought and fields of tinder were exceptionally high winds, running from 60 to 81 mph. Experts have said that the winds were fueled in part by Hurricane Dora, a Category 4 storm that barreled across the Pacific south of Hawaii. Dora created a difference in air pressure across the archipelago that led to unusually fierce winds — the sort that plied roofs from buildings before driving flames across Maui.
As climate change makes hurricanes more intense, not all will make landfall, but they still could help spur deadly disasters. On Maui, where the fires did an estimated $5.6 billion of damage, according to the governor, the death toll is likely to climb for at least 10 more days, Green said. "They will find 10 to 20 people per day probably until they finish," he told CBS News. Hundreds of people are still missing.
This article was reposted from Grist.org.
We hope you appreciated this article. At 

People's World

, we believe news and information should be free and accessible to all, but we need your help. Our journalism is free of corporate influence and paywalls because we are totally reader-supported. Only you, our readers and supporters, make this possible. If you enjoy reading 

People's World

 and the stories we bring you, please 

support our work by donating or becoming a monthly sustainer today

. Thank you!