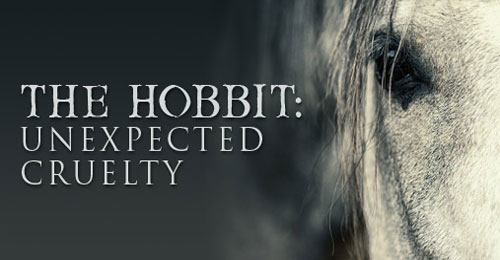 "The Hobbit: An Unexpected Journey" has resulted in an unexpected turn of events: At least 27 animals used in the film have died, after enduring mistreatment and poor, substandard accommodation, said the American Humane Association.
The animals, which were not harmed in the actual filming of "The Hobbit," were subjected to harsh conditions on a farm in Wellington, New Zealand, which, according to a spokesperson for film director Peter Jackson, was housing around 150 animals at the time. Horses, goats, and other animals there had to deal with sinkholes and broken down fencing, which caused them severe injuries.
A pony accidentally broke its back, and had to be euthanized, which was a fate that several other injured animals ultimately faced.
An Associate Press story indicated that wranglers that worked with the animals had complained about the conditions, but their criticisms with the farm were reportedly ignored.
Jackson's spokesman, Matt Dravitzki, said that two horses whose lives could have been saved died simply because proper precautions were not taken. "We do know that these deaths were avoidable," he said, "and we took steps to make sure it doesn't happen again."
The film, the first of a planned sequel trilogy to "The Lord of the Rings" series, is set to premiere in Wellington on November 28, but animal rights defenders including PETA plan to stage rallies against the film.
"Letting these animals suffer needlessly and die takes the entertainment industry a giant and disgraceful step backward," said a PETA official.
Jackson, however, responded directly to PETA's remark, stating, "The production regrets that PETA has chosen to make such a serious accusation, which has stressed many of the dedicated workers who worked with animals on the films."
PETA commented again on its website, saying, "In a movie that features CGI dragons, ogres, and hobbits, CGI animals would have fit in perfectly. Jackson could have made "The Hobbit" without using a single animal – and he should have."
This isn't the first time in recent weeks that a film has been connected with possible animal abuse. PETA also sank its teeth into the new Twilight film, "Breaking Dawn, Part Two," after learning that a post-film premiere party in LA on November 12 included three caged wolves as part of the festivities. Activists noted that the wolves, stressed by "the blaring music and flashing lights," simply did not belong there.
"We must bring the same high degree of safety and humane treatment that has been achieved on set to animals throughout their life, including training, housing, and safe, dignified retirement," concluded AHA president Robin Ganzert. "We owe it to these hard-working and beloved members of our community, just as we work to take care of their human counterparts. Anything less is unacceptable."
Photo: PETA.org