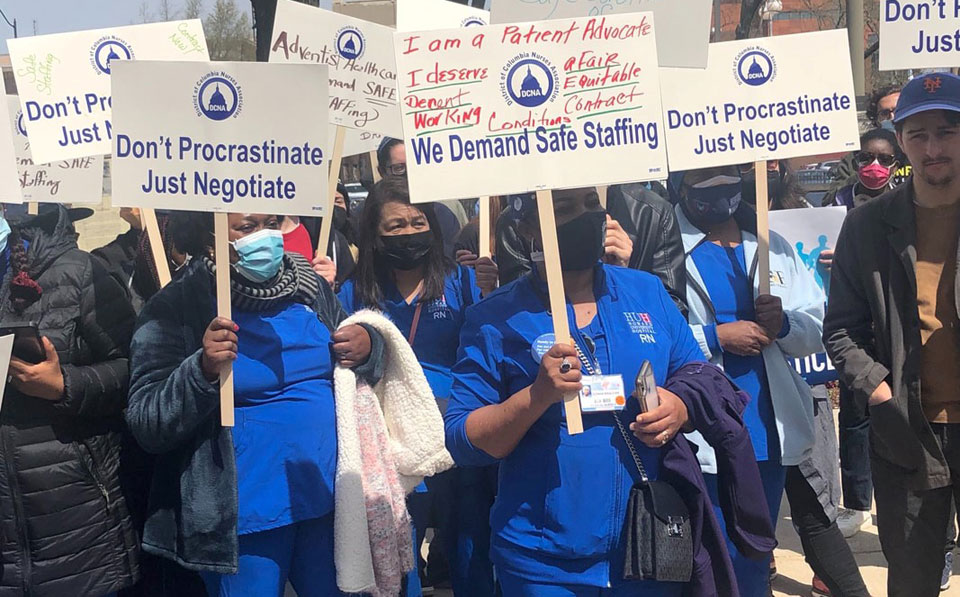 WASHINGTON—Jean Kitongo, an emergency room nurse at Howard University Hospital in Washington, D.C., was out on a picket line on April 11 during a 24-hour forced strike there.
She's got a lot of company, for picketing and often for forced walkouts, coast to coast.
"We end up giving substandard care," Kitongo said of conditions in the institution, due to short-staffing there. Bosses' quests to cut costs, under orders from profit-driven health insurers who refuse to pay for treatment, is why, says her union, National Nurses United.
"Each of us in the emergency department" at Howard "treats six patients" at one time. National nursing standards, which NNU has pushed in cities, states and on Capitol Hill, call for a 1:2 nurse-patient ratio in emergency rooms. "And each of us has eight patients" per nurse "on upper floors," Kitongo told Press Associates Union News Service.
"You get tired, but when you bring" the conditions and exhaustion "to management's attention, they don't care. We care about our patients, but they (management) don't take care of us."
All of which led to one of the main chants at the nurses' mid-day rally of the D.C. Nurses Association/NNU and their supporters, from other unions and the wider public: "What do we want? Safe staffing! When do we want it? Now!"
So Kitongo, the other nurses and staffers and their union allies walked the picket line as the union struck for 24 hours, starting at 7:30 am. Union support came from the Metro D.C. Central Labor Council, SEIU 32BJ and Locals 500 and 722, Jobs With Justice and several CWA members.
Public support was symbolized by a large banner from the Claudia Jones Labor College, upheld by almost a dozen leaders and members of the D.C. Club of the CPUSA, and by frequent honking horns of solidarity from passing truckers and from Metrobuses, whose operators are members of ATU Local 689.
The forced 24-hour strike at Howard isn't unique. What also isn't unique is that most of the hospital's nurses are women of color, and most of its patients are people of color, too. So are its social workers, dieticians and other support staffers, all DCNA members.
Those majorities, among the workers, isn't unusual. Many, if not most, of its members are people of color, and an overwhelming majority are women.
And a perusal of the national union's website shows those nurses often must take to the streets, either in informational picketing or in 24-hour walkouts. The next such 24-hour strike over safe staffing—and lack of personal protective equipment against the pandemic–will be at 15 Sutter Health Care hospitals in Northern California on April 18, NNU announced.
The Sutter nurses voted for this strike," 26-year intensive trauma care nurse Renee Waters, RN, told NNU. "Sutter is not transparent about the stockpile of PPE supplies and contact tracing. They resist having nurses directly involved in planning and implementation of policies that affect all of us during a pandemic.
"A fair contract is needed to retain experienced nurses, have sufficient staffing and training, and ensure we have the resources we need to provide safe and effective care for our patients. Nurses are fighting back against Sutter putting profits before patients and health care workers."
Sometimes, hospital bosses force their nurses into even longer strikes, over the same issue, patient care or inability to provide it. That's what happened in Will County, Ill., and in Buffalo, among other hospitals. That hasn't happened in D.C., yet.
But the Howard University Hospital nurses are battling patient overload and seeking better pay. They're also battling the hospital's bosses, and the non-profit management company, Aventis, they hired to run the facility.
The aim of management is to cut costs by changing nurses' shifts, depriving them of pay, and by refusing raises even though Howard received millions of dollars in federal pandemic aid, said DCNA Executive Director Ed Smith.
The latest bargaining session, he told the crowd, ended with management taking the union's proposal, considering it for 45 minutes, summarily rejecting it, and presenting none of their own. Then the bosses' reps walked out.
The "nurses are the ones who have been helping us in the pandemic," said Metro D.C. President Dyana Forester of UFCW Local 400. A picket line "is the last place they should be," but they were forced into it.
Many speakers said the nurses deserved a large raise, not cuts. "We put our lives on the line and hospitals should be supporting us, just like we supported them" during the coronavirus pandemic, Marcie Jackson of SEIU Local 722 told the crowd during a mid-day rally. Her parent union also includes thousands of nurses.
"Don't procrastinate! Negotiate!" signs read.
"We know you have to take action to get them to pay attention," said Kevin Modestino, a Local 500 member and bargainer for Howard's non-tenured faculty. His local, after tense bargaining, reached a new contract with the university earlier this year.
"It has been a long journey, and we're glad you are on our side. We're not going to give up until we win," DCNA Howard University Hospital Union lead bargainer and unit chair Eileen Shaw vowed.