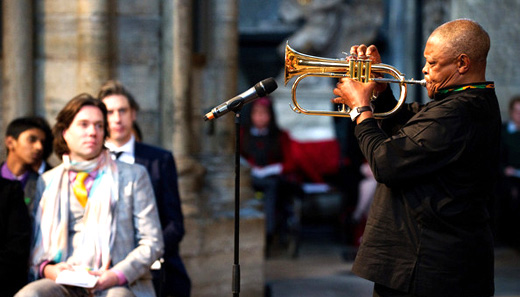 South African trumpeter and activist Hugh Masekela has entertained audiences with his special blend of jazz and world music for over 50 years. The legendary musician continues that tradition, as he currently tours the United States and the world in celebration of his 75th birthday.
Born April 4, 1939 in Kwa-Guqa Township, Witbank, South Africa, Masekela was greatly influenced by American jazzmen at a young age. He combined that influence together with his own African heritage to create a style of music he has shared worldwide. In 1959, he helped form the Jazz Epistles, the very first African jazz group to make a record. This was the start of a successful and artistic career that continues today.
It wasn't just music that influenced the life of Hugh Masekela. As the young jazzman performed early on in places like Johannesburg and Cape Town, he witnessed the injustice inflicted on the South African people under the apartheid government.
In 1955, a large, multi-ethnic group of educators, intellectuals, trade unionists and clerics came together, led by the African National Congress, to author a declaration called the "Freedom Charter." This proclamation openly condemned the racist rule of the South African regime.
The subsequent years saw many of the Freedom Charter's supporters imprisoned or exiled. In 1960, Hugh Masekela traveled to New York City to begin a 30-year exile from his homeland.
He attended the Manhattan School of Music, studying classical trumpet. As Masekela gained fame as a musician, he continued to express support for his fellow citizens and human beings worldwide, who have suffered under oppression. He has used his voice, and his music, to make a stand against all governments that have mistreated their own people.
Masekela performed at the New Hazlett Theatre in Pittsburgh, PA on March 30 with his band. It was a long overdue return to this city. When Masekela played here in the late 1960's, he insisted on staying with some of the local concert organizers, who were living in the Pittsburgh project houses at the time. This reflection shows how Masekela has always been one with the people, even as his fame and popularity grew. His concerts are a celebration of life and culture. He thanked the people of Pittsburgh for their generosity, their joy, and their protests throughout the years. The show was sponsored by Kente Arts Alliance, an African American arts organization that strives to showcase performance and heritage in underserved communities.
Hugh Masekela's musical influences have no boundaries. At this recent show, he paid tribute to Bob Dylan with an interpretation of "It's All Over Now, Baby Blue" from his latest CD, Playing At Work: Re-Worked released in 2013. He also did an incredibly powerful version of "Stimela: Coal Train." This song reveals the lives of the conscripted men from all parts of Africa who ride the train to the golden mineral mines of Johannesburg and outskirts to work 16-hour days for almost no pay. It was an emotional performance by Masekela and the band, exposing the struggles of those working men and the injustice imposed upon them.
Masekela also performed "Bajabula Bonke (The Healing Song)," which he explained stands for hope in a world of dangerous weapons and dangerous governments. Following this song, he openly condemned all frontiers and borders of nations, saying the time has come to end those games. He went on to express the need for the world to come together, and stop acting stupid politically, and environmentally.
No Masekela concert would be complete without a rousing version of "Grazing in the Grass," his instrumental hit from 1968 which remains popular throughout the world. A Hugh Masekela show is a celebration of joy and unity among the people, and many were dancing in front of the stage. His encore included a tribute to former South African president and anti-apartheid revolutionary Nelson Mandela, who was imprisoned for 27 years because of his stand for human rights. The song, "Bring Him Back Home," was written by Masekela and is remembered as being a worldwide anthem of support for Nelson Mandela's release from prison when it was released in 1987. The Pittsburgh show ended in a standing ovation, as a large birthday cake was brought on stage to honor the great musician and humanitarian.
Hugh Masekela will continue to appear at various venues around the world in celebration of his 75th year. He brings an awesome amount of energy to his shows, including singing, playing, and dancing for the crowd. His legacy of performance is matched by his legacy of activism. Hugh Masekela continues to stand with all citizens of the world in their quest for equality and a better existence…while bringing some enjoyment along in the form of music to celebrate life.
Photo: Hugh Masekela's website.