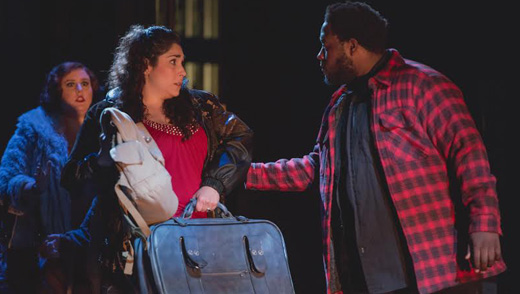 LOS ANGELES – Labor traffickers exploit vulnerable people worldwide by coercing or tricking them into situations where they can easily be abused by their employers.
Southern Californians have a rare opportunity this Sunday to see the second of two performances of Anya17, a 75-minute opera composed by Britishers Adam Gorb and his librettist Ben Kaye. The work centers around the plight of one group in particular – people who are trafficked against their will into the sex industry.
Set amidst a maelstrom of deception, secrecy and violence, Anya17 emphasizes the young girls' aspirations for comfort and freedom in "the West." The one-act opera arose out of the creators' desire to address a contemporary issue that needs bringing to public attention. The director, Tanya Kane-Perry, expresses the conviction that "Through new, contemporary works, opera remains relevant to a younger audience yearning to see its reality reflected back, unafraid to expose and reveal the turmoil of our times." The opening night performance, seen July 21, featured a panel afterward with women from various organizations in Southern California attempting to grapple with the sexual trafficking industry.
Los Angeles is considered the largest global market and transit point for human trafficking, at the crossroads between Mexico and the Pacific Rim countries. While most of the young women lured or kidnapped to American shores wind up in the sex trade, other immigrants, mostly women and also some men, wind up in forced labor, working in sweatshops, massage and nail parlors, or as domestics in private homes. They are abducted by sharp-eyed recruiters who spot destitute young people abroad who are yearning for a better life in America. Social media also provide sites where unsuspecting recruits can be snagged.
Within the U.S., too, young women are picked up in shopping malls, on the streets, in bus and train stations. Many kids in their own homes are inducted into sex work by abusive parents or relatives and guardians, or in the troubled foster care system.
Although they may be recognized by some social analysts as members of the "working class," the women who are the subject of this opera are placed into slavery-like conditions, without access to their passports or to the world outside the walls of their house of employment, and are not in a position to freely sell their labor power. These are not independent "sex workers" able to bargain with their customers.
The musical score for Anya17 is rich and evocative, performed by a 14-piece orchestra under the baton of Kristof van Grysperre, who also conducted the recent Long Beach Opera productions of Fallujah and Candide. The sonorities are modern and thorny, often percussively reflecting the violence meted out to young girls beaten into submission as they lose their identities and connection to former lives. But there are also lyrical passages where characters recall episodes from the past and fantasize about better futures. In those places some bluesy – and boozy – sounds are heard. If your operatic tastes end with La Traviata, you might not enjoy this music; but experienced in the context of the important drama on stage, Gorb's musical palette does grow on you convincingly.
While the subject matter appears very specific at first glance, it is also timeless. Has there ever been an epoch of human history when young women have not been held in sexual submission? In the 20th century we have the Kurt Weill and Bertolt Brecht's Threepenny Opera and The Rise and Fall of the City of Mahagonny, both dealing with prostitution. The score also reminded me of other works featuring the depravity of modern life, such as Alban Berg's two great Expressionist operas Lulu and Wozzeck, and Robert Kurka's The Good Soldier Schweik. Marc Blitzstein's opera The Cradle Will Rock, dedicated to Brecht, features a prostitute in a central role, and then proceeds to show how all the noble professions have sold themselves out to the Mr. Mister of monopoly capitalism.
Anya17 both benefits and suffers from being a "documentary" opera, replete with detail about trafficked lives and thus useful as a teaching device. At the same time it's so relentless in its drive to tell its critical, painful story that audiences – and future productions – may be hard to secure. I suspect the best place for it at this stage may well be university settings, where students can be inspired to address the issues it presents, though a broader public won't see it. If it is meant to be a didactic tool, it may not get produced often enough to have an effect. A film or video version might give it more exposure.
The foreign girls start learning English early on in their new lives. They're taught useful expressions such as, " My name is Anya…I like you…I make you love me…Do you like me?…I make you happy!" And they learn sexually alluring dance moves. And they are encouraged to forget themselves in cheap alcohol. Their "owners" keep them simply as "meat" for sale – 30 times a day, 7 days a week – their youth merely a "commodity" until it's used up. "The heart is cheap," Anya realizes, "the cheapest cut of all."
Anya17 contains an obvious plot point similarity to Verdi's opera Rigoletto, which in its own way is about captivity – Rigoletto's as a court jester in the house of the Duke of Mantua, and the clown's own daughter Gilda, imprisoned by her father at home for fear of the ravages of the world. The plot point has to do with a murdered young girl and a sack.
The six young singers in Anya17 have already launched their careers. Here they have been well coached in these emotionally trying and musically difficult roles which undoubtedly expanded their potential as performers – even though they may never get to sing them again. They were all fine specimens of upcoming talent: Christina Boosahda as the lead girl Anya; Rachel Abbate as Carole, the intake social worker who first encounters Anya once she's escaped and also plays Natalia, the pimp's accomplice in luring girls into their new lives; Angela Jarosz as Mila, another hapless young girl who leaves a young daughter behind until she gets settled in "the West"; and Ana María Ruge Ramírez as Elena, a longtime captive blinded in a violent beating from her owners and now known simply as "the blind girl."
The two males are Nicholas Newton playing Viktor, the sadistic pimp-in-chief who simply gives his clients what they want; and Jeffrey Strand, playing the double role of Uri, the "lover" who steals Anya's heart, then, with a cross around his neck, turns her over to the cross-border industry, and Gabriel, a john who developed some feelings for Anya in captivity (where she is Girl #17 on the menu).
Anya17 is presented by Angels Vocal Art, a new venture to train young singers in a Los Angeles summer opera workshop. The last performance is Sunday, July 24 at 3 pm at the State Playhouse Theater, on the Cal State L.A. campus on State University Drive, Los Angeles. Tickets are $15 and $25 and are available at the door. For further information go to: www.angelsvocalart.org.