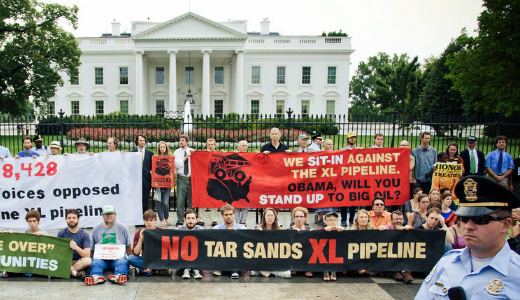 More than 700 people have been arrested in sit-ins at the White House over the past two weeks, hoping to press the State Department, or, if that fails, the Obama administration, to reject a controversial new oil pipeline between Canada and the U.S.
Opponents of the plan also delivered more than 600,000 petitions Sept. 3.
The pipeline, known as Keystone XL, would be built by the Canadian oil and gas giant TransCanada and would bring more than a million gallons of oil from Canada's tar sands to the Gulf of Mexico daily.
"As I type this, over 160 people are in front of the White House sitting in and standing tall against the proposed Keystone XL oil pipeline," Mary Boeve, of the organization 350, wrote in an email to her organization's supporters. "They are continuing a historic wave of daily peaceful protests that began two weeks ago – It's being called the biggest green civil disobedience campaign in a generation."
As of now, 1,252 had been arrested, and many others have participated in civil disobedience and support demonstrations, including leading environmental scientists, actress Daryl Hannah, labor leaders and a host of others. The demonstration is the longest sustained civil disobedience action since the civil rights movement and the largest since 1977.
Given Obama's Sept. 3 decision to postpone new air pollution standards, organizers of the protest, which lasted two weeks, argue that even more public action is needed. The decision on whether or not to allow the pipeline is entirely Obama's: In order for construction to proceed, a presidential permit, or permission from the administration, is necessary.
"The clock is ticking: the State Department has said it will make a final decision on whether or not to issue a presidential permit deeming the pipeline in our 'national interest' by the end of this year," 350, an organization dedicated to reducing greenhouse gases, said on its website. "We know more pollution and more climate change are not in any nation's interest, so we're calling on President Obama to step up and display the kind of lead."
U.S. Secretary of Energy Stephen Chu signaled that he leaned towards support for pipeline, but said he would wait to hear the State Department's decision. State will make its decision by the end of the year. If the department decides it's contrary to the national interest, it will not be allowed. However, even if the State Department does approve it, Obama can still overrule the decision.
The Green Business Network and the Green Chamber of Commerce, which represent more than 5,000 small businesses, sent a letter to Obama, pushing him to reject the pipeline and invest in green technologies instead.
Environmentalists fear the proposed pipeline would put the U.S. and Canada at risk for oil spills as well as pollution of the Ogallala aquifer.
The aquifer is vast, running from South Dakota to Texas, and cuts through eight states. It provides 30 percent of all water used for irrigation in the U.S. and the overwhelming majority of water drunk by people who live above it. Consequently, any accidental pollution by the pipeline – which would likely be perilously close to the aquifer – would be disastrous.
Also troubling members of the coalition – which includes environmentalists, but also labor and business organizations – is non-accidental pollution, which would certainly take place. The pipeline would help to generate demand for oil from Alberta's tar sands, a far dirtier product than other types of oil.
According to Friends of the Earth, extraction produces three times more greenhouse gases than with conventional oil, and three gallons of water must be used to produce each barrel of oil. Given that the pipeline would transport 1 million gallons per day, 3 million gallons of water would be used daily.
Organizers issued yesterday a "plan of action," saying that they will "engage the State Department" but continue to make the Obama administration the main focus. In addition, they are planning "something" for Oct. 7 or 8. (For more information, see their website.)
Many, including 350's Boeve, feel energized. "Remember that feeling Tahrir Square gave the globe earlier this year? Of hope, and peaceful revolution?" she wrote in her email. "There's a glimmer of that in Washington, D.C., right now."
Photo: Tar Sands Action // CC 2.0