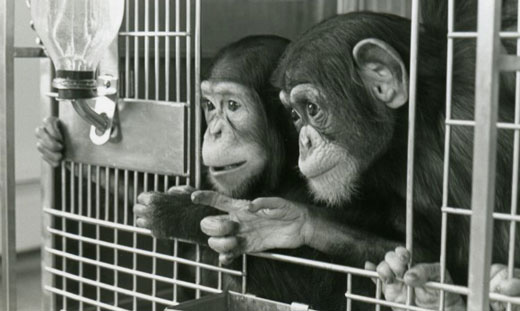 Unlike the European Union, which in 2010 banned having chimps put in science laboratories, the U.S. remains one of the only nations that still conducts invasive scientific experimentation on the animals. More than 900 are still used as little more than test subjects. But on June 26, the National Institutes of Health (NIH) announced it would cut funding for the majority of these experiments, and retire at least 310 of the 360 federally-owned chimpanzees currently in labs, moving them to a sanctuary.
Experiments on chimps have been conducted in the U.S. for more than 90 years, despite consistent pressure on the government and corporations by animal rights/animal welfare groups. Indeed, corporations too are responsible for the abuse of chimps – ones that are not part of the 310 that will be saved. Last year, PETA purchased stock in one such corporation, called BIOQUAL, in order to urge it to phase out chimp experiments – and that is what the company has begun doing.
BIOQUAL is a medical research company that includes cancer virus studies and antibody research. What their home page fails to say is that they have, for years, injected chimpanzees with diseases and viruses in order to observe their reactions, and the effects on their bodies. While such testing will soon end at this company, it will continue elsewhere.
The NIH's victory, however, is an important one. Around the same time as this was announced, the U.S. Fish and Wildlife Service issued a proposal to categorize all chimps in labs as being "endangered," which would prohibit their use in any further experiments; this would apply nationwide, and not leave corporations exempt. Such a rule would also mean that chimps could no longer be used in Hollywood films.
Whether it be a matter of science or film, the need for using chimps is rapidly waning, and with it, all excuses. Most movies now use CG (computer-generated) primates when needed (see Rise of the Planet of the Apes), and in a report on the scientific validity of such experiments, the Institute of Medicine determined that lab testing of chimps was no longer necessary. And while such testing will soon be eradicated at this company, it will continue elsewhere.
It is telling that out of all the chimps currently being "used for science" in the U.S., 80 percent of them are "warehoused" because the need to use them in experiments is not there. "Warehoused" is a rather soft way of saying "imprisoned," which is what the animals truly are: they are caged alone and deprived of freedom, whereupon they become depressed and often lose their sanity.
In New Jersey, Princeton University's Developmental Neuromechanics and Communication Lab is also guilty of using chimps, and as recently as April this year, a massive protest took place in Princeton.
One of the demonstrators, Irene Simmons, a U.S. Navy retiree and software programmer, said that after a whistleblower released images of the chimps being subjected to horrendous conditions in the laboratory, "I couldn't bare to drive through the area, sit outside, and enjoy myself, knowing that animals were being tortured." The daughter of Holocaust survivors, Simmons likened the animal testing to the atrocities committed by Nazis. "I see a lot of people walk by [our protests] with dogs, but they don't respond to us because they think chimpanzees are below dogs."
"Princeton should be ashamed," she concluded. "They're saying it's okay to experiment on animals because humans are the most important species. The same principles that set foot in the 1930s are persisting."
Photo: peta.org