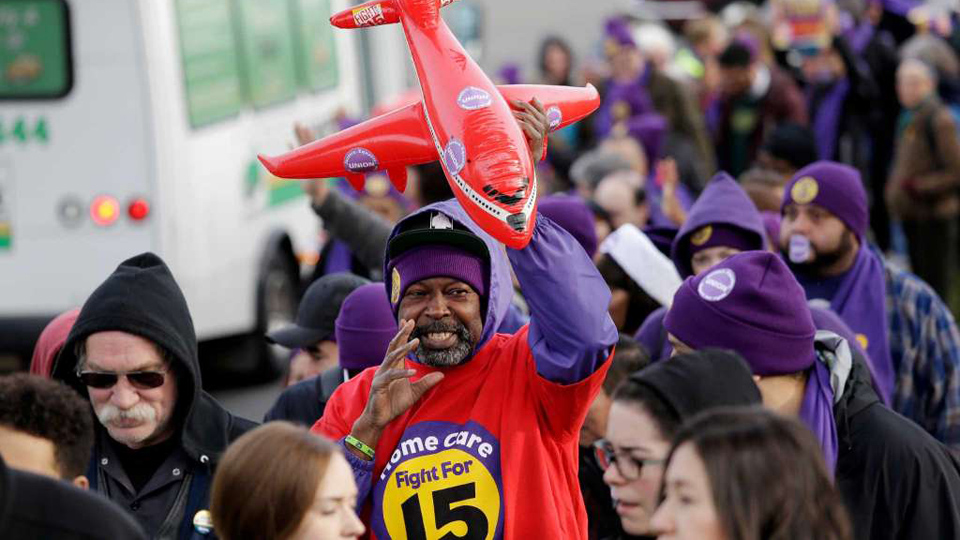 From Washington to Los Angeles to Chicago, from Maine to Minnesota to Phoenix, low-wage workers – including fast food workers, airport workers, adjunct professors, home health care workers and for the first time, Uber drivers – walked off their jobs on November 29 for "$15 and a union."
The nationwide protests, termed the "Day of Disruption," were the largest yet in four years of demonstrations. According to organizers, they brought hundreds of thousands of low-wage workers into the streets of 340 cities and at 20 airports demanding what they see as a living wage — $15 an hour – and the right to organize without employer harassment, interference or repression.
To further make that point, especially against notoriously low-wage fast food restaurants, hundreds staged peaceful sit-ins and were just as peacefully arrested. Dozens were arrested after a sit-in in an intersection near a McDonald's outside Chicago's Loop.
More, plus two city council members, were arrested after a street sit-down in front of a midtown Manhattan McDonald's. Other arrests occurred elsewhere.
The protests included mass marches at Washington, D.C., National Airport, Denver, Los Angeles International and Chicago's O'Hare International Airport, among others. At O'Hare, one of the nation's two busiest airports, the workers and their allies – 1,100 people, total – also announced they were going on strike due to unsafe working conditions and low wages.
The Chicago strike, backed by the Service Employees, who also provided logistical help for the Fight for 15 movement nationwide, was separate from, but allied to, the other protests.
The D.C. protest was typical: Hundreds of people, led by pro-worker ministers the Rev. Graylan Hagler and the Rev. Kathy Dwyer, marched through National Airport to the doors of the headquarters of the authority that runs the capital's two airports. There they presented a petition demanding union recognition and a $15 living wage. They also vowed they'll be back.
"We told them we will be here again and again and again" until the airports authority "does the right thing" and orders its contractors who run food courts there to accede to the living wage and the right to unionize, Hagler said after leaders presented the petition.
The National Airport workers brandished signs declaring that "Poverty doesn't fly." That was the theme of the nationwide campaign by the low-paid baggage handlers, cabin attendants and aides to the disabled at the nation's airports.
Members of the State, County and Municipal Employees, SEIU 32BJ – the union for janitors and home health care workers – SEIU 1199, the United Food and Commercial Workers, Unite Here and Casa de Maryland, whose workers are News Guild members, joined in.
"We're going through the same battle," 1199 home health care aide Michael Thompson told Press Associates Union News Service during the D.C. march, explaining why he came to the airport in solidarity with the fast food and airport workers there. "I work seven days a week, cleaning, but after taxes and rent, I'm clearing nothing" in his paychecks.
During the march, chants included "We are the union…the mighty, mighty union", "No justice, no peace", "We are the workers, the mighty, mighty workers" and "What do we want? 15 and a union. When do we want it? Now!" And, at the end, "If we don't get it, shut it down."
Similar scenes played out nationwide:
Port drivers of Los Angeles-Long Beach, whom the Teamsters have been organizing, marched with other low-paid workers there both in downtown and out to the Los Angeles airport. "Port drivers stand with workers everywhere in a fight for dignity and a living wage," their tweet and their banner said.
At the McDonald's in Chicago, 55 people who blocked an intersection received police citations, but there were no arrests.
Sen. Elizabeth Warren, D-Mass., tweeted strong support for Logan Airport workers. "No one who works full time should have to live in poverty. Not fast food workers. Not Uber drivers. Not hard-working folks at Boston Logan," she wrote.
More than 100 people demonstrated outside a McDonald's in Minneapolis, before "a large group sat down in the intersection and were arrested in an act of peaceful protest," Workday Minnesota reported.
"My God calls me to stand with workers for worker rights and worker dignity," the Rev.
Paul Slack, president of the faith group Isaiah, said as he sat on the cold pavement, waiting to
be arrested, told Workday. Slack said that civil disobedience helps "to bring attention to the fact that McDonald's practices are oppressing people."
Nikki Villavicencio, a disability activist from Maplewood, Minn., sat in her wheelchair, also waiting to be arrested. She was taking part to call for higher wages for home health care workers. "We really need $15 and overtime [pay] for home care workers," said Villavicencio. "Home care workers need to make a livable wage so we can get the care we need."
New York City's protest started at Zuccotti Park – site of the first Occupy protest, and the first Fight for 15 protest – before moving up Broadway to a sit-in in the intersection in front of a midtown McDonald's. Dozens, including 83-year-old McDonald's worker Jose Carillo, were peacefully arrested.
Workers organized by Fight for 15 and the Latino organization Lucha blocked a McDonald's drive-through in downtown Phoenix early in the morning, local TV stations reported. The workers later marched to city hall.
The Uber drivers centered their strike at San Francisco International Airport, joining the fast food workers there. They let their cars sit idle, while carrying signs that said "Your Uber driver is striking."
The gig economy firm exploits its drivers via low pay, forcing them to pay for virtually everything while terming them "independent contractors" barred from organizing, while controlling their working conditions.
"Workers in the Fight for $15 have created a powerful movement that boldly proclaims everyone who puts in a hard day's work should receive a fair day's pay," said Adam Shahim, a Pittsburg, Calif., Uber driver, told Fight for 15.
Barb Kucera, editor of Workday Minnesota, contributed material for this story.