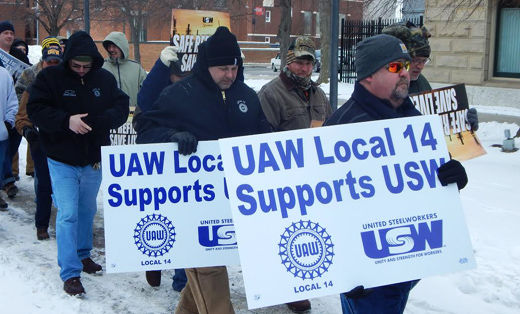 FINDLAY, Ohio – This northwestern town shook with chants of "Safe refineries make safe communities," and "one day longer – one day stronger," as hundreds of striking refinery workers and their supporters endured bone-chilling cold weather to march in support of the workers and their families.
"For too long, these companies have gotten public support only to have them take advantage of the workers and their families, forcing overtime and unsafe staffing levels," stated United Steelworkers (USW) District One director Dave McCall. "We're all here to let them know that no matter how cold it gets, no matter what hardships we all face, we will be here as long as it takes to win this fight for safe workplaces for our people!"
Many of the workers were members of the Steelworkers from the Toledo refinery, which had just gone out. The union now has 6,500 workers, from 16 refineries, on strike, all out over issues of forced overtime and unsafe staffing levels.
"We've turned down seven company proposals so far," said USW Local 10-1 president Jim Savage, who is representative on the National Oil Bargaining Policy Committee. "They all had wage increases, other things, but they didn't have the safety standards our people need and we're not going back until we go back safe!" His words were greeted with cheers.
Ann Longsworth-Orr delivered greetings from Sen. Sherrod Brown, Democrat of Ohio, speaking of the USW canary pin, given to him by steel workers in Lorain, Ohio, that he always wears in his lapel. It symbolizes where safety standards were for workers a hundred years ago, where a canary would be used to measure air quality; if it died, it was an indication that the air was bad. It's a time that many corporations and conservative politicians would push us back to.
She delivered a prepared statement from Sen. Brown stating his "unwavering support for the worker's struggle for safe working conditions, fair wages, and benefits. All won through collective bargaining."
The reception the strikers received put to bed stories from the corporate media of anti-union attitudes supposedly exhibited by local folks. In spite of minus-double-digit temperatures, people poured out of local restaurants to wave, give thumbs up, and pat strikers on the back as they marched down Findlay's main street, on the way to the Marathon headquarters.
Randie Pearson, who is the USW Women of Steel chair at the struck Toledo Refinery, said, "I'm so happy to be here, with everyone. But I had to be here, or I never could go home again. My grandfather worked at Toledo Refinery when it opened and helped bring the union in. My father and uncles have been, still are proud union members. It is a strong proud legacy for family that I'm on the picket line. I was able to go to college, my family has been raised on union wages. The union brought us everything we have. This struggle is the legacy that we give to our next generation!"
"This is probably the only thing that would get me out here," said Dave Bilski, vice president of Toledo Steelworkers Organization of Active Retirees (SOAR). "These folks are fighting for all of us. They aren't out for money or benefits, it's safety. The only way we're safe is if they are, and its our responsibility to stand up with them!"
Similar sentiments were expressed in a statement from Joe Uehlein, executive director of the Labor Network for Sustainability.
"Oil refinery workers are in the front line protecting our communities against the environmental hazards of the industry. Only their skill and expertise protects communities from devastating explosions & spills. The oil companies are creating conditions that make it impossible for the refinery workers to protect us."
"This strike is about creating conditions that are safe and healthy for workers and communities. The strikers deserve support from environmentalists and all concerned with rights of working people!"
Diane Feely was part of a carload of UAW retirees that came to the rally to support the refinery workers. "This is a no-brainer," she said. "The workers are standing up for safety. We all need to stand up with them!"
If people would like to send resolutions of support, money, or other help, they can send it to:
Wayne Ranick
USW director of communications
wranick@usw.org
Or mail to:
(same name as above)
5 Gateway Center
Pittsburgh, P.A. 15222
Photo: USW's Rapid Response Team