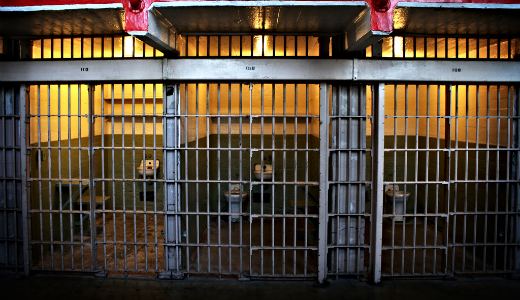 In an action that has spread from the Security Housing Unit (SHU) at California's maximum security Pelican Bay State Prison, thousands of California state prison inmates have been conducting a hunger strike since July 1, protesting harsh conditions many observers say amount to torture.
At its peak over the July 4 weekend, some 6,600 inmates from 13 of the state's 33 prisons and one out-of-state contract prison were refusing meals, and over 2,000 were reportedly still refusing meals at midweek. Prison authorities said some inmates were refusing all meals, while others were selectively rejecting food.
The strikers are demanding an end to group punishments for an infraction by an individual, and to the prison's "debriefing" policy, which forces inmates to "snitch" on fellow prisoners in order to be released from the SHU. They seek an end to long-term solitary confinement, in conformity with 2006 recommendations of the U.S. Commission on Safety and Abuse in Prisons. They are also calling for adequate food, warmer clothing, one phone call a week, longer visiting hours and more opportunities for "self-help treatment, education, religious and other productive activities."
Prison authorities are reportedly meeting with inmate representatives, but as of July 6, Department of Corrections spokeswoman Terry Thornton said no decision had been made to modify SHU policies.
Built in 1989 in a rural area of far northern California, Pelican Bay "is the nation's first purpose-built supermax prison, and remains one of its most notorious," journalists James Ridgeway and Jean Casella wrote on solitarywatch.com just before the strike began.
Within the maximum-security facility, the Security Housing Unit, a solitary-confinement prison within a prison, houses nearly a third of Pelican Bay's 3,500 inmates.
Ridgeway and Casella cited National Public Radio reporter Laura Sullivan's description of the SHU, "Everything is gray concrete: the bed, the walls, the unmovable stool … You can't move more than 8 feet in one direction … This is where the inmate eats, sleeps and exists for 22 1/2 hours a day. He spends the other 1 1/2 hours alone in a small concrete yard."
Inmates end up in the SHU not only for "violent" behavior but also for alleged gang membership, gang "association" and insubordination. Observers point out that a high proportion of SHU inmates are black, even when compared to the disproportionate number of African Americans in the prison population as a whole.
Among solidarity actions with the striking inmates, the Berkeley, Calif.-based Prison Law Office, which works to improve conditions for California inmates and recently won a lawsuit forcing reduction of the state's prison population, said in a statement that it "supports the Pelican Bay SHU prisoners' demands for a more effective and fair means to address criminal gang activity and individual responsibility."
The Prison Law Office called on the Department of Corrections to "respond in a meaningful way to the inhumane conditions in the Pelican Bay SHU, and to end long-term solitary confinement and provide constructive programs and privileges for indefinite SHU prisoners."
Photo: Derek Key // CC 2.0