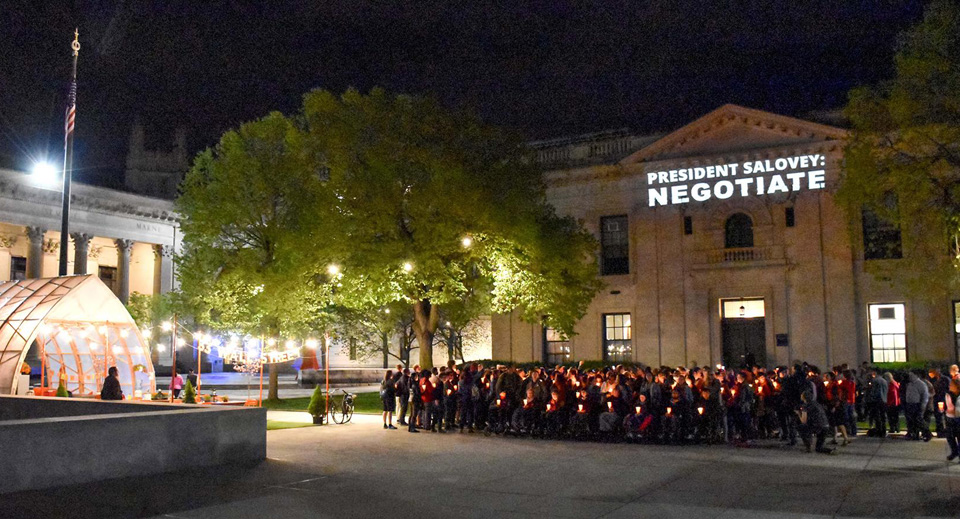 When Yale University refused to negotiate a first contract with graduate workers following an overwhelming NLRB election victory in eight departments, it was clear that this $25 billion institution was relying on their Trump administration connections to torpedo recognition of UNITE HERE Local 33.
Instead of giving up in despair, the determined graduate teachers launched a "fast against slow." Eight Local 33 leaders inspired by Gandhi, César Chávez and Martin Luther King, Jr. decided they would not eat or drink anything except water until President Peter Salovey begins talks. In Beinecke Plaza adjacent to the administration building and Salovey's office, the union erected a structure which is staffed around the clock.
The graduate workers' courageous stand for democratic rights and union rights is inspiring widespread support as part of the national resistance against Trump's anti-worker policies.
The ties between Yale and the Trump administration run deep. On day ten of the fast, Local 33 turned a public spotlight on the connection with Wilbur Ross, Secretary of Commerce and the wealthiest member of Trump's cabinet of billionaires.
Ross' $10 million donation to Yale's business school, the School of Organization and Management (SOM), bought naming rights to the school's library, and a seat on SOM's Board of Advisors.
On May 5, graduate teachers from Local 33 infiltrated SOM and hung a large banner on its front, renaming it "Trump University." Other union members sat down in front of  the library, chanting "Trump, Ross, Salovey! Negotiate without delay!" They were charged with creating a disturbance.
Meanwhile, the eight hunger strikers sat outside in the pouring rain, while 150 supporters picketed, wearing posters of Salovey with Trump's orange hair.
The union issued a research paper, detailing the Yale-Ross-Trump connection.
Wilbur Ross is best known as the "king of bankruptcy." He acquired his billions by buying up bankrupt companies like LTV and Bethlehem Steel, stripping their assets, devastating their communities and leaving their workers without jobs and with little or no pensions.
During the bankruptcy proceedings of the Atlantic City Trump Taj Majal, Ross struck a deal favorable to Trump that led Bloomberg Businessweek to call Ross the President's "former savior."
Ross was also connected with the mortgage company AHMSI, later sold to Ocwen Financial. These companies participated in the wave of millions of foreclosures nationwide, often accompanied by bad faith and outright fraud.
In New Haven, the struggling city whose center is occupied by Yale, many working class families have been foreclosed and evicted, some caused by the Ross-connected companies.
Yale's endowment has investments in these mortgage companies. While graduate teachers protested at Yale's SOM, eight retirees from Locals 34 and 35, representing the university's support staff, sat in at Yale's investment office. They demanded to meet with the chief investment officer, outraged that their pension funds are invested in predatory companies associated with the Trump administration.
At the same time, UNITE-HERE union members in Palm Beach, Florida picketed in front of Ross' home, and a spirited group protested in Washington, DC at the Department of Commerce which Ross heads.
The union has established a special website 33wallstreet.org to expose other aspects of Yale's ties to Trump and its unsavory investment strategy.
Yale's graduate teachers explain that they want a union because they have poverty wages and need a grievance procedure to resolve the racism and sexual abuse they experience on campus.
In February, the graduate teachers, who do much of the undergraduate teaching and grading at the University, won union elections in eight departments. The elections had been ordered by the National Labor Relations Board (NLRB) after twenty five years of stalling by the University, which has consistently denied the teachers' right to a union.
Instead of accepting the elections, certified by the NLRB, Yale has refused to negotiate with the union, and has appealed the NLRB ruling.
The union submitted petitions with the names of 12,000  Yale students and workers, New Haven and Connecticut residents, and city and state elected officials. But Yale would not negotiate.
So on April 25, eight graduate workers began the "fast against slow." They are checked by medical professionals daily, and when one has to drop out another graduate worker takes their place.
The union accused Yale of deliberate stalling — dragging out appeals until Trump appoints new members to the NLRB who will likely support Yale's contention that the graduate workers are not really workers and declare the election results invalid.
Whatever its liberal image, in reality Yale University profits from its relationships with the Trump Administration.
In addition to Ross, Trump appointed two other Yale alumni to his cabinet: Wall St. financier Steven Mnuchin is Secretary of the Treasury, and retired neurosurgeon Dr. Benjamin Carson is Secretary of the U.S. Department of Housing and Urban Development (HUD). Trump also appointed Yale alumnus Stephen Schwarzman, co-founder of the Blackstone Group, as adviser on economic policy.
The struggle has attracted national media attention. Daily marches, rallies and other actions in solidarity with the fasters, have inspired Senators Richard Blumenthal and Chris Murphy, Congresswoman Rosa DeLauro and Mayor Toni Harp, dozens of clergy and community organizations, fifty campus faculty and 1,000 undergraduate students to stand together against this Yale-Trump axis.
Singer-songwriter Melissa Etheridge, in New Haven for a performance, came to the site with bottles of water saying the fast will "carry to the very heart of America."
The battle for workers' rights that Local 33 graduate teachers have taken head-on is ground zero of the battle for all workers' rights in our country today.