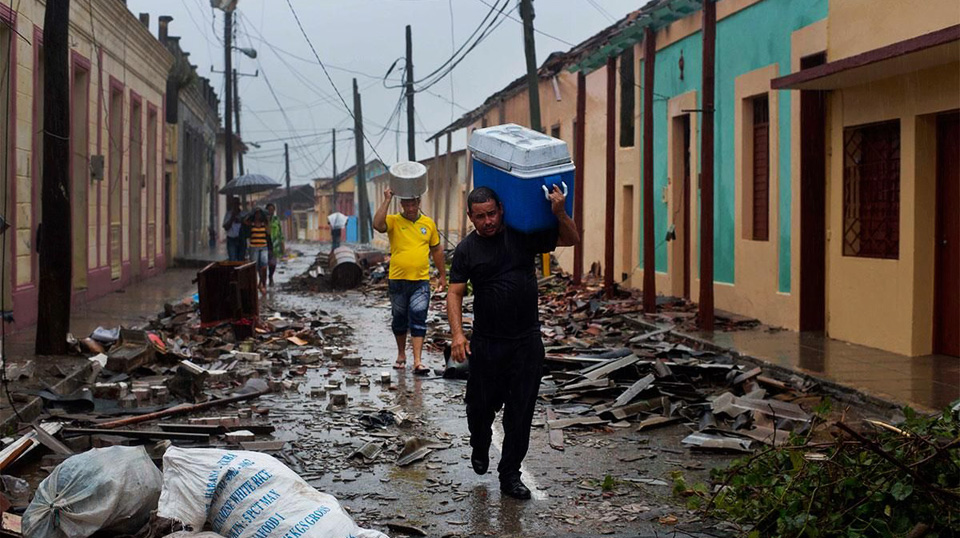 As millions of Floridians clog the highways today trying to escape Hurricane Matthew, they are running into another hazard, this one created by their governor: due to Governor Rick Scott's cutting back corporate taxes generally ignoring the needs of residents, Florida's highways and bridges are deteriorating.
The American Society of Civil Engineers has given Florida's infrastructure a C.
Fraser Howe, director of engineering and planning for Metro Consulting Group LLC and a former president of the Civil Engineers society, recently told the Orlando Business Journal that Florida's deteriorating infrastructure is bad for any business that depends on making deliveries. For example, said "In the future, any bridges that are structurally deficient, meaning they had to have their load rating lowered, [will] result in a detour that would lengthen a truck's travel time."
Meanwhile, Governor Scott advised all Floridians to "Evacuate! Evacuate! Evacuate." He said this hurricane "can kill you."
After the hurricane and its results fade, maybe Floridians will worry once again about truck delivery times. At present, they are just hoping that their bridges can carry the load of the cars of millions of evacuees.
Despite Governor Scott, Floridians are getting a small break. Matthew has been downgraded from a Category Four hurricane to a Category Three. A Category Four storm has winds of 130 to 156 miles an hour. A Category Three hurricane blows at 111 to 129 miles an hour.
As it is in Florida, so it was in Haiti: the dangers from the natural disaster of the hurricane have been made much worse by the shortsightedness of those running the government.
In Haiti, hurricane damage is much worse because the nation has suffered almost total deforestation.
In 1923 over 60 percent Haiti's land was forested. In 2006, less than 2 percent of forested land remained.
Most of Haiti's governments have done virtually nothing toward reforestation, but in the 1980s, thanks to funding from foreign sources, more than 25 million trees were planted. However, more than seven trees were cut to be sold for every one tree planted.
As a result, the soil in Haiti continually erodes and Haitians have little protection from devastation by hurricanes and other natural disasters.
This week, some 340 Haitians were killed by Hurricane Matthew and many towns wiped out. In addition, thousands were displaced after the storm tore apart homes and flooded neighborhoods.
Four people were killed in the Dominican Republic, which shares with Haiti the island of Hispaniola.
The route of the storm
After it hit Haiti, Matthew continued to the Bahamas, passing near the capital, Nassau, then going out over the western end of Grand Bahama Island. So far, news sources have not received any official reports of causalities or damage.
Likewise, it is too early to tell exactly what damage Matthew will do in the U.S., but more than 12 million people are under hurricane watches and warnings, according to the Weather Channel.
The National Hurricane Center's warning extends up the Atlantic coast from southern Florida through Georgia and into South Carolina.
Jeff Masters, a veteran hurricane expert, said on his Weather Underground website that the Cape Canaveral area in central Florida is most vulnerable.
"If Matthew does make landfall along the Florida coast, this would be the most likely spot for it. Billions of dollars of facilities and equipment are at risk at Kennedy Space Center and nearby bases, which have never before experienced a major hurricane," Masters wrote.
According to the Reuters News Service, NASA and the U.S. Air Force, which operate the nation's primary space launch site at Cape Canaveral, have already taken steps to safeguard personnel and equipment. "A team of 116 employees was bunkered down inside Kennedy Space Center's Launch Control Center to ride out the hurricane," Reuters reports.
Gas stations and food stores ran out of supplies last night in Florida, Georgia and North and South Carolina, and it is expected that millions of people will soon lose electric power.
Hundreds of passenger flights were canceled in south Florida, and cancellations were expected to spread north in coming days along the storm's path, airlines including American Airlines, Delta Airlines and United Airlines.
Roads and highways in all four states are as clogged with evacuees as they are in Florida, and all four states have opened shelters for people seeking protection from the storm. At present, more than 3,000 people were being housed in 60 shelters in Florida alone.
Furthermore, the U.S. government has declared Florida, Georgia and North Carolina and South Carolina to be in states of emergency, which allows the governors to mobilize the National Guard and to receive federal aid.
President Barack Obama called the governors of the four states yesterday to discuss preparations for the storm.
"Hurricane Matthew is as serious as it gets. Listen to local officials, prepare, take care of each other," Obama warned people in the path of the storm in a posting on Twitter.
No matter how dire the tragedy, Governor Rick Scott is plumbing it for political gain.
Despite the hurricane, Scott has refused to extend the deadline for voter registration, a move calculated to help Republicans in the upcoming elections.
According to CBS News, When a reporter pointed out that absentee ballots were being mailed out this week and the storm could stop some from voting early, the governor just blew off the question.