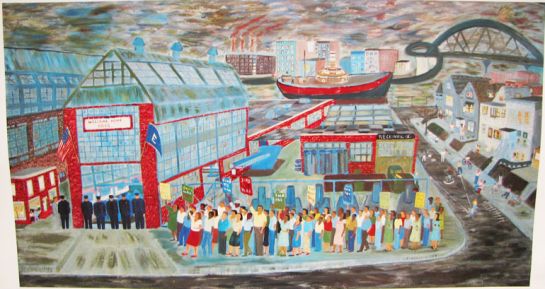 NEW YORK – Two great events of transcendent cultural significance are taking place at or across the street from Lincoln Center in Midtown Manhattan, but only until the end of November. Anyone within striking distance of NYC is advised to hurry over there and take them in.
First is a career retrospective of the self-made radical painter and visual chronicler of 20th-century American working-class life, the long-time Communist Party member and union organizer Ralph Fasanella. His exhibition "Lest We Forget" runs only through Sunday, Nov. 30 at the American Folk Art Museum at 2 Lincoln Square, Columbus Avenue at 66th St., right across the street from Lincoln Center. The show honors Fasanella on the centennial of his birth.
This major exhibition includes a selection of artworks from the museum's own collection, which holds more than one hundred Fasanella pieces. The Bronx-born Ralph Fasanella, who died in 1997, could be called the radical Grandma Moses. He worked in a folklike narrative style, piling and compiling numerous historical references into each of his canvases. Celebrating authentic working-class people, especially immigrants and the communities they built, Fasanella became famous for his series based on the Lawrence, Mass., textile strike led by the Industrial Workers of the World. Over the course of a career spanning 52 years, he also addressed Sacco and Vanzetti, McCarthyism, the Rosenbergs, and in his final painting, the demise of the USSR. At that point, in the early 1990s, not long before the end of his life, his feelings about the Soviet Union and this first attempt at building a socialist society had obviously become quite complex.
"Lest We Forget," organized by the Smithsonian American Art Museum, comprises several dozen major paintings, each one worthy of long, appreciative study. For those who may have seen some of Fasanella's paintings reproduced as poster art, the scale and detail of the original works will not fail to impress.
Visiting hours are Tuesday-Thursday 11-7; Friday 11-7:30; Saturday 11-7, and Sunday 11-6. Visit the page about the Ralph Fasanella Collection and Archive at the American Folk Art Museum.
And now, back across the street to the Metropolitan Opera, which this month is concluding its run of performances of the 1934 opera Lady Macbeth of Mtsensk by Soviet composer Dmitri Shostakovich (1906-1975). Only three performances remain: Friday, Nov. 21 and Tuesday, Nov. 25 at 7:30 pm, and Saturday, Nov. 29 at 1 pm. This opera, with a libretto by the composer and Alexander Preis, is based on a short story by Nikolai Leskov published in 1865, when Russian literature was beginning to come to world attention. Its titular reference to Shakespeare reflects the yearning of Russian writers to be taken seriously as having something to say of global importance.
Briefly, the story concerns Katerina Ismailova, wife of a landowner far from the bright lights of Moscow, who is driven crazy by the "idiocy of rural life," to use Marx's phrase from the Communist Manifesto, which could perhaps more properly be translated as the "isolation" of rural life. Besides which, she has a loveless marriage, a tyrannical father-in-law, a lustful nature with nothing to occupy her time constructively, and a disposition toward murder. And she has to endure the constant sexist taunting and humiliation by every man around her. It was once said by an early critic of Puccini's opera Tosca that it was a "shabby little shocker." Well, Shostakovich ramped that up in geometric proportion.
Shostakovich followed many of the normal precepts for Russian opera: large crowd scenes, a drinking song, sad songs of longing and lament, workers songs, wedding songs, a policemen's production number, a soldiers chorus, a treacherous lover, a fool, and a tipsy, hypocritical Orthodox priest and, since Czarist oppression is never far out of sight, a lonely prisoner's aria and a prisoners chorus.
Though the story line is marbled with the kind of naturalism or hyper-realism that came into literature at the end of the 19th century (think Emile Zola or Theodore Dreiser, or verismo in Italian opera), the creators of this opera knew they had a sequence of over-the-top incidents that rightly called for a heavy dose of satire. The composer himself referred to the work as "tragi-satirical." In many places the orchestra takes over from the words, underlining the action with sardonic comedy and a highly evolved sense of the grotesque. After the steamiest sex I have ever seen on the operatic stage, a series of descending trombone slides graphically indicates the scene coming to its end.
In the Met's staging, originally a 1994 production designed by Graham Vick, revived in 2000 and now again in 2014, the setting is mid-20th century, less specifically Russian and more universal, complete with cars, tractor, crane, cement mixer, refrigerator, TV, comic books and strobe lights; but all the tackiness, the banality, the crudity of rural life is fully on display. One could only think of Betty Friedan: "Each suburban wife struggles with it alone," she wrote in The Feminine Mystique. "As she made the beds, shopped for groceries, matched slipcover material, ate peanut butter sandwiches with her children, chauffeured Cub Scouts and Brownies, lay beside her husband at night – she was afraid to ask even of herself the silent question – 'Is this all?'"
Was Leskov's story an appropriate vehicle to adapt into an opera for socialist audiences in the USSR and a more general public worldwide? Obviously Shostakovich and Preis believed so. It shows the tragedy of a land caught in the grip of a semi-feudal autocracy, its people and its productive forces held back by irrational prejudice and ignorance, its aspirations toward modernity thwarted at every turn. A teacher is arrested and sent to a Siberian labor camp for heresy because he wonders if God gave man a soul, does a frog also have a soul? Paternalistic severity, drunken vulgarity, the mean objectification of women, religious obscurantism, private ownership of land, and the killings that one can expect from such a horrible milieu: All these are the crimes of Czarism that the Revolution overturned. It compares to the almost exactly contemporaneous Rise and Fall of the City of Mahagonny by Kurt Weill and Bertolt Brecht, another searing criticism, but of capitalist ideology and its hideous amorality.
The Soviet Lady Macbeth has a fascinating history. It premiered to widespread acclaim, with productions in Leningrad and Moscow, although some critics noted the absence of a positive moral presence in the work. It shortly traveled abroad in a dozen different productions, arriving only a year later in Cleveland's Severance Hall and New York's Metropolitan Opera. A Wunderkind of Soviet music, Shostakovich was hailed worldwide as the newest, freshest voice of the new socialist culture that emerged after the 1917 Revolution, a globally recognized master of orchestration not yet even 30 years old.
But what Shostakovich could not anticipate with this opera was that by 1936, only two years into its life, Joseph Stalin had solidified his tight control over the Soviet apparatus. Whereas the 1920s and early 1930s are remembered as an era of immense flowering of the arts, the Stalin years are characterized (generally speaking, with notable exceptions) by adherence to more traditional folk and symphonic forms, less experimentation, greater politicization of the arts, heavy censorship and toeing of the line. The middle 1930s were the years of the great purges and show trials which liquidated large numbers of the early Bolshevik leaders, both party and military, if they might have posed any threat to Stalin's one-man rule.
On Jan. 28, 1936, two days after Stalin himself walked out of a Moscow performance of the opera, Pravda published an unsigned editorial called "Muddle Instead of Music," that sharply criticized "the din, the grinding, the squealing" of Lady Macbeth, lamenting the fact that the composer had received nothing but untempered praise. From that moment on Shostakovich knew he was a marked man, and from his example Soviet artists understood they had to trim their sails to fit the new, narrow precepts of socialist realism. In some cases, musicians, actors and poets lost their lives to Stalin's terror.
From the perspective of history we can see that Stalin needed to knock down any possible challengers to his position, even – or maybe especially – from a young composer bursting with talent and ideas whom the whole world had come to respect and love so well. Shostakovich showed the horrors of Czarist times, and that was a healthy reminder in 1934. But did Stalin really want Soviet audiences in 1936 to see lines of starving, long-marching, leg-chained prisoners trekking off to Siberia in heat and cold, dust and pain?
Not so strangely, in the West during that same decade a similar transformation also occurred in the arts, partly stemming from reduced support during the Depression for large-scale symphonies and operas, from an apolitical beaux arts mentality focused on the individual artist's expression, to a more Popular Front esthetic appealing to a wider audience base, sometimes produced by WPA-era government units, and focused on broad historical themes. Such cosmopolitan composers in the U.S. as Aaron Copland, Elie Siegmeister, and Marc Blitzstein, moved to communicate more directly to the public in an age of fascism abroad and strong fascist-minded movements at home, made this turnabout in their style. The Seattle-born Earl Robinson led the way with his folk-inspired songs and cantatas. The supreme achievements of that period were Copland's ballet scores, Blitzstein's comic labor opera The Cradle Will Rock, and Robinson's choral pieces Ballad for Americans and The Lonesome Train.
Under the musical leadership of James Conlon, who conducted the first Met performances of Lady Macbeth of Mtsensk in 1994, the score shines brilliantly. It is assuredly one of the operatic masterworks of the 20th century which, after Stalin died, tentatively and then enthusiastically returned to the repertory, becoming once again a powerful, effective and much admired work, a recovered gem from the first generation of Soviet culture. The production is studded with great singing up and down the roster, starting with Katerina performed by the tantalizing Dutch soprano Eva-Maria Westbroek, who could easily morph into a great stage actor, and her lover Sergei sung by tenor Brandon Jovanovich, with his big cat-like prowling and stalking, a Marlon Brando figure in full operatic bloom. The chorus, as in Mussorgsky's operas, plays a huge part in its various roles as farm laborers, wedding celebrants, captive prisoners, and more.
As I say, hurry, hurry!
Photo: Fasanella painting. BayCitizen.org