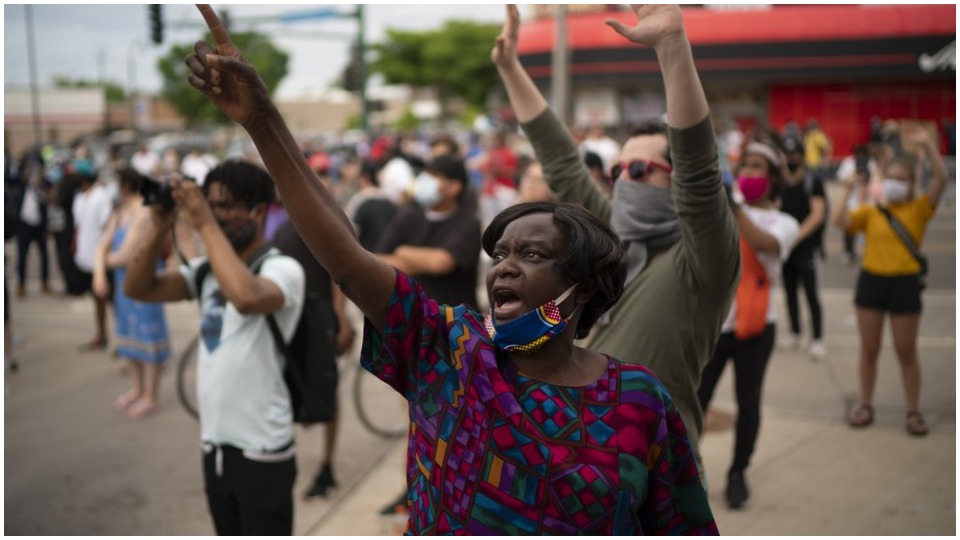 Civil unrest and outrage have overtaken the city of Minneapolis as a community seeks retribution for the death of yet another Black person at the hands of police. Video footage went viral earlier this week showing four white officers using excessive force and an unauthorized restraint maneuver to arrest 46-year-old George Floyd. George lost his life on May 25 due to the actions of these officers, despite his pleas for help and consideration.
The cops have been "separated from employment," but Floyd's family seek murder charges against those responsible, asserting that unemployment with benefits is a far cry from the punishment the police involved should endure.
In the haunting Facebook video of the incident that happened Monday night, Minneapolis police officer Derek Chauvin is seen pushing his knee into George's neck on the pavement of Chicago Avenue near 38th Street in front of the Cup Foods grocery store.
"Please, please, please, I can't breathe. Please, man," George can be heard saying to the officer. The officer does not relent his pressure on George's neck. "I can't breathe," George continues to plead. "My stomach hurt, my neck hurt, everything hurts," he screams. He asks for water and is given none.
During all of this, Floyd is already on the ground and in handcuffs.
Onlookers are heard shouting at the officers. Some ask them to give George medical attention. Others point out that there's no reason for Officer Chauvin to continue placing his knee on George's neck.
Chauvin keeps his knee pressed into George's neck for over five minutes. George's eyes eventually close. He becomes unresponsive.
It was reported that George was taken to the hospital and died there a short time later.
The report by the officers involved claimed they were responding to a non-violent forgery in progress when they apprehended Floyd.
Minneapolis Mayor Jacob Frey held a press conference shortly after the story made national headlines announcing the firing of the officers involved while an investigation into George's death proceeds.
Frey asserted that Officer Chauvin used excessive force that was not a sanctioned technique for apprehending individuals.
"The technique that was used is not permitted, is not a technique that our officers get trained in," Frey said. "There is no reason to apply that kind of pressure with a knee to someone's neck."
Frey called the firing of the officers the right decision for the city. The mayor also noted, "Being Black in America should not be a death sentence."
Many are calling for more than the officers involved to lose their badges. George's family wants them charged with murder.
In a televised interview on CNN with Don Lemon, George's cousins spoke about his death. "Knowing my brother is to love my brother. They could have tased him; they could have maced him," Philonise Floyd explained. "Instead, they put their knee in his neck and just sat on him and then carried on. They treated him worse than they treat animals."
George's family has enlisted the help of civil rights attorney Ben Crump to seek justice. Crump has represented many families in similar cases, such as Trayvon Martin, and currently Ahmaud Arbery and Breonna Taylor.
In a statement to the press, Crump said, "We all watched the horrific death of George Floyd on video as witnesses begged the police officer to take him into the police car and get off his neck. This abusive, excessive, and inhumane use of force cost the life of a man who was being detained by police for questioning about a non-violent charge. We will seek justice for the family of George Floyd, as we demand answers from the Minneapolis Police Department. How many 'while Black' deaths will it take until the racial profiling and undervaluing of Black lives by police finally ends?"
Jamie Gulley, President of the SEIU Healthcare Minnesota and the SEIU Minnesota State Labor Council, stated, "We firmly believe that we must continue to dismantle the systematic racism and persecution of Black lives. To everyone hurting and to everyone ready to fight for a better future, we stand with you."
The statements by Crump and Gulley speak to the racial profiling and harassment against Black men and women that has long been known to occur at a higher rate than that toward white people. As many across the country deal with the new normal during the global pandemic, Black people, disproportionately affected by coronavirus, must also contend with the discrimination that comes along with safety measures and the obstacles in seeking justice.
Although physical distancing measures are still in place, Floyd's death seemingly served as a tipping point for a community outraged by police harassment, with hundreds taking to the streets of Minneapolis in protest.
Protesters gathered at the intersection where Floyd was arrested on Tuesday evening. According to CBS Minnesota, the protest turned into a march around 6 p.m., going towards the 3rd Precinct police office where it is believed the officers involved in the incident worked.
Photos emerged all over the internet of police, in riot gear, confronting the protestors spraying tear gas and rubber bullets into the crowds, causing further hysteria and fear.
Rep. Ilhan Omar, congressional representative for Minnesota's 5th District, which includes Minneapolis, tweeted: "Shooting rubber bullets and tear gas at unarmed protesters when there are children present should never be tolerated. Ever. What is happening tonight in our city is shameful. Police need to exercise restraint, and our community needs space to heal."
The police offensive against the protestors, predominantly Black, gathering in the streets over the murder of someone in their community, is a far cry from the less aggressive police response to predominantly white armed militias overtaking state capitol buildings demanding their rights to hair cuts, pedicure appointments, and other services during lockdown. The stark difference displays the deep-rooted inequalities of U.S. society when varying communities seek what they deem as justice.
Studies have shown that across the country, Black people face intense bias in the criminal justice system. Minneapolis is no different, as city data shows that Black residents are more likely than others to be stopped and searched by police as well as to be the targets of police use of force. Floyd's death is eerily similar to that of another Black man who died as a result of police misconduct, Eric Garner.
Garner was killed when a New York City police officer, Daniel Pantaleo, put him in an illegal chokehold that resulted in his death. The officer was never brought up on charges.
Just as Officer Pantaleo had previous complaints about his conduct before he assaulted Garner, so too does Officer Chauvin. Chauvin has had at least 10 complaints filed against him during his two decades as a cop. He has shot and killed at least one person during his career.
Seeking accountability or any form of criminal charges, let alone conviction, in the aftermath of police assaults has been shown to be a long, uphill battle. Repeatedly, police officers have not been brought up on criminal charges despite damning evidence showing their responsibility for the killing of a Black person. If something isn't deemed as criminal, by default, it is then labeled as legal.
The only Minneapolis police officer to be convicted in an on-duty, fatal shooting was former officer Mohamed Noor, who was Black, who shot and killed Justine Ruszczyk, who was white, in 2017.
In 2018 alone, Minneapolis police officers killed Thurman Blevins and Travis Jordan. In 2019, it was Mario Benjamin.
George Floyd has now been added to that tragic list and his community appears to be fed up, calling for reform and criminal charges.
"They murdered my brother," Bridget Floyd, George's sister, told NBC News. "He was crying for help. I don't need them to be suspended and able to work in another state or another county. Their license should be taken away. Their jobs should be taken away, and they should be put in jail for murder."
The investigation into George Floyd's death is ongoing as the FBI has been called in to assist the Minnesota Bureau of Criminal Apprehension due to the racial dynamics of the case.
Like free stuff? So do we. Here at People's World, we believe strongly in the mission of keeping the labor and democratic movements informed so they are prepared for the struggle. But we need your help. While our content is free for readers (something we are proud of) it takes money — a lot of it — to produce and cover the stories you see in our pages. Only you, our readers and supporters, can keep us going. Only you can make sure we keep the news that matters free of paywalls and advertisements. If you enjoy reading People's World and the stories we bring you, support our work by becoming a $5 monthly sustainer today.