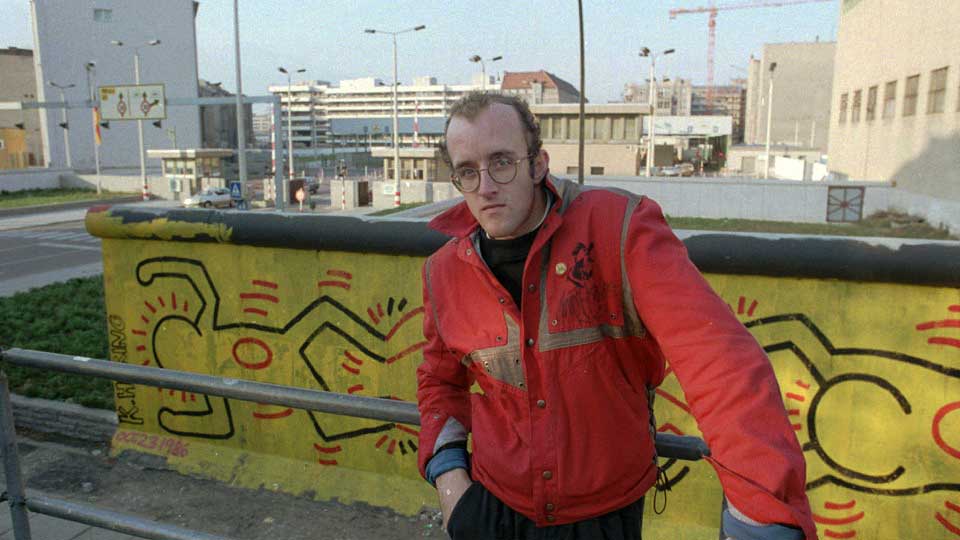 LOS ANGELES — Keith Haring (1958-1990) was a gay boy from Kutztown, Pa., who moved to New York City in 1978 to study art. For the next decade, he thrived in the city's emerging Hip-Hop and graffiti culture that influenced high culture through exposure of his murals at large dance and social clubs such as the Mudd Club, Club 57, the Palladium, and Paradise Garage, where he befriended performers such as Grace Jones, Madonna, and many others.
His reputation grew as his "Radiant Baby," a crawling infant that sent off rays of light, became a recognized symbol. Others of his images that became identified with his style were memes such as barking dogs, flying saucers, large hearts, crosses, Xes, and erect penises. "A lot of my inspiration was coming out of watching break-dancers, so my drawings started spinning on their heads and twisting and turning all around. The work directly referenced hip-hop culture."
On view now at The Broad, a museum of modern art in downtown Los Angeles, is Keith Haring: Art is for Everybody, a generous sampling of Haring's work spread out through nine large first-floor galleries. It is confirmation, for those already familiar with his work, of his profound significance and influence, and a revelation to those who may not yet know it in its fullest amplitude.
The late Seventies was an era of sexual exploration and explosion, and Haring participated in its erotically rebellious community. The first rumors of a strange sickness affecting gay men started circulating in the early eighties, even before any word of it had been published. Its official press début in the July 3, 1981, issue of The New York Times sent tremors of fear throughout the gay male world. The number of deaths from what would eventually be called AIDS, or later HIV disease, grew exponentially. Haring himself was infected, and died on Feb. 16, 1990. For several years, he said, "I know my days are numbered."
With that knowledge, he filled what remained of his life with art-making, and rapidly became a pop cult figure. Widely sought after and exhibited, he—and the galleries that represented him—commanded ever higher prices for his work. Just as HIV-AIDS came upon the scene, the Ronald Reagan era glorified wealth and profit, at the expense of the poor and defenseless of the Earth. As successful as Haring and his gallerists became, the artist never lost sight of the need for everybody to be able to access his art. His first pieces showed up in the New York City subways, drawn on empty black spaces where advertising posters would soon be mounted. He opened his Pop Shop in 1986 in Soho to make his art available at affordable prices. "I could earn more money if I just painted a few things and jacked up the price," he said. "My shop is an extension of what I was doing in the subway stations, breaking down the barriers between high and low art."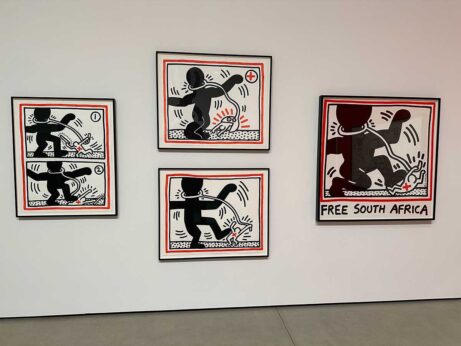 In the meantime, as the years took their terrible toll on gay people's lives, the U.S. President said nothing publicly about it, nor ordered federal health agencies to study AIDS and research cures or treatments. Instead, Reagan is on record for cracking cruel homophobic jokes about dying American citizens. Haring, in response, developed a deep-seated understanding of capitalism as a noxious force in the world. He advocated for public health, against crack cocaine killing people in our inner cities, for nuclear disarmament, for UNICEF, against Reagan's white "Let's make America great again" nationalism, and very memorably against South African apartheid—which also Reagan would do nothing to reform or abolish.
Reagan finally gave his first major speech acknowledging the AIDS epidemic a full six years into the crisis, by which time more than 21,000 Americans had died.
Haring actively supported the AIDS Coalition to Unleash Power (ACT UP), both financially and by means of the posters and flyers he designed that reflected the activist organization's messaging. He was diagnosed with AIDS in 1988.
A selection of items from the Pop Shop here specifically draws attention to Haring's critique of America's free market system. The didactic panel informs us that "Haring made many works engaging the stereotype of the 'capitalist pig,' often used in political cartoons to depict greedy businessmen. Created during the Reagan era of trickle-down economics, Haring's pig paintings comment on the ills of capitalism and abuses of power in the name of profit."
Seven years after he died a vast, a magnificent 1997 retrospective of his work at the Whitney Museum in New York reinforced not only his role in the LGBTQ world but in the anti-racist, anti-imperialist movement as well. This is the first time Haring's work has been featured in a Los Angeles museum, curated by Broad exhibition manager Sarah Loyer, who welds her presentation of Haring's artistic practice with events from his life and quotes from his personal journals.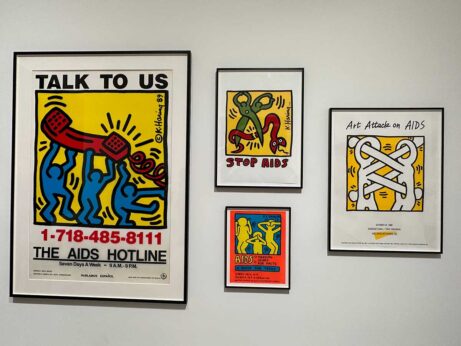 If Loyer does not play it coy about Haring's libidinal eroticism, his embrace of sexual liberation, neither is she reticent to explore the artist's social consciousness. Many of the works on view at The Broad are assertively political, and even utopian in their aspirational intentions. His critique of consumerism and commodification shows up in caricatures of Andy Warhol's concept of art. Nor does the global impact of Walt Disney escape his attention. If Haring is willing to fuse Warhol and Disney, Inc., he is also aware that as a celebrity in the commercial market, he himself was a participant in that very phenomenon of buying and selling art as an exchange commodity. It's one reason why he was disposed toward projects where he could produce public art murals, at schools, hospitals, clinics, and children's centers.
Haring enjoyed but a short career, dying at only 31, filling almost every moment of the day with making art.
On a personal note, I recall the one time I met him. From 1986 to his death in 1993, I was the lover of Rick Barnett, who was the director of the Hal Bromm Gallery in New York. He knew and exhibited many of the cutting-edge artists on the "East Village" scene in those years, quite a few of whom were gay or lesbian. In 1989 his proposal was accepted at the LGBT Center in New York City, to celebrate the 20th anniversary of Stonewall by inviting both well-known and emerging artists to create site-specific works all throughout the Center in a variety of expected and unexpected places.
One of the most memorable hours of my life was watching Keith Haring, whom Rick had represented for a time at his gallery, paint the mural at the Center's upstairs men's room. Rick invited me to observe the work in progress. Standing on a scaffold, Keith allowed his brush to flow across the prepared white walls, his erotic dream imagery exploding in an all-embracing orgasm of raunchy surrealism in a seamless exuberant stream of black paint. He worked from no sketch or plan. It just came out of him spontaneously and miraculously, though of course employing the familiar tropes and gestures of his stylistic vocabulary. After subsequent extensive building renovations, some of those 1989 installations are gone now, but other pieces remain, including the precious Haring mural.
On the website Cultural Daily, readers can watch Rick Meghiddo's short documentary "Art for Everyone?" with commentary and much footage of the exhibition. It includes scenes of Haring working, confirming for any viewer how fluidly inspired he painted. He would draw his fabulous chalk cartoons on the black paper indicating a vacant poster space in subway stations in under a minute, most of the time evading the transit police, though there's also a scene of him getting arrested for it in the film.
"My contribution to the world is my ability to draw," Haring wrote. "I will draw as much as I can for as many people as I can for as long as I can. Drawing is still basically the same as it has been since prehistoric times. It brings together man and the world. It lives through magic."
After his AIDS diagnosis, Haring created the Keith Haring Foundation to continue his artistic legacy and with the mandate to provide funding to AIDS organizations for education, research, and care, as well as to groups that work with children and marginalized communities.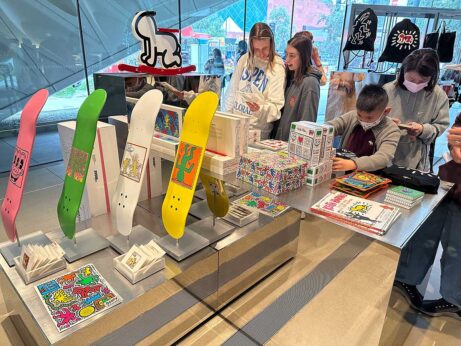 In good news for folks in the Midwest and in Eastern Canada, this show will travel to the Art Gallery of Ontario in Toronto (Nov. 11, 2023-March 17, 2024), and then to Minneapolis's Walker Art Center (April 27-Sept. 2, 2024).
The Broad is located at 221 S. Grand Ave., Los Angeles 90012. It is open Tues., Weds. and Fri. from  11 a.m. to 5 p.m., Thurs. from 11 a.m. to 8 p.m., Sat. and Sun. from 10 a.m. to 6 p.m. It is closed Mondays, Thanksgiving, and Christmas. General admission is free, except for some special shows, of which the Haring exhibition is one.
Keith Haring: Art is for Everybody extends through October 8, 2023. Tickets for it are $22, but visitors can receive free access to the show every Thursday evening from 5 to 8 p.m. Advance reservations for a visit to The Broad are recommended, as certain days and times become very popular. Access The Broad website here.