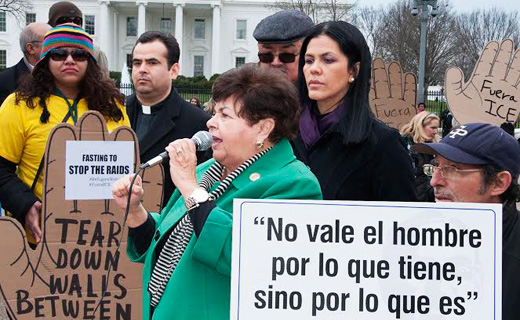 WASHINGTON – While street rallies across the nation condemn house to house raids by Immigration and Customs Enforcement (ICE) agents, U.S. House and Senate staffers met on Capitol Hill to discuss the raids and to examine a bill that would give legal assistance to unaccompanied immigrant children.
The bill, the Fair Day in Court for Kids Act, was introduced by Sen. Harry Reid, D., Nev., and Democratic California Representatives Zoe Lofgren Linda Sanchez.
The raids were ordered by President Obama and target undocumented immigrants who came to the U.S. within the past year. The result has been a reign of terror.
Marielena Hincapie, executive director of the National Immigration Law Center, told the Hill staffers that "I didn't think we'd have to be here to fight the Administration for ordering raids on people's homes."
She described how ICE agents often raid homes in the middle of the night. "Sometimes they'll grab a mother right out of bed."
ICE is an agency of the Department of Homeland Security (DHS), Hincapie explained, "although the families that have been raided do not pose a threat to the nation, nor are they a flight risk."
She continued, "Most are victims of severe trauma due to violent conditions in their home countries, especially Guatemala, Honduras and El Salvador. Most were complying with restrictions already imposed on them by DHS, such as regular check-in visits."
The meeting on Capitol Hill was sponsored by a large group of immigrant rights organizations and child advocacy agencies. Among the sponsors were the American Federation of Teachers and the AFL-CIO Executive Committee.
Street protests
From the time the ICE raids began this past January, a wide range of immigrant rights supporters have been staging protests.
A recent rally here in front of the White House included representatives of the National Council of Jewish Women, spokespersons for Native American organizations and immigrant advocacy groups such as CASA and Trabajadores Unidos.
At the rally, Maryland State Delegate Ana Sol Gutierrez said "My county, Montgomery County, has the largest number of undocumented immigrants in the state. I represent them as well as my other constituents because they have no voice. I am proud to be their voice.
"Let's tell Obama: stop the raids now! The immigrants are refugees from an area suffering a major humanitarian crisis."
Traumatized kids
How this crisis is impacting children was discussed in depth by the House and Senate staffers.
Some 100,000 unaccompanied kids have sought refuge in the United States since 2014.
"What do you think would force a 12-year-old to make a dangerous 1,000 mile trip to the U.S.?" Hincapie asked the staffers. "Why would their parents let them go?
"It's because El Salvador, Guatemala and Honduras have become murder capitals. Rape, human trafficking and femicide are common."
The root cause of the violence is poverty, Hincapie said, and the cause of the poverty can be traced back to how the United States has been exploiting Central American nations.
Children unaccompanied by an adult often arrive at the U.S. border traumatized by their dangerous journey. However, instead of giving them the care they need, U.S. border guards immediately put them in detention centers run by DHS. There they wait for a hearing before a judge.
"These centers are called "family" detention facilities," Louis Malfaro told the Hill staffers, "but that's an oxymoron." Malfaro is president of the Texas teachers' union.
Immigration Judge Leigh Marks told the group, "Over half the children that come before us have no legal counsel. How can 10-year-olds represent themselves? They can't, but there is nothing we as judges can do. We're caught in a bureaucratic nightmare within the DHS system.
"It often breaks my heart," she said, "but I have to send children back to their home countries even though I know I might be giving them a death sentence."
What's worse, the Los Angeles Times reported that since 2014 some 7,000 unaccompanied kids were ordered deported without even appearing in court.
From January, 2014 to October, 2015, as many as 83 individuals deported to Central America have been killed.
Judge Marks said that the first reform needed is to transfer the processing of immigrants from DHS to the Justice Department. The Fair Day in Court for Kids Act does not call for this, but if passed it would require DHS to ensure that all immigrants at detention and border facilities have access to legal counsel.
Of course, the best alternative would be not to treat refugees from Central American violence as dangerous persons until they can prove otherwise, but to treat them as asylum seekers unless there is evidence to the contrary.
Twelve-year-old Kelsey Rivas from Georgia told the Hill staffers about her friend Kimberly, who was arrested by DHS agents at school.
"She is still under arrest," Kelsey said. "And a lot of my friends are now afraid to go to school.
"I want Kimberly and all kids like her to be allowed to go to school."
Photo: Larry Rubin/PW