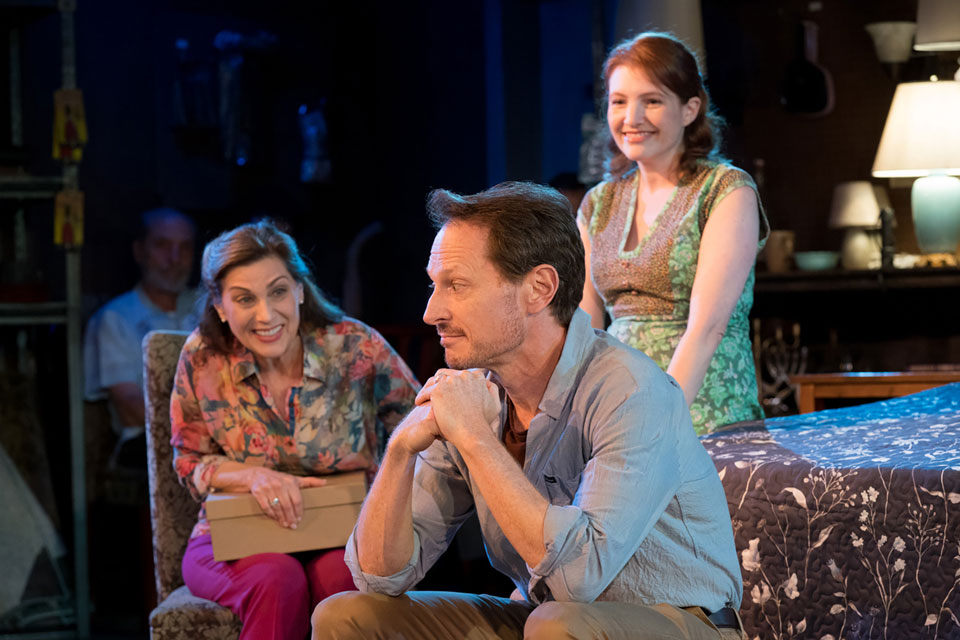 LOS ANGELES — Let me just say this: If you attend a play at the Fountain Theatre you will be handsomely rewarded. Among all the theaters in this town, large or small, the Fountain is probably the most consistently socially conscious. The current offering, If I Forget, has been extended through Dec. 18, and should not be missed. It touches a lot of critical buttons.
Tony Award-winning actor Jason Alexander, widely known from TV's Seinfeld, directs the Los Angeles premiere of Steven Levenson's, play. The playwright is the Tony Award-winning book writer of Dear Evan Hansen. Drawing from conversations within his own family, he explores the lasting impact of the Holocaust on a Jewish family at the beginning of the 21st century. Set in the period around the Gore-Bush election of 2000, a time of disappointment in the Middle East following the dissolution of the Oslo Peace Accords between Israel and Palestine, If I Forget is a mordantly funny tale about a Jewish family and an American culture at odds with itself, which makes the battle of ideas all the more powerful and more relevant than ever.
"Inevitably, one of the first targets of any authoritarian regime is history itself—what we remember, how we remember, why we remember," Levenson said in an interview. "The past is never neutral and history is never settled. This play doesn't attempt to offer any answers, but I hope, in its own small way, it can help to articulate why it is so vital that we continue to ask difficult questions, to grapple with painful, uncomfortable subjects."
Clearly Levenson is speaking not only about how the world chooses to remember the Holocaust, but how America chooses to remember its own history of genocide, race, exclusion, gender discrimination and class, all of which have come under severe attack by faux populist movements, quietly funded by major right-wing corporations, promoting the notion that "White People Matter."
"I am grateful to be able to direct a play as complex and funny and beautiful as this one," says Alexander. "The questions it asks are so relevant to much of what we are grappling with as a society today."
Levenson populates his stage with eight characters. The protagonist is Michael Fischer (Leo Marks), a left-wing professor of Jewish studies up for tenure at a prestigious New York university. He and his Gentile wife Ellen (Síle Bermingham), are in Washington, D.C., for a family reunion to celebrate his recently widowed father's 75th birthday, while their daughter Abby (Caribay Franke) is in Israel on a Birthright tour. We also meet Michael's sisters Holly (Valerie Perri) and Sharon (Samantha Klein), Holly's second husband Howard (Jerry Weil), and her son, Joey (Jacob Zelonky). The family patriarch Lou Fischer, who as a youth was among the American forces liberating the Nazi death camps, is played by Matt Gottlieb.
Two main themes dominate the action. The first has to do with the professor's forthcoming book, that analyzes the "Holocaust industry," as it were, a massive campaign to orchestrate the lessons of the past into an unending anthem of support for the State of Israel, right or wrong. Unfortunately, the manuscript of the book has been leaked out to unfriendly detractors, who have passed it on to the Jewish "establishment," with predictable results, and as a consequence the professor's tenure is, uh, tenuous. The other theme also has to do with historical memory but on a smaller, familial scale: What to do with the family business, a store in Tenleytown, a mostly Black area of Washington, that Lou built up and is now being leased out cheaply to a Guatemalan family; and indeed, what to do with Lou himself who is now in need of 24-hour care.
Complicating matters is that among the three grandchildren, the rightful heirs of this property, two of them are mentally challenged and the third is an airy, artsy type with no interest in the world of commerce. There are no two family members who see eye-to-eye on anything, except intermittently when it serves their advantage against another. So much for Jewish, or even family solidarity. Plot twists and turns abound in this early time of cell phones and chat lines, booze and psychoactive drugs.
By the year 2000, some historians had begun voicing dissent from the pervasive Jewish identification with victimization and trauma as both a distortion of history and as a poor and alienating way to raise the next generation of Jews. The closest historical approximation to Prof. Fischer's story in the play is the freedom of speech controversy surrounding Prof. Steven Salaita. Peter Novick's The Holocaust in American Life (1999) argued that American Jews embraced the  status as victims and survivors to further their political and global interests. Norman Finkelstein's The Holocaust Industry (2000) posited that constant recollection of the past served right-wing Israeli policies and economic gain through German reparations.
Other historians not focusing on the Holocaust per se but on Israel and American-Israel relations cite Israeli policy toward the Palestinians both within and outside the "Green Line" (a line no longer in effect today) as—among other ways one could see them—a heresy against the oft-repeated lesson "Never Again!" Does that mean "never again" to Jews only? We see the impact on American political races of exactly this phenomenon when fundraising powerhouses like AIPAC are able to determine the fates of Congressmembers who will be in a position to vote on Middle East issues, Iran, militarism, nuclear weapons, etc. And year by year we find more and more young American Jews turned off to this Holocaust- and Israel-centered Judaism, and we wonder why a majority of Jews are now marrying non-Jews and temple membership is plummeting.
"If I Forget opens up a rich dialogue about memory, aging, the Holocaust, Zionism and freedom of expression," says Rabbi Daniel Bouskila, a consultant on the production. "Ever relevant and meaningful for today, it will leave audiences talking long after the curtain falls."
The drama is a complex farrago of situational conflict that is mesmerizing in its hyperrealism, and not without its soap opera qualities. A playgoer will not be bored for a single instant with the constantly shifting loyalties and surprises. Interestingly, the play ends (no huge disclosure here) on an ironic note, with the classic melody (not the words) of the Jewish oath, "Hear, o Israel, the Lord our God, the Lord is one!" It's all up for debate and question now.
If I Forget premiered on Broadway at the Roundabout Theatre Company in 2017 and is a recipient of an Edgerton Foundation New Play Award. In its "Critic's Pick" review, The New York Times called it "intellectually rigorous…speaks to both the head and the heart." DC Metro proclaimed it "One of the greatest Jewish plays of this century."
The Fountain's creative team includes scenic designer Sarah Krainin, lighting designer Donny Jackson, sound designer Cricket S. Myers, costume designer A. Jeffrey Schoenberg, and prop master Katelyn M. Lopez.
Performances of If I Forget continue through Dec. 18 on Fri. and Sat. at 8 p.m., Sun. at 2 p.m., and Mon. at 8 p.m. Pay-What-You-Want seating is available every Monday night in addition to regular seating (subject to availability). The Fountain Theatre is located at 5060 Fountain Ave. (at Normandie) in Los Angeles. Secure, on-site parking is available for $5. Patrons are invited to relax before and after the show at the Fountain's upstairs café. Call the theater or check the website prior to each performance to find up-to-date Covid-19 protocols.
For reservations and information, call (323) 663-1525 or go to www.FountainTheatre.com. A promo video for the play can be viewed here.