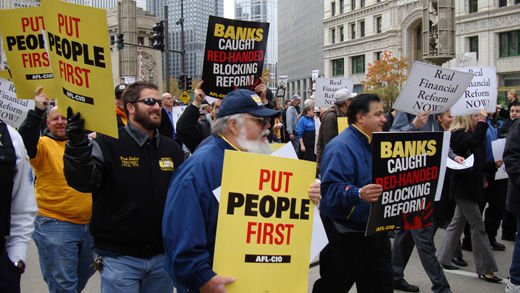 CHICAGO-Suffering from the worst budget deficit in state history, the Illinois legislature passed a FY 2011 budget in late May that will mean continued devastation of education and social service programs.
The Democratic controlled legislature passed the measure to avoid a May 31 deadline, after which a two-thirds supermajority would have been required to pass a budget. Right-wing Republicans whose only solution is draconian cuts would have gained decisive power to alter the budget.
The legislature granted emergency powers to Democratic Gov. Pat Quinn to make budget cuts. Ninety percent of the general funds are spent in just four areas, education, health care, human services and public safety.
Some observers believe the most severe cuts or tax increases will occur after the November elections and probably January 2011 when the legislature reconvenes. Democrats will no longer need a three-fiths supermajority to pass legislation.
Under pressure for revenues, the state will sell its guaranteed $300 million yearly proceeds from the Tobacco Settlement Recovery Fund in the form of a one time payment of $1.2 billion in bonds which will be bought by banks and investors. This is akin to privatization of public assets, which banks are aggressively pushing nationwide.
However, Democratic House Speaker Michael Madigan refused to deal with the need for a tax increase, to prevent the continuing dismantling of education and social services. Illinois is the 5th leading state in GDP but is 45th in funding/GDP. Madigan represents big business, financial and entrenched machine interests and has consistently opposed any progressive tax reform.
According to the Center for Tax and Budget Accountability, the new budget will leave the state over $7 billion in the red and over $11 billion if a scheduled payment to the state pension system is counted. The deficit includes $6 billion in unpaid bills which has forced closure and cutbacks of social agencies.
The full scope of the budget crisis includes its impact on municipalities. Anticipating no new state and federal aid, the Chicago Public Schools are confronting a $600 million deficit by laying off 2,000 teachers. Over 12,500 teachers and administrators across the state are being fired. In February, over 1,000 Chicago transit workers were laid off to overcome a $100 million transit deficit.
But that's not the entire story either. The state has $80 billion in unfunded pension liabilities, the largest in the country. A pension reform bill demanded by big business passed the legislature and was signed by Gov. Quinn. It established a two-tier pension system, lowering pension payments for new hires while upping the retirement age to 67 years old to receive full benefits.
The move left public sector unions livid with both Democratic and Republican lawmakers. That along with the inability of Democrats to pass any new revenues will likely have an impact on the November elections and motivation of voters to get to the polls.
The state capital was rocked by protests all spring from public workers, service providers and students. The Responsible Budget Coalition, an alliance of public sector unions, service agencies and community organizations had advocated passage of tax reform legislation that would have raised billions in new revenues by raising the state income tax.
But legislation raising taxes was problematic because it would have left many working-class taxpayers paying more. While polls showed many were willing to pay more taxes to help the budget situation, residents weren't really motivated to fight for it. With the deep and prolonged economic crisis, a program insisting on emergency federal aid, government jobs creation and taxing the wealthy, including a millionaire's tax, would create the basis for a more unifying campaign.
Photo: http://creativecommons.org/licenses/by/2.0/deed.en