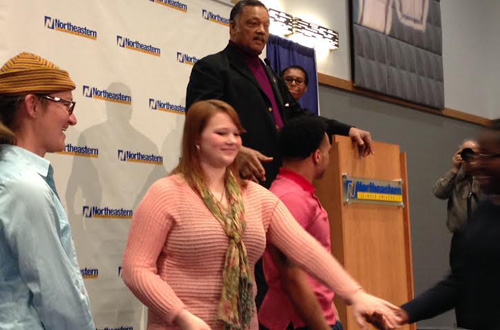 CHICAGO — College campuses across the state are erupting with protests as Illinois enters its eighth month without a budget. Chicago State University, a predominantly African American university on the city's South Side, declared a financial emergency Feb. 4 that threatens the survival of the school, which was founded in 1867.
CSU students, faculty, staff and the community have rallied around to save the 149-year-old institution with actions that included the Jan. 28 dramatic shutdown of one of the city's busiest expressways, the Dan Ryan. Students, alumni and faculty at Eastern Illinois University in Charleston, almost 200 miles south of here, rallied Feb. 5 after hearing some 200 university employees would be laid off. These actions came after hundreds at the city's Northeastern Illinois University rallied with the Rev. Jesse Jackson on Jan. 25.
The state's 57 public schools have been without state funding since July 1. Lawmakers passed a bill last week restoring $397 million for the state's Monetary Award Program (MAP), which provides grant money to 130,000 low-income students, and $324 million for community colleges, but Gov. Bruce Rauner has threatened to veto the bill.
Colleges and universities have been forced to dip into their reserves to cover MAP grants and keep students in school. CSU is the first university to completely exhaust its reserves. Other universities, like Governors State and NEIU, are cautioning that they may be able to finish the spring semester but after that the future is murkier.
The state budget crisis has dire consequences for higher education. The Higher Learning Commission, the agency that accredits universities and colleges, sent a letter to Gov. Rauner Feb. 4, state Senate and House leaders and General Assembly members warning them that higher education institutions could lose their accreditation if they need to "suspend operations" because of lack of state funding. Once an institution loses HLC authorization, students there are no longer eligible to receive federal financial aid.
"The lack of state funding is putting Illinois colleges and universities at serious risk and jeopardizing the future of students," states the letter signed by Barbara Gellman-Danley, Ph.D., the president of the HLC.
Students worry whether they will be able to finish the semester, let alone sign up for fall classes. Faculty and staff, whose jobs and livelihood are on the line, are on edge as the stakes in the budget crisis become higher.
"If Northeastern were to close, I would be devastated," Heather Miller, a junior in psychology with a minor in sociology, said in an interview. Like many other Northeastern students, Miller is the first in her family to go to college and hopes to become a licensed counselor and work with teenagers who have experienced trauma. She currently works at TJ Maxx and dreams, like most of her peers, of applying her education to improve people's lives.
"If Northeastern, or any of these other state schools were to close, it would not just affect my professors, classmates, or myself negatively, but it would affect this state and country very negatively and send the message that education is not something worthwhile, practical, or important."
State Senate Leader John Cullerton, a Democrat, announced the Democratic-led General Assembly would not send the MAP funding bill to Rauner until Feb. 16, giving him time to rethink his veto threat. That also gives time for residents of Illinois to contact the governor and demand that he sign the stop-gap measure.
Additional pressure on Rauner and Democratic lawmakers, most notably House Speaker Mike Madigan, to come to a just budget resolution may come when President Barack Obama addresses the state General Assembly Feb. 10 in Springfield. Until then, students continue to protest.
Photo: Students join the Rev Jesse Jackson at Northeastern Illinois University Jan 25 pledging to register to vote and demand a state budget that funds education. | Teresa Albano/PW