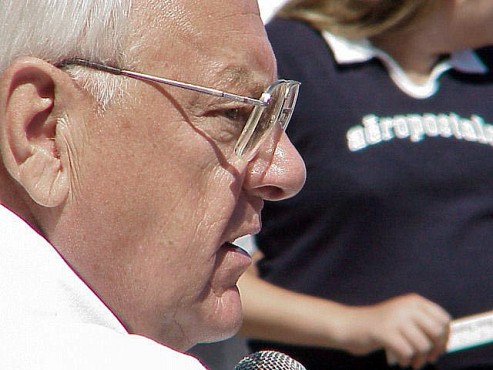 CHICAGO – In a landmark vote Jan. 6, the Illinois House passed a measure to abolish the death penalty in the state. The historic move comes nearly 11 years after then-Gov. George Ryan, a Republican, cleared death row and declared a moratorium on capital punishment in Illinois.
Legislation to stop state-sponsored executions won the necessary 60 votes in the House yesterday after an earlier vote fell short. No such legislation has passed either state chamber since executions were reinstated in 1977.
Ryan ordered the moratorium in 2000 following a series of revelations that more than a dozen people had been sent to death row who were later found to be innocent. In 2003 and days before he left office, Ryan commuted the remaining 167 death sentences for those in the state and emptied death row.
The recent vote represents a growing trend that DNA and improved technology in criminal investigation continue to expose wrongful convictions, which cannot be reversed once a death sentence is carried out.
"You can release an innocent person from prison, but you can't release them from the grave," said Gordon "Randy" Steidl to the Chicago Tribune. Steidl spent 17 years in prison, including 12 on death row, after he was wrongfully convicted of a 1986 double-murder.
The House measure now moves to the Illinois Senate, where President John Cullerton, a Democrat, says he supports the proposal to end the death penalty.
State Sen. Kwame told ABC News, "We have a system that cannot be perfected, it cannot be reformed to the point where we can feel comfortable to have state-sanctioned killing."
If the bill is approved in the Senate, which may face some hurdles, it must then go to Democratic Governor Pat Quinn who has said he supports the death penalty but won't reinstate it until he's sure it works. His office refused to say whether he supports the repeal legislation.
Many states have been hit hard by the economic crisis and are currently dealing with major budget shortfalls including Illinois. Some note that one reason why they are reconsidering the death penalty is the bottom line: executions are expensive.
"Illinois has spent over $100 million in 10 years and hasn't put anyone to death," said state Rep. Karen Yarbrough of Maywood to ABC News. "It's time to put this barbaric practice to rest."
In California, a 2008 report showed that the $137 million annual cost of maintaining the criminal justice system would drop to just $11.5 million annually if the death sentence were abolished.
New Hampshire has also issued a commission report suggesting the state not expand the death penalty, partly out of cost considerations.
Retired Supreme Court Justice John Paul Stevens, once a death penalty supporter, recently spoke out for its abolition, saying its so shot through with racism and politics that it cannot be fixed.
Illinois has executed 12 people since the mid-1970s. Fifteen people are currently on death row in the state.
Thirty-five states continue to authorize the death penalty. Illinois would become the 16th state to abolish it, if signed into law. In recent years, New York, New Jersey and New Mexico have outlawed the death sentence.
Meanwhile, ex-Gov. Ryan is serving a 6 1/2-year sentence for racketeering, conspiracy, tax fraud and making false statements to the FBI. He has already served three years. His wife of 55 years, Laura Lynn Ryan, is gravely ill with terminal cancer. Ryan's lawyers have filed a motion seeking his release on bond so he can be with his ailing wife in her last remaining days.
On Wednesday, the Bureau of Prisons granted Ryan an escorted trip to the hospital where his wife is being treated for a two-hour visit. Doctors say she has weeks to live.
Photo: Illinois Governor George Ryan at the Illinois State Fair in 2002. (myoldpostcards/CC)