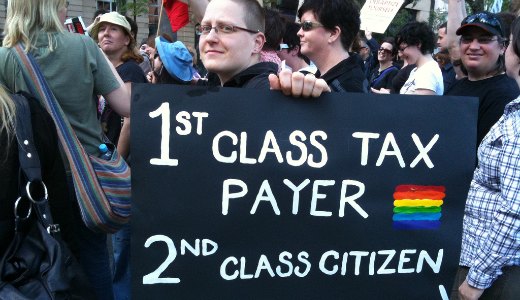 CHICAGO – With a landmark bill signed into law here by Democratic Gov. Pat Quinn Monday, same-sex couples will, for the first time in Illinois history, share many of the legal protections that are now granted to married couples.
With the signing, Illinois becomes the 16th U.S. state to give spousal rights to gay and lesbian couples, and the sixth state to recognize civil unions.
"Today is an important day in the history of our state because today we are showing the world that the people of Illinois believe in equality for all," Quinn said as he signed the bill among hundreds of supporters during a ceremony in a Chicago auditorium. "We look forward to individuals and businesses from across the country choosing to move to Illinois where we believe that everyone is entitled to the same rights," he said. "We believe in liberty and justice for all."
The new law, the Illinois Religious Freedom Protection and Civil Union Act, was passed by the state Legislature in December and goes into effect June 1. It will allow same-sex and heterosexual couples to enter in civil unions.
These couples will share many rights given to married couples including automatic hospital visitation rights, the ability to make emergency medical decisions for partners, the ability to share a room in a nursing home, adoption and parental rights, pension benefits, inheritance rights and the right to dispose of a partner's remains.
"Illinois is taking an historic step forward in embracing fairness and extending basic dignity to all couples in our state," John Knight, director of the Lesbian, Gay, Bisexual, and Transgender Project of the American Civil Liberties Union of Illinois, told Reuters.
In 2000 Vermont became the first state granting civil unions and in 2009 it passed a law allowing same-sex marriages.
Massachusetts, Connecticut, Iowa, New Hampshire and the District of Columbia also issue marriage licenses to same-sex couples.
New Jersey allows civil unions for same-sex couples similarly to Illinois.
Nine states provide limited spousal rights to same-sex couples through domestic partner laws: California, Colorado, Hawaii, Maine, Maryland, Wisconsin, Nevada, Oregon and Washington state.
Illinois State Rep. Greg Harris, a Democrat from Chicago who is openly gay and was the main sponsor of the Illinois bill, told the Chicago Tribune, "This is making sure that at a time of life when people need government to support them, that it will be there and treat one set of neighbors equally as the next set of neighbors."
However Harris noted there's more to be done because there are powerful forces out there that want to turn back the clock.
Activists say Congress' recent repeal of the U.S. military's "don't ask, don't tell" policy has helped gay rights advocates push for same-sex marriage laws in several states nationwide.
While the Illinois law was a long time coming, advocates say, it's one more step toward full equality for same-sex couples. They say the next goal is to have the federal government recognize same-sex couples, whether through civil unions or marriage.
Image by Kathleen // CC BY-NC-ND 2.0