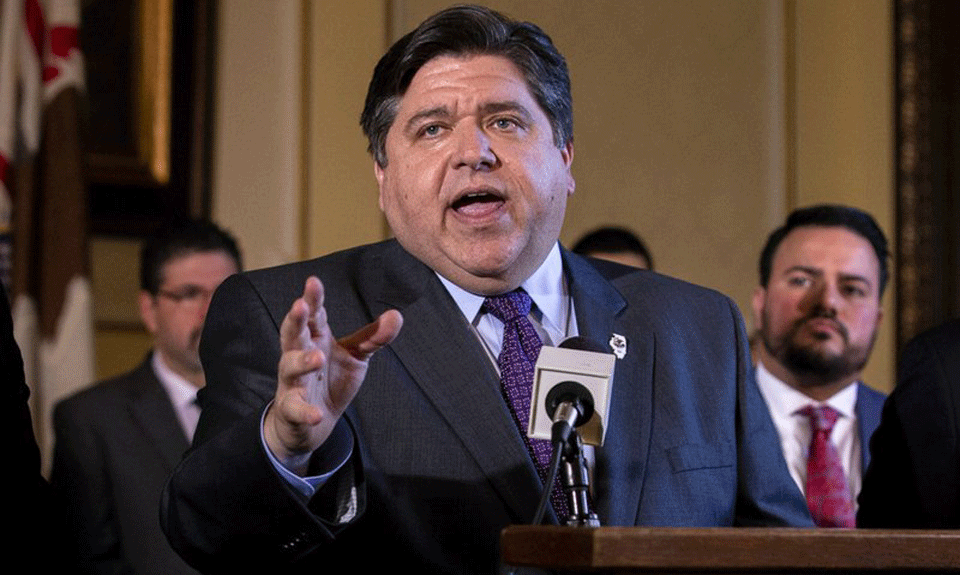 WASHINGTON—Democratic Govs. J.B. Pritzker of Illinois and Gretchen Whitmer of Michigan have been targets of GOP President Donald Trump's incendiary tweets during the coronavirus pandemic. Wednesday, they got a chance to hit back.
They did, Whitmer politely, Pritzker less so.
The two governors head states whose big cities, Chicago and Detroit, have been hard-hit by the pandemic's illnesses and deaths – and by the resulting closures of virtually every business as part of the effort to combat "community spread" of the viral disease.
Through the morning of April 21, the coronavirus infected 800,262 people in the U.S.– one-third of the world total — and killed 42,946 – one-fourth. The closures have cost 22 million workers their jobs and millions of them their health insurance, too, says AFL-CIO President Richard Trumka. He says joblessness is now over 20%.
Through that day, Cook County, Ill. (Chicago) had 22,101 coronavirus sufferers, seventh in the country and the highest single county outside of New York and its suburbs. Wayne County, Mich. (Detroit) has had 13,912 cases and 1,115 deaths, sixth among U.S. counties and the highest outside the New York area. Cook County is next with 948 dead.
But the two states, like others, suffer shortages of key items to combat the coronavirus, they told a Washington Post interviewer on the April 21 telecast. And both say the Trump government is responsible. The back-to-back interviews are on the paper's Facebook page and other social media.
"We need the federal government to enact the Defense Production Act to organize and lead" procurement and distribution of the N95 masks, respirators, ventilators, gloves, and other personal protective equipment (PPE) workers need to protect themselves against infection, said Pritzker, in one of his milder statements in the half-hour interview.
"This is a national emergency and the White House is not doing very well," he added.
In a tape of a recent Meet the Press interview played before he spoke at the Post q-and-a, Pritzker was even blunter: "This will go down in history as a major failure of our national government."
Both governors praised Vice President Mike Pence, a former Indiana governor, for his willingness to listen to their problems and talk with them. But the interviewer failed to ask Whitmer – who went into detail about what she told Pence Michigan needs – about the veep's response.
They also said they're getting active cooperation and coordination with other Midwestern governors, of both parties, on next steps to both combat the coronavirus and its spread and, when it's contained, with infections and deaths on a downward slope, when and how to reopen their states' economies. The other governors are from Kentucky, Indiana, Minnesota, Wisconsin, and Ohio.
Trump's response is another matter.
Pritzker said the Trump government's procurement efforts for PPE are so disorganized and leave so much to the states that he had to hire two big jets to fly from Chicago to China and back to come back with millions of items of equipment manufactured there especially coronavirus testing kits.
Doing so also lets Illinois avoid Trump minions' seizing and diverting state-paid-for PPE upon entry and diverting them elsewhere, as he did with items sent to Kentucky. And those items have let Illinois' Health Department backstop its 102 counties' health agencies, plus hospitals in Chicago and elsewhere and keep them constantly supplied with a week to 10 days' worth of PPE, Pritzker said.
That still doesn't stop the states from having to scrounge for "swabs, reagents and DNA kits" to help test people for the coronavirus, Pritzker admitted. "That's a worldwide shortage." Trump tactics, both said, pit state versus state and against the feds in bidding for those supplies.
Trump claimed Illinois had enough machines to run the tests 24/7, and Pritzker retorted the president doesn't know the difference between the availability of machines and availability of both the materials needed for the tests and "the three shifts of trained technicians" to run them.
"Trump doesn't understand the difference between testing capacity – we've got enough machines – and testing ingredients," he explained. "I base my decisions" on what Illinois needs "on facts."
One part of Trump's government came through, though: The Army Corps of Engineers. Its soldiers, the Illinois National Guard "and our great labor unions" collaborated in converting one of the five giant McCormick Place exposition halls on Chicago's lakefront into an emergency hospital "in five days."
Michigan is short machines and swabs, too, but Whitmer, like Pritzker, is already thinking about the future as well.
"At the end of the day, the voices that matter most" on when and where to reopen Michigan "are those of our health care experts," added Whitmer.
And those experts' recommendations, whether to reopen the state in stages or depending on local conditions – a task she's turned over to scientists and demographers at the University of Michigan – will also "depend on whether we can ramp up testing," Whitmer conceded. Whitmer has also been the target of massive right-wing protests – disregarding experts' advice on social distancing and large gatherings.
Pritzker saved his biggest ire for Trump's press conference egging on protesters in Michigan and other states, along with his tweets to "LIBERATE MICHIGAN", "LIBERATE MINNESOTA" and "LIBERATE VIRGINIA."
"I don't watch those press conferences" but he sees their aftereffects in other states, Pritzker said.  "With what he's doing" – inciting protesters who overwhelmingly carry Trump signs or wear MAGA hats – "you could end up with violence," the governor warned. "It's a political maneuver."
It's also a dangerous one. "These people are going out in large crowds, they're going out without masks. They giving each other the coronavirus. They'll get each other sick and some of them may die as a result of the president's rhetoric."