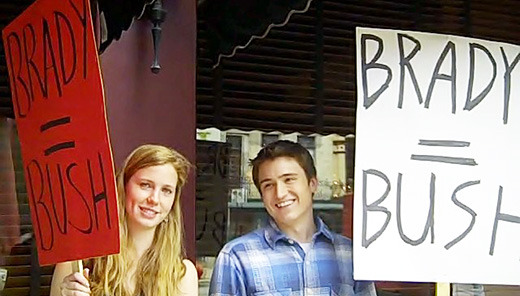 CHICAGO – Republican candidates for Illinois governor and U.S. Senate are being blasted for embracing extreme right-wing policies that will severely harm working families and curtail women's rights.
A couple dozen protesters showed up at a fundraiser for Republican gubernatorial candidate State Senator "Shady" Bill Brady at swanky Maggianos Restaurant on June 29 to show their opposition and alert voters.
Brady, who is running against Democrat Gov. Pat Quinn, astonished many by calling for lowering the state's minimum wage of $8.25 which is higher than the federal minimum wage at $7.25 as a way to create jobs.
"I disagree with trying to elevate the minimum wage above the federal level," said Brady. "The federal level is a competitive level, competing with neighboring states. We are losing jobs because private-sector business investments (are) going to other states."
The proposal generated a storm of condemnation, forcing Brady to back off and propose merely freezing the state minimum wage.
"That is just an unconscionable statement to make for the millions of people in Illinois who are struggling to get by if they have work and certainly if they have the minimum wage," said Susan Hurley, director of Chicago Jobs with Justice.
Brady's supporters outside the event told this reporter the present minimum wage caused joblessness. But according to Hurley this is nonsense.
"What puts small businesses out of business is the lack of demand for goods and services which happens in a recession with millions of people out of work. They best thing for small business is to put America back to work with a federal jobs program, said Hurley.
To add insult to injury, Brady supports cutting taxes for the wealthy and he paid no income taxes in 2008 and 2009.
"It's unfair for the state to be $13 billion in debt, the legislature is arguing out how to pay for it and a guy running for governor doesn't pay his taxes," said Jesse Rios, of the Labor Council for Latin American Advancement and Chicago Federation of Labor. "How can that be fair to working people?"
"A lot of people on minimum wage pay far more taxes than [Brady]," Quinn said to reporters June 28. "And then he has the gall to go around Illinois and say we ought to cut the wages of a million people who make the minimum wage?"
Protesters also criticized Brady for his backwardness on a host of other issues. Terry Cosgrove of Personal PAC said Brady wants a constitutional amendment banning abortion, and opposes embryonic stem cell research, women's access to family planning, and equal pay for equal work.
"He oddly enough makes Sarah Palin look like a liberal, that's how right wing he is," said Cosgrove.
Meanwhile, Rep. Mark Kirk (Rep-10) who is running against Democratic State Treasurer Alexi Giannoulias for the open US Senate seat, voted against the most recent extension of unemployment benefits. Kirk, who had a reputation as a moderate, is now voting in lockstep with House Republican leadership.
Kirk has voted 8 times against extension of unemployment benefits over the last 6 years. While the bill passed the House of Representatives, Republicans in the Senate blocked it cutting off a lifeline to over 1 million people.
"At this point, we have no Republican support for extending unemployment compensation. It means that some 80,000 unemployed people in Illinois will be losing their unemployment benefits," Durbin told reporters recently.
Kirk voted against the American Recovery and Reinvestment Act, which has saved some 2 million jobs, and the HIRE Act, which would have created 1 million jobs.
Giannoulias supports the unemployment benefits extension and also called for creating tens of thousands of new jobs by improving roads, rail systems and other projects. His plan would create a fund by ending tax breaks to the oil companies. He estimates $45 billion could be collected over 10 years.
Photo: John Bachtell