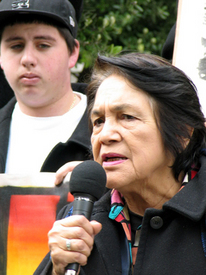 Months of growing grassroots pressure for immigrants' rights and against proposed harsh repressive measures are beginning to open new avenues of struggle for a fair and humane approach to immigration reform.
While Chicago's March 10 outpouring of hundreds of thousands — the largest to date — moved the struggle to a higher level, it was preceded by many actions around the country, and more are planned for coming days.
Meanwhile, matters are coming to a head in the Senate Judiciary Committee. The committee continued its work on March 15-16. Its starting point, Sen. Arlen Specter's (R-Pa.) "chairman's mark," a legislative draft, greatly resembled the harshly repressive Sensenbrenner bill, HR 4437, in that it lacked an effective path to legalization and citizenship for the estimated 12 million undocumented immigrants now in the U.S.
Specter's draft also incorporated many of Sensenbrenner's concepts to criminalize the undocumented and those who help them, while limiting due process for immigrants appealing government decisions about their cases. Specter's proposal also includes an open-ended guest worker program lacking adequate labor protections.
Committee Democrats are working to make the legislation less harsh. At press time, Sen. Dick Durbin (D-Ill.), who spoke at the Chicago rally, was fighting to eliminate "criminalization" language while Sen. Edward Kennedy (D-Mass.) got at least a few Republicans to consider a legalization-to-permanent-residency program.
However, Sen. Bill Frist (R-Tenn.) on March 17 introduced a bill including all the repressive features of HR 4437 with no legalization path or guest worker program, but more permanent resident visas. Not to be outdone, Rep. Tom Tancredo (R-Colo.), head of the House Immigration Reform Caucus, issued a letter signed by 73 congresspersons supporting the Sensenbrenner-Frist approach but criticizing Frist for proposing more legal immigrants.
The Judiciary Committee is scheduled to vote when Congress reconvenes March 27. Immigrant rights groups, the AFL-CIO, SEIU and other unions, the Conference of Catholic Bishops and others are urging continued demonstrations and lobbying to stop repressive measures and assure that whatever legislation is passed contains legalization with a clear path to citizenship. Hundreds of clergy will gather that day in Washington to pressure the Judiciary Committee, Frist and others.
"What happens on and after March 27 could be decisive for the struggle in the Senate," said Rosalio Muñoz, immigrant rights activist and Southern California district organizer for the Communist Party. "The whole Senate could vote by April 1, so pressure needs to grow broader and deeper each day."
Around the country:
• Over 50 hunger strikers gathered at San Francisco's federal building March 21 to start a week-long fast featuring marches, rallies and candlelight vigils. Strikers and their supporters heard legendary United Farm Workers co-founder Dolores Huerta call for a new appreciation of immigrants' contributions. "It's time we said, 'you are here, we embrace you as citizens,'" Huerta told the crowd.
Sheila Chung, executive director of the Bay Area Immigrant Rights Coalition, said the strike aims "to build legislative support for initiatives that help undocumented workers gain permanent legal residence and citizenship, provide for family reunification, assure justice on the job, and uphold immigrants' civil rights and civil liberties."
• Trenton, N.J., was the site of a large demonstration March 20, while actions were planned for March 24 in Arizona cities and towns.
• A massive demonstration is slated for Los Angeles on March 25. Mobilizations are also set for Denver, Philadelphia and other cities.
• In Los Angeles on March 26, the annual labor and clergy celebration of Cesar Chavez's birthday will focus on justice for immigrants.
At the same time, labor, immigrant rights and civil rights groups like the Leadership Conference on Civil Rights and People for the American Way are mobilizing e-mails, letters and phone calls urging opposition to Sensenbrenner's and Frist's bills as well as inclusion of immigrant-friendly measures in the Judiciary Committee bill.
Senators can be called through the congressional switchboard, (202) 224-3121, urging rejection of all repressive measures, support for legalization and a clear path to citizenship, and full labor and civil rights for all.
More information on demonstrations around the country is posted on the New American Opportunities Coalition's web site, www.cirnow.org.