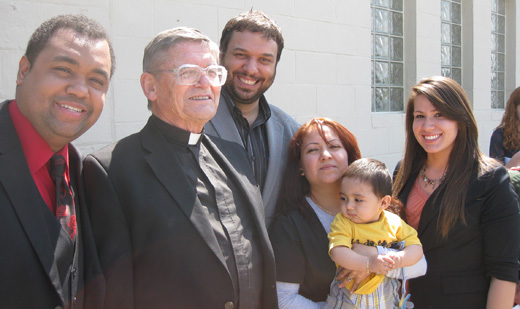 DETROIT – Pressure is growing on immigration authorities to release Gustavo Vargas.
Vargas, the father of four U.S. citizen children, has led a crime free life but now sits in a Monroe County jail. In his 23 years in the U.S., his only brush with law enforcement has been his immigration status.
"The Vargas family shows how desperately we need immigration reform now. Gustavo is a small business owner, he employs people, he's not stealing anyone's job, he's creating jobs" declared Chris Michalakis, President of the Metro Detroit AFL-CIO.
Michalakis made his appeal Friday while speaking at an Alliance for Immigration Reform (AIR) rally outside the Detroit offices of Immigration and Customs Enforcement (ICE).
Immigrant rights activists are demanding the Department of Homeland Security stick to its professed priorities of only deporting dangerous criminals and focus on people who pose a safety risk.
Vargas is an active member of Our Lady Queen of Angels Church in Southwest Detroit, where his wife Rogelia serves as a deacon. Petitions and letters demanding his release have been signed by congregants and community supporters and were given to ICE officials at the rally.
Mary Turner, who works in the office of State Representative Rashida Tlaib, D – Mich., told the crowd "we need more people like Mr. Vargas. He's paying taxes to the city of Detroit that so desperately needs money."
She worried what will happen to the family left behind as his wife and children will have to fend for themselves, possibly forced to go on welfare. "Does it make any sense?" she asked.
Turner spoke from the experience of her own family who also were once "immigrants without documentation." Many years previously, her father came north from Mexico following the footsteps of his great grandfather.
In contrast to today, her father was welcomed by immigration authorities when they arrived in Detroit and her parents and siblings all made many contributions to the new community that became their home.
"I hate the word illegal, nobody is illegal," she added.
Rogelia Vargas, Gustavo's wife, thanked AIR, the churches, and the labor unions for working to keep families united. "We are learning to get together to tell our stories, to not fear. We will continue to struggle until we win," she said.
Michalakis called on Congress and President Obama's administration to do more to keep families like the Vargas's together saying, "We cannot deport our way to prosperity."
Photo: Senator Coleman Young Jr., father of Leo Reilly of St. Anne's Church, AIR organizer Roxanne Rodriguez, President of the Detroit AFL-CIO Christos Michalakis, and Rogelia Vargas (with son) spouse to Gustavo. Alliance for Immigration Reform