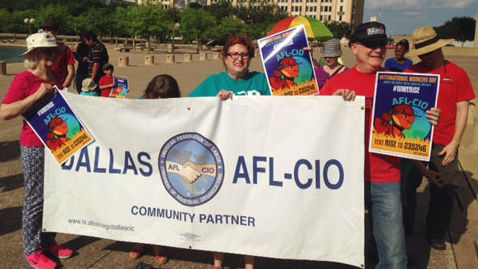 DALLAS – The progressive movement here broke new ground on May 1. I was at City Hall with the immigrants rights group organized by Texas Organizing Project and several boosters, including the Dallas AFL-CIO. At the other end of downtown, Mothers Against Police Brutality and their supporters began with a rally at the Lew Sterrett jail. Several important developments had converged on that day:
1) The Texas Legislature is considering all manner of anti-immigrant maneuvers even while the federal government is trying to honor President Obama's order to ease off on deportations.
2) Police brutality has been a big issue here for several years, and the local group has established ties far and wide as the anti-brutality movement grows in the nation.
3) International Workers Day is finally gaining some traction in its home country.
4) May 5/Cinco de Mayo is a Mexican holiday celebrating the fight against European imperialism.
Our rally lasted about an hour and a half, so we were relieved when we finally stepped off, about 200 strong, to march further into the center of town. It was a good rally and a good march, but it suddenly got a whole lot better when we marched into a centrally located park and found the anti-police brutality marchers, a group of 300 or so, had just arrived ahead of us. The organizers were apparently aware of the good old American slogan, "Black, Brown, and White, Unite and Fight!" They had set up a rendezvous and a joint march under the combined slogan of "March for Justice!"
Instead of being atomized the way we usually are in my town, we were solidly united together! One of the speakers in the park called it "Capitalism's worst nightmare!"
Photo: Jim Lane/PW