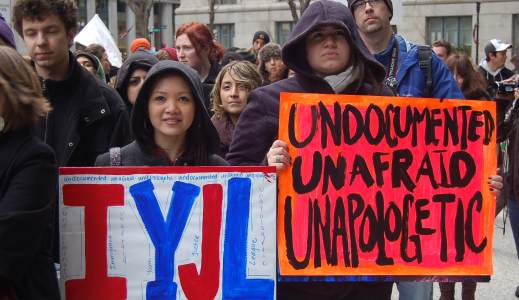 CHICAGO – "I was only one year old when I was brought to this country. All of my memories were made here. Memories like watching my mother run from one job to the other, but no matter how hard she worked we never seemed to get the good life we came here for. My name is Osbaldo. I'm undocumented and I'm not sorry for being here."
Osbaldo, a high school senior, said he constantly asks himself what he will do after graduating. "I want to go to college, but then I think about how long it will take me to graduate if I have to work so much in order to afford it, or if I'll even be able to get a job," he said. "This is my home, this is where I belong, and where I want to build a life that I deserve, that everyone deserves."
He was one of several immigrant youth that publicly proclaimed his undocumented status during a March 10th downtown rally here as part of a "National Coming Out of the Shadows" action. Despite the risk, the high school and college students told their stories among a crowd of hundreds of young immigrant rights activists. Each told how they came to the U.S. as children and what life was like growing up here with an "undocumented" status. Now they are faced with limited education and career opportunities.
One student, who gave her name as Lulu, said, "18 years ago my parents immigrated to this country. They left their family and the lives they built in Mexico. They took a leap of faith in hopes of raising their children in a land of opportunity."
She said she was one of 20 other undocumented students that staged a civil disobedience last year that resulted in arrest and possible deportation. The night before, she said, she had a conversation with her family and struggled to convince them not to worry.
"But I knew there was a chance I would not be coming home," Lulu said. "I knew that the risk I was taking might determine the next 10 years of my life in an unfamiliar country." Above all, she said her decision to act and the sacrifices her parents made for her were all worth it, and that she believes in a future free from fear.
The Chicago-based Immigrant Youth Justice League, a group of undocumented youth who advocate for immigrant rights through education, coalition building and youth organizing, planned the rally.
Rigo Padilla, a student at the University of Illinois at Chicago, and leader of the group said the message was to encourage immigrant youth to come out of the shadows and be proud of who they are.
"We have to be unapologetic about our parents who brought us here," he said. "As a matter of fact we are extremely thankful that they did."
Organizers say the rally was one of the first public actions since Congress failed to pass the DREAM Act last December. The measure would provide undocumented youth who came to the U.S. as children with their immigrant parents a pathway to citizenship if they commit at least two years to higher education or military service. More than 2.1 million undocumented students would be eligible, and about 65,000 young people yearly could benefit from it.
"I grew up feeling lesser than others," said Carla, who came to the U.S. as a five-year-old with her parents from the Philippines. "But my undocumented status only pushed me to work 10 times harder to prove that I matter and I deserve the life my parents sacrificed to give me."
Each speaker highlighted a powerful story about the reality millions of young people and immigrant families face everyday. Coming out and taking direct action has helped change the dialogue and puts a human face on the struggle for immigration reform, activists say. The fight for the DREAM Act and comprehensive immigration reform must remain in the public's eye because living a second-class life is unacceptable, they add.
Alla Mukahhal said she came to the U.S. with her parents from Palestine as a child. It wasn't until recently that she felt the courage to get involved and fight for her rights as an undocumented student. "I, with my head raised high, look at my parents and tell them: 'I don't blame you,'" she told the crowd. "We all need to wake up now. We are a country of proud immigrants, and we will not bow down to bigotry and hate."
The event was the launch of a "National Coming Out Week" that organizers say includes actions in New York, Texas, California, Georgia and other states. For more information check with the Immigrant Youth Justice Leauge or visit their Facebook page.
Photo: Immigrant youth activists rally in Chicago March 10. Pepe Lozano/PW