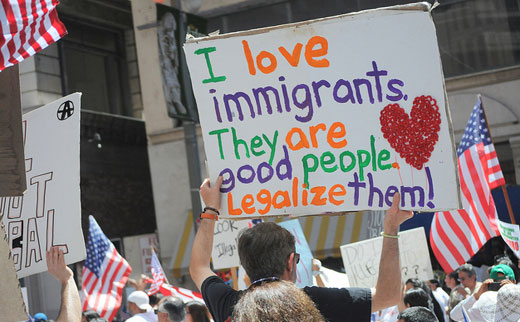 ORLANDO, Fla. – A coalition of immigrant groups and community allies kicked off a 1,000-mile caravan to Washington, D.C here on Jan. 3, with a press conference at Orlando City Hall. The purpose is to press President Barack Obama and Congress to stop the deportation of undocumented immigrants until the passage of comprehensive immigration reform that includes a path to citizenship for the undocumented.
"As [Obama's] campaign slogan said, 'Forward,' we now tell him to move forward with his promise" to push for comprehensive immigration reform, said Daniel Barajas, an organizer of the Forward-With-Your-Promise Caravan. The caravan is sponsored by The Centro Campesino Farmworkers Ministry, Farmworkers Association of Florida, Farmworkers Self-Help, Redlands Christian Migrant Association, WeCount!, and Young American Dreamers.
The caravan participants are bringing thousands of petitions calling for a halt to deportations, which they will present to political leaders in Washington when they arrive there on Jan. 20, one day before President Obama is inaugurated for a second term.
"Families are being ripped apart by raids and deportations," said Barajas. "We need a way to keep a father who is a farmworker, a mother who works in hospitality and a son who is a high school student all together as they work toward citizenship."
Barajas, of Auburndale, Fla., who was raised in a migrant farmworker family, said he has witnessed first-hand the effects when undocumented immigrants are arrested.
"I've seen the fear in the eyes of friends as Border Patrol agents yanked them out of my car and threw them on the ground," Barajas told the crowd of about 75 supporters and media. "I've seen the fear and desperation from friends who came to my house telling me they came home after school, but] their parents didn't–they were detained in a raid at their job."
Sister Ann Kendrick, of the Hope Community Center, said that her organization supports comprehensive immigration reform. "We've been on this road for many, many years. The lives of farmworkers, the lives of immigrants are not better today than they were 10 years ago, or 20 years ago," Kendrick said. "The problems still exist: low wages, exploitation, lack of immigration status."
The Hope Community Center is located in Apopka, Fla., a town with a sizable immigrant community, about 15 miles northeast of Orlando. Hope provides services for immigrants and the working poor and organizes for social change.
Creating a way that the undocumented can become permanent residents would allow them to "come out from the shadows," said Kendrick. It would mean that "they don't have to be exploited at work, they don't have to hide their status, they don't have to drive with fear that they're ultimately going to be in immigration detention for driving without a valid license," she said.
Other groups with a presence at the event included Mi Familia Vota, Central Florida Jobs with Justice, Organize Now!, and the Orlando-based Black-Latino-Puerto Rican Alliance for Justice.
The Los Angeles Times reported Dec. 7 that, according to unnamed officials, the Obama administration would begin "an all-out drive" for comprehensive immigration reform in January that likely would involve the same groups and unions that helped drive Latino voters to the polls for the president. Reportedly, Obama wants to include a means by which America's estimated 11 million undocumented immigrants could become citizens. Florida's undocumented population was estimated to be 740,000 in 2011.
In a Dec. 30 interview on Meet The Press, Obama said, "fixing our broken immigration [system] is a top priority" in his second term and that the White House would introduce comprehensive immigration reform legislation this year.
From City Hall, the caravan and its supporters marched to the office of Sen. Marco Rubio, R-Fla., for a protest.
Jose Manuel Govinez Samperio, of the Miami-based Florida Immigrant Coalition, said the immigrant community wants Obama "to stop the family separations, to take leadership on immigration reform, and for Sen. Rubio to take leadership on immigration reform as well. We want a true immigration reform with papers, with a green card, [and] with a path to citizenship."
Spirited chants of "El pueblo unido / Jamas sera vencido!" (The people united cannot be defeated!) and "What do we want? Immigration reform! / When do we want it? Now!" echoed from the sidewalk as the organizers met with Rubio's staff.
A few dozen protestors accompanied the organizers to Rubio's third-floor office where they congregated outside the doors. The senator's staff, apparently alarmed at the sight of so many people exercising their free speech rights, called police. Around 15 Orlando police showed up, and escorted the crowd downstairs where they resumed their protest.
The Cuban-American Rubio has been touted by some in the conservative movement as the GOP's Great Latino Hope in 2016 — a candidate who would enable Republicans to win the increasingly important Latino vote. Rubio has said that some in the Right Wing "have used rhetoric [about immigrants] that is harsh and intolerable, [and] inexcusable," and has called for Republicans to support less punitive immigration policies.
However, Rubio's desire to address immigration reform one bill at a time (along with his failure to support the DREAM Act) before dealing with legalization of undocumented persons puts him at odds with those–Democrats, immigrant communities, the progressive movement, labor, faith-based groups — pushing for one comprehensive bill that would address all the problems with the current immigration system.
In the early evening, more than 150 people participated in a march for immigration reform in downtown Apopka that was organized by the Forward-With-Your-Promise Caravan and its community allies. The caravan will make stops in Florida, Georgia, the Carolinas and Virginia.
Photo: Paulina Clemente/Flickr