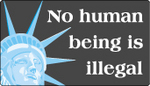 With the May 25 Senate passage of S 2611, the Comprehensive Immigration Reform Act of 2006, both houses of Congress have approved separate major immigration bills. The next step is for a House/Senate conference committee to meet behind closed doors to see if members can reconcile the versions into one final bill.
Most immigrants' rights groups are strongly critical of the Senate bill, and many say it is unacceptable. Opposition is unanimous to the House version, HR 4437, which has even harsher and more punitive provisions, with no path to citizenship. Given the Republican control of Congress, it will be an uphill battle to add any pro-immigrant-rights amendments in the conference committee.
Mass demonstrations and lobbying made it possible for Senate Democrats to win inclusion of some path to citizenship and other civil and labor protections that were not in the original Republican proposals, some immigrant rights advocates point out. But key amendments to provide legalization for all undocumented immigrants, and to modify repressive elements of the Senate bill, were defeated by Republicans.
AFL-CIO President John Sweeney criticized the Senate bill, saying in a statement, "Instead of raising working standards for all workers by providing a fair path to citizenship to the 12 million undocumented workers currently living in our communities, the Senate adopted the framework of the fatally flawed Martinez-Hagel compromise, which creates an undemocratic, unjust and unworkable three-tiered society that denigrates and marginalize millions of immigrant families."
Sweeney said the three-tiered approach "creates a caste society in which millions of hard-working immigrants are driven further into the shadows of American society, leaving them vulnerable to exploitation."
However, Frank Sharry, executive director of the National Immigration Forum, in a press release emphasized the importance of Senate passage of legalization provisions that he estimated apply to 8 to 8-1/2 million out of 12 million undocumented immigrants. While acknowledging that many would be left out and that many enforcement measures needed improvement, Sharry said, "We will fight to improve the bill when it is conferenced with the House," adding that "if the bill does not fulfill the promise of comprehensive reform … then it would be better to have no bill rather than a bad one."
Janet Murgia, president of the National Council of La Raza, took a similar position, stressing that NCLR will work to improve the legislation as it proceeds to a conference committee. "While we support this bill moving forward, we intend to fight for changes to make it more workable, more effective and fairer," she said.
Participants at a May 26 press conference in San Francisco organized by the Bay Area Immigrant Rights Coalition sharply criticized the final Senate version.
Enna Delgado, a member of the women's empowerment organization Mujeres Unidas y Activas, said she would not be able to meet the Senate bill's requirements.
Delgado came here to work so her three children, who stayed behind in El Salvador, could get an education and her daughter could have needed asthma medicine. Interviewed after the press conference, Delgado said she has not seen her children, ages 8, 10 and 11, for over three years. "I came here because I wanted them to be able to go to school, so we could all move ahead as a family," she said. "My goal has been to bring them here, but now I think that it isn't possible."
Asked what outcome she is working for, Delgado replied, "We have a saying: 'Everybody on the bed, or everybody on the ground' — we all need to have the same rights."
The Rev. Phil Lawson of the Black Alliance for Just Immigration told the assembled journalists, "I am opposed to the Senate immigration bill because it does something our nation's courts have ruled unconstitutional, that is, separate but equal. We must have one path to citizenship, not three tiers." Lawson also called for eliminating "guest worker" programs, which he likened to slavery.
Luna Yasui, policy director for Chinese for Affirmative Action, called the Senate bill's designation of English as the national language "mean-spirited and ill-conceived," and said it would have "a tremendous detrimental impact" on linguistically diverse Asian American people who are in all stages of learning English.
Despite differing assessments of the Senate bill, most immigrant rights groups and supporters agree that more mass legislative and electoral activity on the basic principles of legalization with a path to citizenship, family reunification and full labor and civil rights for all immigrants can improve the political atmosphere in the continuing congressional process. A USA Today poll published May 30 showed 62 percent of the public favors some mechanism for undocumented immigrants to become legal and become citizens.
Expanding public support for immigrants' rights can create the basis for progressive immigrant rights legislation, if not this year, then next year, especially if the Republicans lose their majorities in the House and Senate.
Emile Schepers contributed to this story.