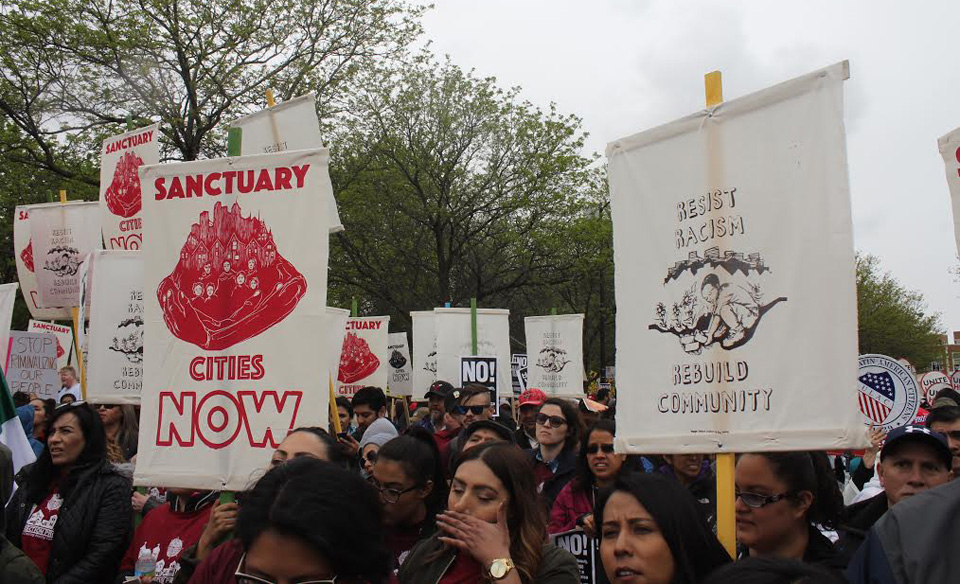 CHICAGO — On May 1st, laborers, activists, and community members gathered around the city to celebrate the annual International Workers' Day march. Thousands rallied at Union Park on Chicago's near west side to celebrate the anniversary of the strike of 1886, that contributed to winning the 8-hour workday. Chicago is not only a prime location for organized communities against social injustice, but it is also the home base to a 19th century movement of thousands of industrial workers who dared to challenge the brutal conditions at the factories where they were employed.
This May Day, in particular, held much significance as it is the first one since Donald Trump has been in office. For many workers, especially those who are undocumented, this has meant that the stress of their daily burdens has increased. In the last four months alone, the working class has had to fight for access to affordable healthcare, as well as a livable wage in a struggling economy. For others the fear of deportation remains a lingering threat, as many undocumented laborers are now facing the brunt of increasing ICE raids throughout the country. Despite this, millions around the country came out to support workers, in a showcase of strength and solidarity for all working class individuals.
Similarly, organizations from all stripes came out to uplift the community of at the May Day march in Union Park, Chicago. Emphasis was placed on the diversity of the labor movement, which is heavily comprised of Latinx labor workers, as well as those from other marginalized communities. Capitalism has played a crucial role in undermining the rights of black and brown workers in this country, in a movement where economic insecurity has often been mistakenly viewed as solely a white-working class issue.
Hundreds of other organization joined the cause, with collectives such as Illinois Coalition for Immigrant and Refugee Rights, Organized Communities Against Deportations, Arab American Action Network, Chicago Alliance Against Racist and Political Repression, BYP 100 and the Communist Party USA were also present at the rally on Monday.
People marched several miles from Union Park to Federal Plaza downtown, where they merged with the rest of the demonstration. Maya Arcilla from Anakbyan Chicago, a comprehensive national democratic mass organization of Filipino youth and students, spoke at the rally about the way in which deportations have affected marginalized communities of all backgrounds, "we condemn the Trump administration in its plan to strengthen immigration enforcement, and to hire 10,000 immigration agents."
Despite some light showers, the crowd remained plentiful and enthused as speakers went on to decry the Trump administration for its discriminatory policies. A number of organizations put together short performances, and others cheered from the sidelines.