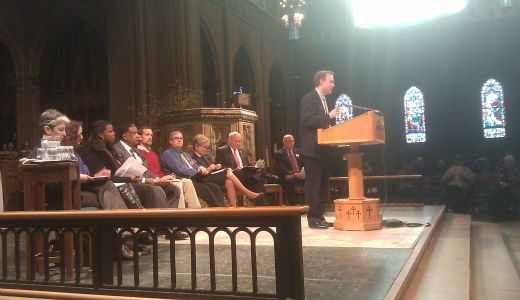 CLEVELAND – Anger and moral outrage echoed throughout the sanctuary of Trinity Cathedral as public officials, labor, religious and community leaders denounced the "slash and sell" budget proposed by Republican Gov. John Kasich at a town hall meeting here March 31.
Kasich presented general outlines March 15 of a new biennial budget to be adopted by July 1, but speakers charged it is already clear that devastating cuts are in store for strapped local governments, human service agencies and schools.
"There is a common agenda to push the burden on to the average person," said Cleveland's mayor Frank Jackson. "They want wage reductions, service cuts and privatization."
The proposal would cut state subsidies to local governments in half, Jackson said, adding he just learned that millions more will be lost as Kasich plans to speed up cuts in the commercial activities tax on corporations.
"Our aim is not profit," he said. "It is delivery of services. We've done it so far without layoffs and cuts in services, but now we will be greatly challenged to maintain public employees"
Ed Fitzgerald, the new Cuyahoga County executive, said layoffs in his departments have already begun and that the corporate-Republican "agenda was always there. It's just manifesting itself now, taking advantage of the economic crisis."
"Everyone is still trying to figure out the impact," he said, adding that the projected cuts to local governments could be far worse than reported since Kasich is basing allocations on what he thinks he can get from the quick sale of assets including prisons, state universities, liquor distribution and the Ohio turnpike.
This privatization project has been turned over to a group, cynically named Jobs Ohio, a secret and semi-private agency Kasich established to replace the state's Department of Economic Development.
In fact, in every area, the proposed budget will mean massive layoffs, speakers charged.
Cuts to the public schools will mean 30,000 immediate layoffs with 14,000 more expected as a "ripple" effect, said Piet Van Lier, a researcher with Policy Matters Ohio. In addition, the schools, which educate 90 percent of Ohio's children, will suffer a further hit as Kasich plans to greatly increase funds for vouchers for private schools and privately run charter schools.
"We can stop this scorched earth approach," said Cleveland Teachers Union president David Quolke. "They want to silence us. We won't be silent – not today, not tomorrow, not ever!"
Speaking as one of 760 clergy who sent a letter to Kasich demanding a "fair and compassionate budget," Rev. Tony Minor got the loudest applause of the evening as he said, "We face a moral as well as an economic crisis. This budget speaks volumes about our priorities. There is a moral responsibility to stand with those whose backs are to the wall – not to pander to profit and big business!"
The crowd of over 250 cheered wildly as Minor emphasized "money is going out the door to the rich cats and through loopholes to the corporations" while programs are cut "for the vulnerable and those most in need."
State Senator Mike Skindell dismissed Kasich's claim of an $8 billion deficit as "a myth." The real problem, he said, is the massive tax cuts to corporations and the very wealthy enacted under Republican Gov. Bob Taft in 2005. At the same time regressive sales taxes and fees hitting working people increased.
Amy Hanauer, director of Policy Matters Ohio, said tax cuts to the rich account for over half the deficit and closing some of the 128 tax loopholes and exemptions to corporations could actually produce a surplus.
This includes sales tax breaks on hiring lobbyists, installing required pollution control equipment and purchasing shares in corporate jets.
Audience participants raised additional concerns about Pentagon spending, a Republican bill requiring voters to have state issued IDs and the role of ALEC, the American Legislative Exchange Council, a right-wing group including Walmart, Koch Industries and, formerly, John Kasich that coordinates corporate, anti-working class legislation.
Copies of filmmaker Michael Moore's popular speech, "America is NOT broke," were distributed at the event, sponsored by Good Jobs and Strong Communities, a coalition including the AFL-CIO, the NAACP, MoveOn, Jobs With Justice and other groups.
Updated 4/6/11: The list of coalition sponsors of the event has been corrected. An earlier version of this article incorrectly listed the Catholic Commission as a sponsor.
Photo: Ed Fitzgerald speaks during a March 31 town hall meeting in Cleveland, Ohio. By Mike Piepsny.