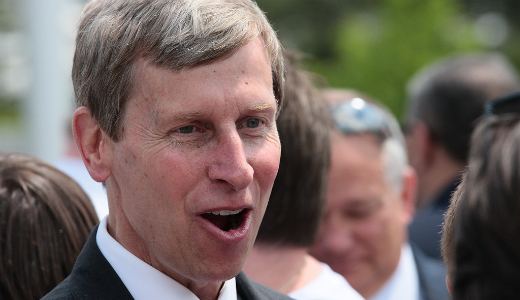 New Hampshire might be the most conservative state in New England, but John Lynch, the Democratic governor, isn't following the tea-party crowd. He vetoed June 27 a bill that would require all residents to present photo identification before voting.
"There is no voter fraud problem in New Hampshire," Lynch said upon vetoing the bill. "We already have strong elections laws that are effective in regulating our elections."
Stricter voting laws have been pushed in New Hampshire and in states across the country by the Republican Party and its tea-party allies. They argue that civic groups like ACORN have manipulated the voting process. Opponents point out that no significant cases of voter fraud have actually been uncovered.
Further, opponents argue, the new rules would make it harder – impossible for some people – to vote. The laws have been shown to disproportionately affect poor and minority communities, and have been considered by some to be akin to a new form of the poll tax. New Hampshire is about 94 percent white, and many against the rules change argue that it is aimed especially at keeping students, a demographic that tends to vote less Republican, away from the polls.
According to the New Hampshire bill, SB 129, voters would have to present a valid photo identification issued by federal or state government agencies. If they failed to do so, they would be made to cast a provisional ballot, which would be rejected unless the hopeful voter returns within 2.5 days with an acceptable identification.
Lynch took issue with problems this could cause people. "Seniors, students, those who are disabled or do not drive, and those who do not already have a state-issued or federal-issued photo ID," he said, "may not be able to arrange to obtain a valid photo ID within the tight 2 and a half day timeframe."
New Hampshire's limited government structure adds to the woes. "Many town offices are closed or have only limited hours on Wednesday, Thursday and Friday, when those voters who received a provisional ballot would be expected to return to produce a photo ID and have their vote counted," Lynch continued.
In some areas of the state, Department of Motor Vehicles offices were consolidated, meaning that a number of small towns no longer have ready access to the DMV, which provides the most-used photo ID, the drivers license. For people who don't have a license to begin with, getting to the DMV so quickly presents a problem.
Lynch echoed arguments made by others, including the League of Women Voters, the New Hampshire City and Town Clerks Association and the American Association of Retired Persons.
Some pointed to what they see as a discriminatory measure inherent in the bill, by which federal or state workers have an easier time voting than city or town workers. A state- or federal identification card, given to employees of the national or state government, can be used. Even an out-of-state identification issued by a state government can be used in this "two-tier" system. Municipal workers have a tougher time: The law does not allow for city and town identifications to be taken as proof of identity.
The right-wing state legislature has overridden several other Lynch vetoes recently, including on a bill that would restrict the right of young women to an abortion and, yesterday, on a law tying the state's minimum wage to the federal. Another measure, targeted against labor, called the "Right to Work" law, was passed by both houses and vetoed by Lynch as well. However the anti-union law and the voter ID law vetoes seem less likely to be overridden by the legislators.
The voter ID rule passed with the necessary two-thirds majority, 259-116, in the state's House, but not in the 24-member State Senate. Republican Speaker of the House William O'Brien will not seek to override the "Right to Work" veto until fall. The state's AFL-CIO, as well as its national parent, applauded the governor's decision, and has vowed to keep the legislature from undoing it.
For his part, Lynch isn't worried about voter fraud. "Voter turnout in New Hampshire is among the highest in the nation, election after election," he said. "There is no voter fraud problem in New Hampshire."
In other states, where Republicans dominate both the legislature and the governor's mansion, as in Wisconsin and Ohio, the fight waged by opponents of voter ID, "right to work" rules and other such measures will be far harder.
Photo: Gov. Lynch. Ryan Szepan // CC 2.0