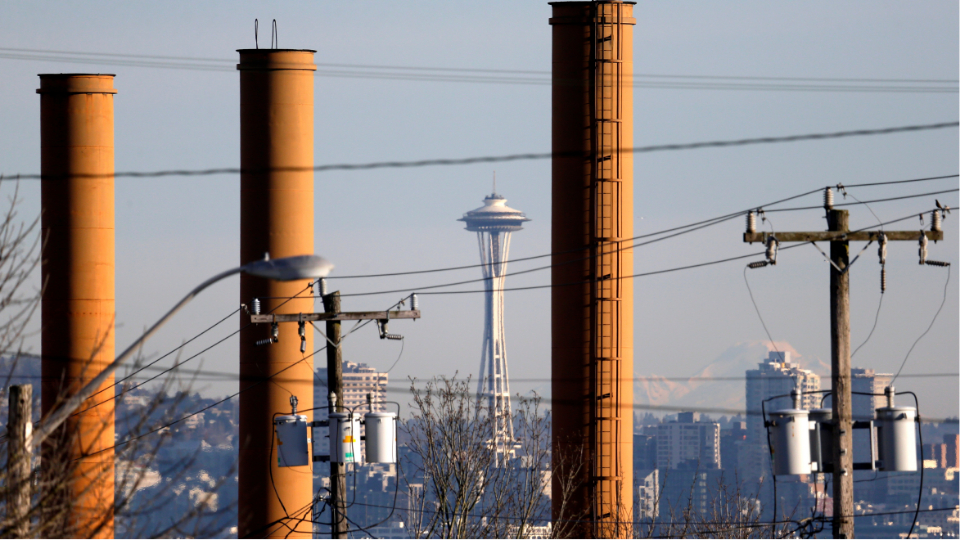 Despite fierce efforts by fossil fuel corporations and Congressional Republicans to block President Joe Biden's environmental agenda, climate policies embedded in the Infrastructure Investment and Jobs Act, executive orders, and action by the Environmental Protection Agency are advancing progress toward achieving net-zero carbon emissions.
In addition, Biden froze tariffs on imported solar panels and, at the urging of climate activists, is invoking the Defense Production Act (DPA) to ramp up production of solar technology, heat pumps, insulation, green hydrogen, and grid components like transformers critical to green energy. The move signals the administration views the climate crisis as a national security threat.
But at the state level, especially where Democratic governors and legislative majorities prevail in alliance with growing climate justice movements, progress is also being made to achieve carbon neutrality. The state victories remind us that elections and mass movements have consequences heading to November when sweeping out GOP climate deniers is critical.
Nick Abraham, League for Conservation Voters state communications director, summed up state environmental victories this year. They include:
Maryland adopted a net-zero emissions goal by 2045 and a 60% carbon reduction by 2031.
Connecticut is now the 14th state to commit to net-zero emissions by 2040, in addition to Washington D.C. and Puerto Rico. The plan is among the most ambitious in the country, achieving an all-electric school bus fleet by 2035 and adopting California's clean truck rule.
Colorado passed legislation to impose fees on the oil and gas industry to cover clean-up costs of sites and plugging oil wells.
New Mexico's Environmental Improvement Board passed rules to prevent methane leaks and the "land of enchantment" joined 16 other states to adopt clean auto standards.
Washington State passed the most advanced "green transportation bill" in state history that invests record amounts into public transit, electric vehicle infrastructure, and alternative transportation.
New York state adopted funding to make it the first state to achieve an all-electric fleet of school buses by 2035. Legislators introduced a bill to place "far-reaching requirements on plastic manufacturers, mandating that they pay for waste management and dramatically increase recycling rates."
In states controlled by GOP governors, grassroots action blocked attempts by fossil fuel interests to advance their agendas. In Virginia, environmental activists stopped Andrew Wheeler, Trump's EPA head and a former coal industry lobbyist, from becoming the Director of Natural Resources. Floridians successfully lobbied Gov. Ron DeSantis to veto a bill engineered by utility companies to restrict solar panels on residential homes.
And in states hamstrung by GOP-dominated legislatures, Democratic governors are taking executive action and laying out plans for carbon neutrality, including in Wisconsin, where Gov. Tony Evers released a plan for the Badger state to be carbon neutral by 2050, Michigan, and North Carolina.
Michigan Gov. Whitmer released a plan to abandon coal and reach carbon neutrality by 2050, put 2 million electric vehicles on the road by 2030 and protect 30% of the state's land and water by 2030. And despite a GOP-dominated state legislature, a new $4.8 billion budget was adopted that cleans up waterways, funds state parks, and replaces residential lead service lines.
Mass pressure is also needed to defend environmental gains in states dominated by Democratic officeholders. Last year Illinois passed one of the most far-reaching energy transition pieces of legislation, the Climate and Equitable Jobs Act. The ink was barely dry before energy companies tried to neuter the law with legislation that passed the state senate. A coalition led by the Illinois Environmental Council successfully mobilized to kill the legislation in the House.
Meanwhile, the transition to renewable energy continues despite the global surge in demand for coal and oil. In Texas, zero-carbon energy sources, like nuclear, wind, and solar, almost equal energy production by gas and coal. Texas is experiencing a brutal heat wave, and the state's electric grid is only meeting demand because of the massive wind energy production. Wind turbines supply over 40% of peak demand.
Texas is the leading wind energy state in the nation, despite having some of the worst environmental protection laws and being the most prominent promoter of fossil fuels. Texas produces more wind energy than the following three states combined – Kansas, Oklahoma, and Iowa.
In April, wind power reached a national milestone when it became the second leading energy producer behind natural gas. While the U.S. gets less than 10% of its total energy from wind, deploying 100 offshore wind projects directed by the Biden administration will boost production.
Energy costs from renewables have been stable and declining compared to sharply rising costs from fossil fuels. Renewables will produce approximately 24% of U.S. energy by 2023 compared to today's global average of 29%.
The U.N. Intergovernmental Panel on Climate Change reported that the costs of producing energy by solar and wind are competitive with energy produced by fossil fuels. The report says, "Prices for renewable energy technologies are dropping rapidly. The cost of electricity from solar power fell by 85 percent between 2010 and 2020. Costs of onshore and offshore wind energy fell by 56 percent and 48 percent respectively."
The GOP has so far blocked the transformative Build Back Better act, while the energy and resource crisis brought on by the Russian invasion of Ukraine has created global energy volatility. Biden blasted oil companies for taking advantage of the situation by refusing to ramp up production, a move criticized by environmental groups, and instead raking in record profits by massively inflating prices. High energy prices may, ironically, speed the transition to cheaper renewables.
The global energy transition to renewables is likely not swift enough to avoid surpassing the critical threshold of a 1.5 C degree temperature increase over pre-industrial levels, which many scientists predict could happen in the next five years. Such an increase would cause "irreversible damage to Earth's ecosystems and devastating impacts on human, animal and plant life."
Despite fierce resistance and a challenging domestic and international geopolitical environment, advances toward sustainability continue. To ensure these advances are broadened and accelerated requires ousting every Republican climate denier possible in November 2022 and 2024 and electing representatives guided by science and the urgency of environmental justice.