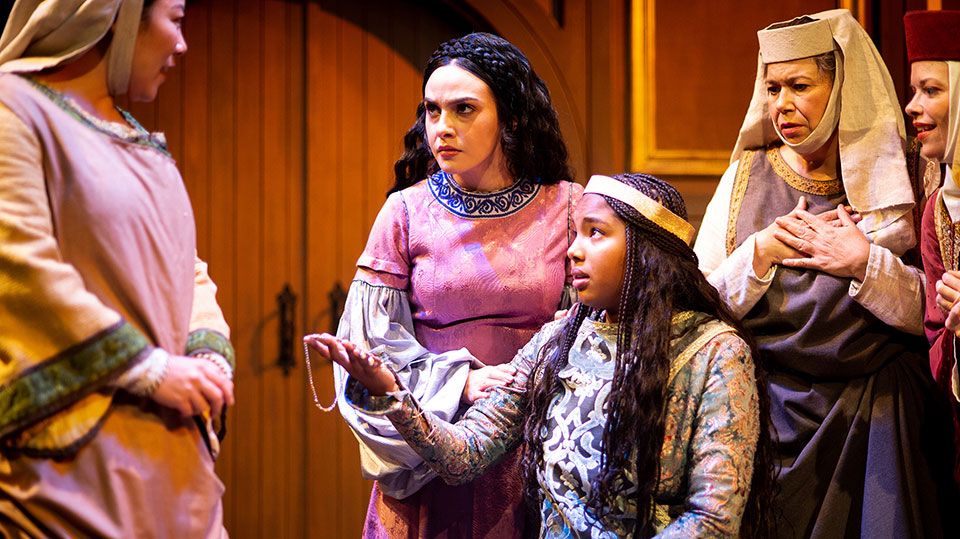 LOS ANGELES — The Echo Theater Company's world premiere production of Chiara Atik's Poor Clare has just opened, delayed 19 months after the originally scheduled March 2020 premiere. We didn't know what we were missing, but it was well worth the wait!
How a 20th-century Dorothy Day-like Catholic Worker movement set in 13th-century Italy at the time of St. Francis of Assisi could become a laugh-riot 21st-century sitcom may boggle the imagination, but that is what we've got. Echo associate artistic director Alana Dietze helms this affecting and powerful, extremely funny contemporary spin on this medieval story. The sharp, snappy, arch dialogue comes right out of today's television world with the self-satisfied girl talk of entitled "Karens" wallowing in bourgeois privilege.
Until a radical youth like Francis comes along, tired of his soldier's life, who renounces all his worldly possessions, goes about shoeless and kissing lepers to show he has totally absorbed the teachings of Jesus in today's cruel, corrupt world in which so many levels of the Church itself are complicit with obscene wealth accumulation. How many people considering themselves good Christians would make the same decisions the early disciples made to leave family and the safety of home to go out and preach the gospel of humility and service? The conclusions about lifting up the poor and redistributing the Earth's bounty for the good of all God's creatures could come straight out of the Occupy movement of ten years ago. Indeed, the Poor People's Campaign today echoes many of these same themes.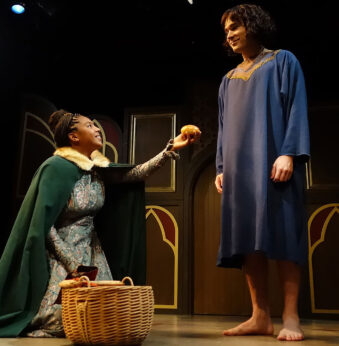 The example of Francis's holy poverty obliged the 18-year-old Clare to reevaluate the meaning of her own life as her servants fuss over her coiffure in the leadup to being married off to a wealthy older suitor. Occasional acts of easy charity, like giving the family's table scraps to beggars, or discarding their worn clothes on the poor huddling under bridges, no longer seem like an adequate response to the clear need. Parallels with homelessness and despair in the U.S. today, not to mention in many other parts of the world, are inescapable, proving once again that humor can often be the delivery system of deeply penetrating social criticism.
Given the familiarity of St. Francis throughout the world, less so St. Clare who founded an order of women later named after her and popularly known as the "Poor Clares," the play could be translated and staged to universal success, and I hope that happens. Translators would have fun rendering this snarky language into their own. One of the most challenging demands for people of faith—and of socially conscious people not necessarily "of faith"—is determining how much possessions, comfort, self-indulgence, actually take away from what the numberless poor have access to. Sometimes it all seems like trickle-down.
Clare (Jordan Hull, best known for her role in The L Word: Generation Q on Showtime), her sister Beatrice (Donna Zadeh), and their mother Ortolana (Ann Noble) could just as easily be transported to Beverly Hills or New York's Park Ave. or any luxury enclave on the planet where the 1% hold forth and the rest of us are expected to service their every caprice. Their world is consumed by gossip, clothes, fashion, preserving their status and territorial rule, and adding to their material assets, with a little obligatory "giving back" as if they even deserved what they had been born into, to begin with.
St. Francis (well, of course, he wasn't a saint yet, just a passionate young man with a social conscience) is played to a T by Michael Sturgis, steadfast in his admirably naïve convictions, but also aware of his more privileged past and the lure of slippage back into old ways of thinking. He's like so many young people we met and spoke with—and maybe they were us—at the Occupy sites around the nation.
Theater is about transformation—how characters change under pressure, circumstance and influence. Once Clare's eyes have been opened, beginning in the year 1211, she can never look away again, nor ever look back. She lived until 1253, having cared for Francis at the end of his life, and having founded an order which still exists to this day including more than 20,000 sisters in as many as 70 countries.
The playwright brings out a critical point when Clare declares she is going to occupy the abandoned Church of San Damiano and try to attract other women to it for their work of charity. Francis feels anxious, not over the competition, but from the awesomeness of now having a disciple of his own whom he must continue to mentor. What if "doing his own thing" had been just a temporary fancy he might tire of it and decide to move on to other pursuits? The fact that he had followers now would force him to maintain the path he had laid out. "Having any amount of wealth means someone else doesn't," he asserts in a kind of proto-Proudhon or even Marxian statement of the theory of value. "If you're rich, then you're tacitly OK with inequality."
Another interesting thought worth pondering is introduced when the mother, Ortolana, reflects on the abject misery she witnessed on her first trip to the Holy Land, the starving, milling children begging for their very existence. Feeling incapable of making any difference at all, she returns to Italy, starts a family, and then pours all her desire to make a better world into her children, who naturally will grow up to be part of the ruling strata that keep millions of other kids in…abject misery. Such is the lack of a collective approach to problem-solving, now needed on a global scale more than ever, all helpful suggestions welcome.
According to playwright Chiara Atik, "I found I was having a lot of conversations with my friends in which we would despair about everything from income inequality to homelessness to the refugee crisis and famine in Yemen. We would get ourselves all worked up over dinner, and then I'd go back to my apartment and turn on Netflix and resume my normal life. This reminded me of the story of St. Clare who became radicalized as a teenager, at 18. She didn't just feel bad about the state of the world, she had the conviction—and strength—to actually sacrifice for what she believed in."
"How do we give our lives meaning in the face of the insurmountable problems we see around us every day?" asks director Alana Dietze, seemingly echoing the playwright. "I love the way Chiara has drawn a line directly from Clare in 1211 to now, without saying it outright. She's managed to make this person, who did something most of us would consider completely unrealistic, relatable. The system that created wealth inequality then hasn't really changed. Listening to the characters, it feels like it could be me or any of my friends talking—which is really fun when it's juxtaposed with period costumes and design."
The mashup of today's language with 13th-century Assisi is a stunning choice, as well as the source of our clarity in recognizing truths that, actually, a certain number of people in virtually every time and place always seem to see, whether they pose them as questions of faith or social justice. Not to get too political here—Heaven and the saints forfend!!—but just consider this: the Communist Party of China was founded 100 years ago, and look what it has achieved since they won the civil war in 1949 and established a socialist state. This year they declared—and believably, I think—that extreme poverty has been abolished throughout the country, a truly remarkable achievement in a nation of 1.5 billion and without the help of either St. Francis or St. Clare. Religious charity and faith are not the only locus of morality and social conscience.
One need not even look to China, but even within the Western sphere, to the social democratic countries of Northern Europe, where the wrenching social disruptions of homelessness, poverty, illiteracy, hunger, barely exist. And where, tellingly enough, the Church is an almost insignificant factor in people's lives when their needs are largely met by the "religion" of a well-functioning democracy.
It cannot be ignored that the current Pope chose the name Francis for the first time in the history of the Papacy, a sign of the new sense of commitment by the Roman Catholic Church to the demands of the modern world even as it (disappointingly for some) holds to many of the dogmas of the past. Rome wasn't built in a day, and neither will it be rebuilt in a day. But it won't be by charity alone, and rather by the normalization of progressive social policy, that palpable change will occur. The egalitarian impulses of the 13th century were not achievable then. Are they today?
Other actors in the play include the live-in help (Kari Lee Cartwright and Martica De Cardenas), the beggar Tony DeCarlo and a super Trinity Catlin.
The creative team includes scenic designer Amanda Knehans; lighting designer Azra King-Abadi; sound designer Jeff Gardner; costume designer Dianne K. Graebner; wig and hair designer Klint Flowers; and graphic designer Christopher Komuro. The production stage manager is Christopher Jerabek.
Performances run through Nov. 29, Fri., Sat. and Mon. at 8 p.m., and Sun. at 4 p.m. at the Echo Theater Company, Atwater Village Theatre, 3269 Casitas Ave., Los Angeles 90039. For tickets call (310) 307-3753 or go to the Echo website. The Facebook page is here.
Parking is free in the Atwater Crossing lot one block south of the theater. Proof of vaccination or a negative PCR test taken within 72 hours will be required of all patrons. Admittance is limited to ages 12+. All current CDC and local guidelines regarding seating and masks will be followed at each performance.