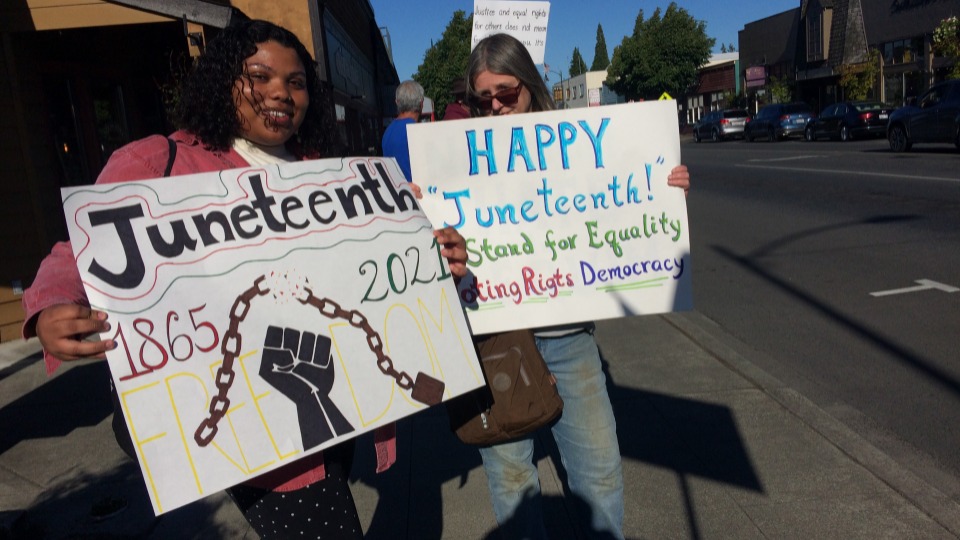 SEQUIM, Wash.—A big multiracial crowd—African American, Latino, Native American, Asian American, and white—gathered at the main intersection in Sequim Saturday, June 19, to celebrate "Juneteenth," also known as "Jubilee Day." It was a completely peaceful, non-violent event greeted by hundreds of motorists honking their car horns, waving, and giving thumbs up salutes. A couple of gas-guzzling pickups with American flags stopped at the traffic light. The grim-faced drivers revved their engines. The crowd answered with a chant: "Black Lives Matter! Black Lives Matter!"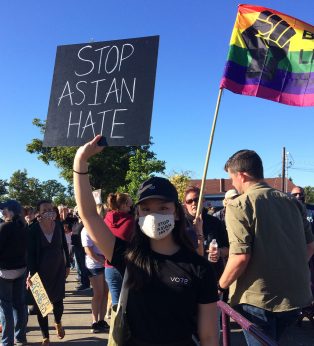 Congress approved and President Joe Biden signed into law last week the creation of "Juneteenth" as a national holiday. It celebrates the June day in 1865 that the Emancipation Proclamation was finally recognized in Texas—two and a half years after President Lincoln signed the document, Jan. 1, 1863.
Noteworthy was the number of progressive candidates present, including Rachel Andersen, a member of the Sequim City Council, who is running for re-election in the November 2 election. Other candidates for the Sequim City Council also attended: Vicki Lowe, a descendant of the Jamestown S'Klallam Tribe on one side of her family, and pioneer settlers on the other side. Lowe is the Executive Director of the American Indian Health Commission for Washington State. She was recently named by Gov. Jay Inslee to the State Women's Commission.
The other candidate is Lowell Rathbun, another progressive Democrat running to reverse the QAnon domination of the Sequim City government. Also present were Sequim School Board member Jim Stoffer, and Bruce Cowan, leader of the 24th Legislative District Democrats, who drove over from his home in Port Townsend.
There was a racist incident in Sequim a few days earlier with an Arab-American family being terrorized at Blondie's Plate, a local restaurant. The family was threatened with a knife and ordered to get out of the country. Police arrived, but none of the racists were arrested. The incident has stirred anger and alarm, a call for a boycott of Blondie's, and increased patronage of the Arab family-operated House of Kabob.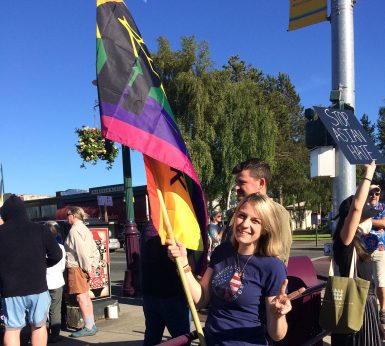 Outrage at the racist harassment helped swell the size of the Juneteenth vigil here. There was concern that the right wing might provoke violence. Organizers contacted the Sequim Police. Chief Sheri Crain and another officer arrived, and Crain spoke at length with vigil organizer Courtney Thomas. As expected, the police presence discouraged the racist provocateurs, who stayed in their pickups.
SPARE (Sequim People Against Racism, Etc.), a group led by Thomas, initiated the Sequim vigil. Courtney Thomas organized a similar Black Lives Matter vigil in Sequim on June 3 of last year to protest the murders of George Floyd and Breonna Taylor by white police officers in Minneapolis and Louisville. Nearly 500 people, mostly youth, joined that protest. Thomas faced down a self-appointed gang of heavily armed vigilantes hunting for "Antifa" that day.
Thomas was back again Saturday holding a rainbow flag with a black fist superimposed on it. She told me that she testified in the Washington State Legislature's ZOOM hearing on a bill to prohibit anyone from carrying a firearm within 150 feet of a permitted demonstration. Thomas had her two young children with her as she testified.
"I told them that 150 feet was not enough, that a gunman could shoot one of my children from that distance," she told the World. "So the lawmakers changed it to 250 feet."
Correction: An earlier version of this article misspelled Chief Sheri Crain's name. Our apologies for the error.