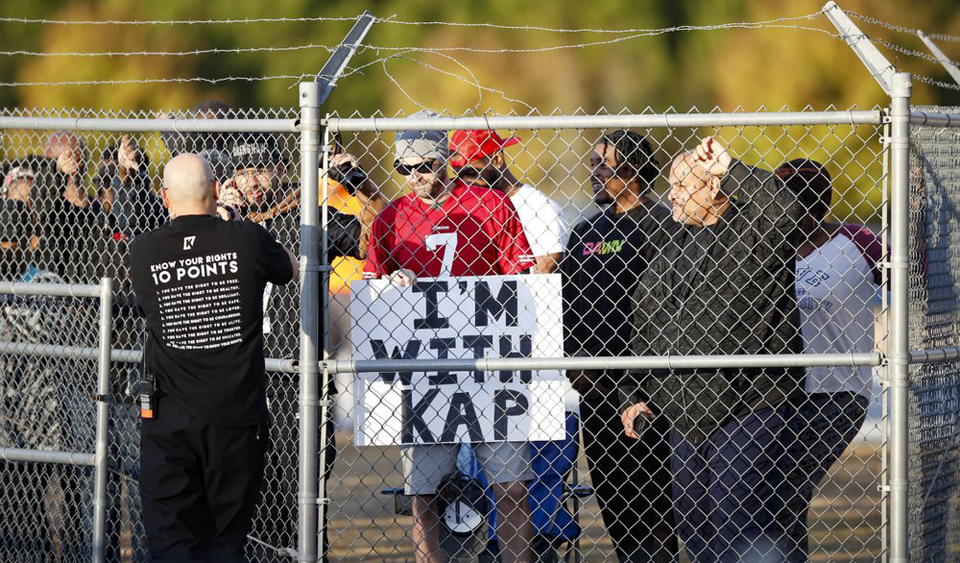 It will come as no surprise to find out blacklisted, ex-NFL quarterback Colin Kapernick's scheduled NFL tryout in Atlanta, Saturday, Nov. 16—audition—was nothing more than a PR stunt by the league.
To start, it's quite strange the league would organize a private workout, while mediocre quarterbacks have taken the field, earned a paycheck, and fumbled games. Adding to this strange scene, too, is a simple fact: teams are free to evaluate, tryout, and sign any player free agent, at any time.
Kaepernick has been exiled since leaving the San Francisco 49ers, becoming a free agent, months after he began taking a knee during the national anthem before games in 2016; protesting racism and police brutality against African Americans.
Back in February, the NFL settled Kapernick's and former teammate, now Carolina Panther Eric Reid's collusion grievance.
By all accounts, Kaepernick's phone should have started ringing. He was a Pro-Bowl-caliber player, led the 49ers to championship games in 2012-2013, was 4-2 in the playoffs, and came within five yards of winning Super Bowl 47.
"He's been out of the game a little bit, but when he was doing well and playing he definitely was a weapon," Bears coach Matt Nagy said
But the offers never came… that is until Tuesday, Nov. 12. The league extended an offer to try out in front of all 32 teams, and gave him two hours to decide if he would "take it or leave it."—denying his subsequent request to hold the work out on a different day, allowing general managers and head coaches a chance to attend (they'd be scouting college football on a Saturday).
"It's disingenuous," said Eric Reid to reporters. "They want the appearance of giving Colin a chance, but they give him two hours' notice and tell (him) it has to be on a Saturday when they know decision-makers are traveling. So is this real? We'll see."
Kaepernick accepted, saying: I've been in shape and ready for this for 3 years, can't wait to see the head coaches and GMs on Saturday."
The (un)foreseen complications began right away. The NFL denied Kaepernick's request to allow media into the private event, demanded he sign an "unusual" tryout waiver.
ProFootballTalk's Mike Florio, also a sports attorney said: "The three-page, 13-paragraph documents contains several specific provisions that could be relevant to the question of whether the NFL was trying to parlay the waiver into a release of any claims for collusion/retaliation that Kaepernick could make as a result of his ongoing unemployment by the league since settling his first collusion case in February…
"If I were representing Kaepernick, and if the goal were to have a genuine workout aimed at enhancing his chances of being signed by an NFL team, I would have asked immediately for the document to be revised to specifically clarify that any potential employment rights would be preserved. If the league had refused, I wouldn't have signed it"
Kaepernick moved his workout at the Falcons' practice facility at 3:00 pm to Charles Drew High School, outside Atlanta, at 4:00 pm.
For about 40 minutes, Kaepernick threw passes, signed autographs, talked to fans, and maintained he was still ready to play in the NFL.
Only eight of the original 25 team representatives followed along to the new location, including Philadelphia Eagles vice president of football operations Andrew Berry. It appeared the New York Jets, Kansas City and Washington also had scouts in attendance.
"We're ready to go anywhere," said Kaepernick. "Ready to talk to any team, interview with any team at any time. I've been ready, I'm staying ready, I will continue to be ready."
Jeff Nalley, Kaepernick's agent, isn't hopeful this tryout will lead to a team signing Kaepernick. From the get-go, Nalley said he feared there was an "ulterior motive" behind the NFL's offer.
"If teams want to see him, they will ask to work him out," he said. "No team asked for this workout."
In a statement, the NFL said it was "disappointed that Colin did not appear for his workout" and stated that "he (Kaepernick) remains an unrestricted free agent eligible to sign with any club."
Regardless of the NFL's "feelings," Kapernick held his workout, while, at the other end of the highschool's football field, fans cheered and chanted their support. One fan held up a sign: "I'm with Kap."
Final thought: Doesn't it make you wonder if all 32 NFL teams decided to organize a private tryout for Kapernick, how easy would it be for them to collude in blacklisting him from ever taking the field again?