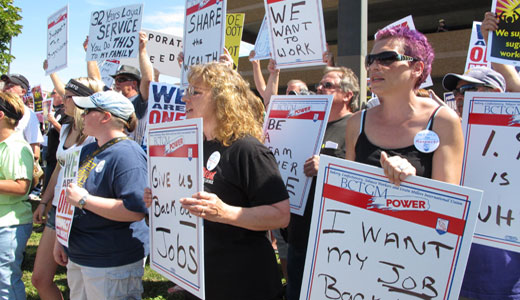 Republicans increasingly claim that when President Obama sides with workers in a labor dispute he is, in effect, waging "class warfare."
Workers and their allies counter that employers have been engaging in class warfare for quite some time now and that recently they have added lockouts to the long list of weapons they have used to wage that warfare.
Workers at the American Crystal Sugar Company believe that 1,300 of them are currently locked out in the upper Midwest because the company has made a strategic decision to climb aboard a nationwide anti-union bandwagon.
Employees were locked out in three states last Aug. 1 after the workers, members of the Bakery, Confectionery, Tobacco Workers and Grain Millers, Local 167G, rejected the company's final offer by a nine-to-one margin.
American Crystal hired more than 900 replacement workers at its seven plants in Minnesota, North Dakota and Iowa. A 30 year worker at American Crystal's Moorhead, Minn. plant, Tony St. Michel, said that what has happened at his and at all the other American Crystal plants provides ample proof that companies are using lockouts in a new and cynical way.
St. Michel said that for the last 30 years contracts have been almost routinely renewed and that there were no strikes at all. He insisted that the sugar beet growers have made lots of money and that profit rates were up at the time workers were locked out. "The only reason they're doing this is they figure they can join in the gang up on unions," he said.
St. Michel claims that the company didn't just decide to lock out its workers after they rejected a contract offer. "They planned this from the very beginning," he said, by starting with the placement of ads in August 2010. "They sent managers into the plants to learn what workers do on a daily basis," he said, charging that six months before the lockout workers were " already being shadowed by managers compiling data on everything we do."
The union filed charges with the National Labor Relations Board, accusing the company of refusal to negotiate seriously.
Recent statements by company officials tend to lend credence to the charges by union workers.
Just weeks before last Thanksgiving, American Crystal CEO David Berg told shareholders in North Dakota about a friend of his who had a massive cancerous tumor removed. "He was sick for a long time," said Berg. "We can't let a labor contract make us sick forever and ever and ever. We have to treat the disease and that's what we are doing here."
Berg later repeated his cancer analogy, saying, "At some point that tumor's got to come out. That's what we're doing."
"The fact that Dave Berg would refer to our union, our contract, as a cancerous tumor is deeply offensive to me and many of my co-workers. Some of us have had cancer or have lost loved ones to cancer. It's a tragic, devastating disease," said Sarah Gust, a 40-year employee at American Crystal.
"We've seen Dave Berg's true colors. He is determined to treat contract negotiations as a disease, a tumor to be removed," said John Riskey, president of the union local.
American Crystal is far from alone on the list of companies using the lockout tactic.
From the New York City Opera in Manhattan to last year's 130-day lockout of players by the National Football league, companies are putting the squeeze on workers by locking them out if they don't agree to concessions or, as in the case of American Crystal, laying plans for a lockout well before negotiations even begin.
Workers and their unions see lockouts as one more weapon in a long list of weapons used by corporations in their "class war" against workers.
On top of the frozen wages, layoffs, and forced strikes workers have always had to contend with, they say, lockouts have been added to the list of their problems.
Workers generally strike only when employers leave them no other choice. No one wants to give up paychecks, which is what happens, of course, during a strike. With lockouts, however, companies are in total control – they don't require any votes by workers, for example, as would be the case for a strike. And lockouts happen purely at the discretion of the company, with workers having no say whatsoever.
The number of strikes, in fact, have declined by more than 80 percent over the last 20 years but lockouts by companies, are at record levels. According to BNA, a labor news service, at least 17 corporations locked out their workers last year, telling them to stay home unless they were willing to accept new contracts with cuts in pay and benefits.
Companies use lockouts too because they believe the chances of success in meeting company goals are greater than with other methods. Last summer Armstrong World Industries locked out hundreds of workers at a tile plant in Marietta, Pa. after they rejected proposed cuts in pension and health benefits.
After a five-month lockout workers ended up going back to work with a contract that was not too much better than the one they turned down in the first place.
Lockouts have a devastating effect not just on the workers locked out but on many more workers in the communities in which the locked out employees live.
Estimates are that the local economy in Minnesota's Red River Valley has had direct losses of more than $30.5 million. The losses are documented in a December 2011 report titled "A Region on the Ropes," commissioned by the Bakery Workers union.
"This lockout has divided families, friends, neighbors," said North Dakota state Rep. Elliot Glassheim. "And it's part of a national movement to bust unions. There is no other explanation."
Union members are particularly angry and frustrated because the lockout came as the company was recording excellent profits.
"Their financials looked very good right up until the lockout," said Renae Frederickson, a locked out worker. "Dave Berg told the shareholders that our contract was like a tumor and that his strategy is to cut that tumor out, and that strategy is coming at a high cost to all of us."
Photo: Union workers locked out in a contract dispute protest outside American Sugar Crystal headquarters Aug. 11, 2011, in Moorhead, Minn. Dave Kolpack/AP