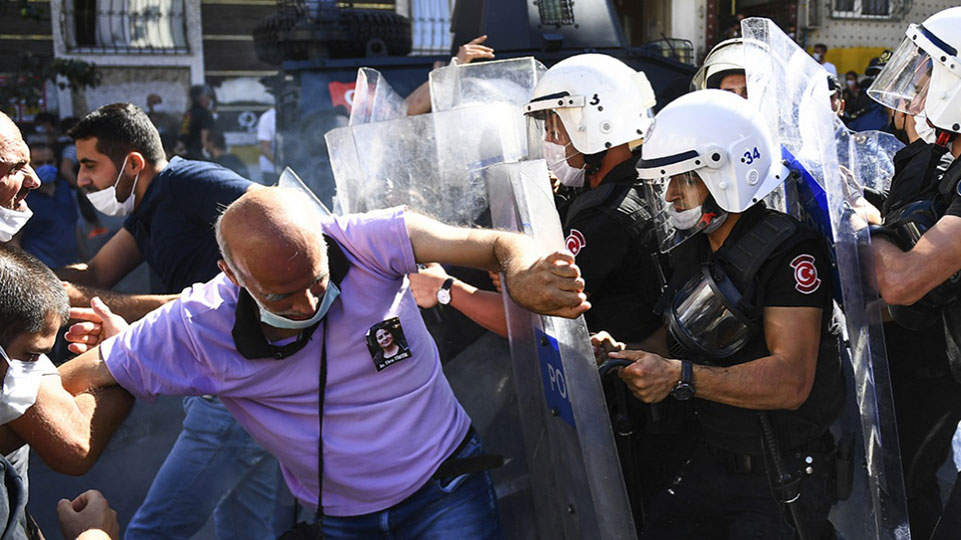 Activists have called for an organized defense of women's rights in Turkey, where at least 15 women have been murdered in the last 10 days. Thirteen were killed by men and two died in suspicious circumstances.
President Recep Tayyip Erdogan's government is trying to take Turkey out of the Istanbul Convention, which obliges signatories to tackle gender-based crime, provide protection and services for women, and ensure that perpetrators are prosecuted. In March 2012, Turkey became the first country to ratify the convention. But the government now claims that it is incompatible with "family values," bowing to conservative and Islamist pressure.
Opposition politicians and women's organizations have warned that the ruling Justice and Development Party (AKP) is using rape and femicide as a weapon. Turkey has been rocked by a number of high-profile femicides such as the murder of Kurdish student Pinar Gultekin, which triggered mass protests across major cities in July.
The recent suicide of Kurdish teenager Ipek Er, who was allegedly repeatedly raped by Turkish soldier Musa Orhan, has increased scrutiny of the state's protection of alleged attackers after the sergeant was released from custody after less than a week.
Interior Minister Suleyman Soylu led the charge to defend Orhan, accusing women of protesting over the issue to divert attention away from problems within the Peoples' Democratic Party and Kurdistan Workers' Party. Today, Baris Altay, a Workers' Party of Turkey MP, was assaulted after Soylu inferred that the parliamentarian was a rapist. Altay had been calling on Soylu to have Orhan rearrested.
Emine Aksahin, chairwoman of the Egitim-Sen teaching union's Diyarbakir branch, warned that violence against women was being perpetrated by those in uniform. "Murders are being made a part of our lives. We women do not accept this," she said. Aksahin said that women from all walks of life were uniting across Turkey in resisting femicide.
Free Women's Movement activist Beritan Oner said that women were being murdered as a direct result of the government's attacks on the Istanbul Convention. "These men say, 'whatever I do, I will not be punished.' In other words, they say, 'men murder, the state protects'," she said.
Women's organizations and individuals have been targeted by security services with at least 54 detained in raids last month. Democratic Regions Party co-chair Sebahat Tuncel, who is currently in jail, called for unity today against assaults on women. "We know that women's struggle for equality and freedom is a difficult and long-lasting one, and the way for this struggle to succeed is by organized women's power," she said.
The Istanbul Convention and other legal protections were gained through women's fight against the "male-dominated capitalist system," Tuncel insisted, as she urged people to strengthen women's networks across the world.