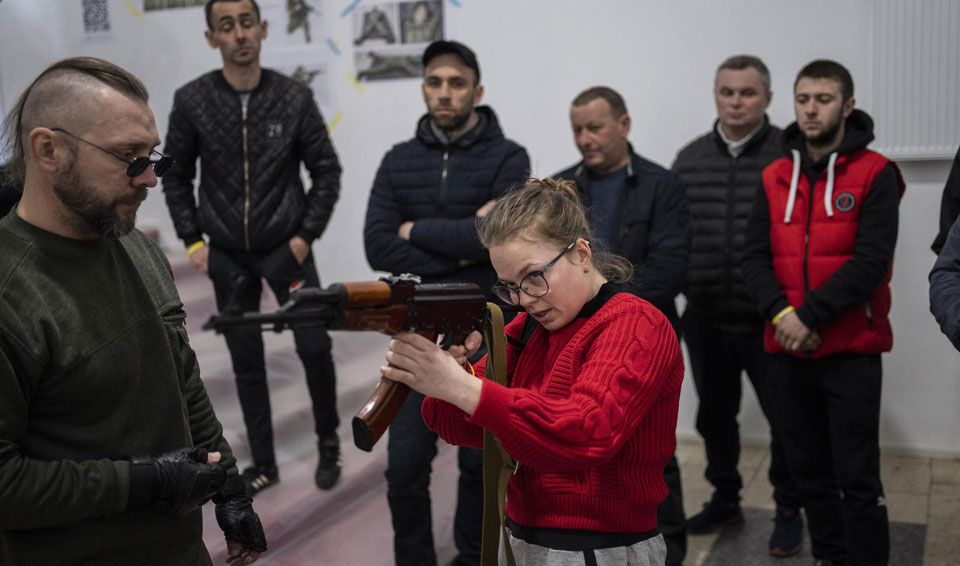 LONDON – Peace campaigners here hit out today at NATO plans to supply "new and heavier" weapons to Ukraine as they planned more protests and other events across Britain.
The Stop the War Coalition will hold 13 more peace events tomorrow, which it has dubbed Peace for Ukraine Day.
This follows the NATO military alliance's announcement that it will step up deliveries of military equipment to Ukraine to oppose the Russian invasion.
In London, Stop the War activities will take place in Ealing, Hackney, Highbury, Lewisham, Newham, and Tower Hamlets. Outside the capital, there will be peace events in Brighton, Lowestoft, Manchester, Newcastle upon Tyne, and Plymouth, plus a Women in Black peace vigil in Oxford.
With no end to the conflict in Ukraine in sight, an international online rally is planned for 5 p.m. today to call for a ceasefire and a negotiated settlement.
Speakers will include Code Pink co-founder Medea Benjamin, author and activist Noam Chomsky, Tricontinental Institute director Vijay Prashad, former Greek finance minister Yanis Varoufakis and writer and peace activist Tariq Ali.
Further events are planned nationwide over the coming weeks.
Emerging from a meeting of NATO foreign ministers Friday, Foreign Secretary Liz Truss said that it had been agreed to upgrade Ukraine's "Soviet-era equipment to NATO standard equipment on a bilateral basis."
NATO secretary-general Jens Stoltenberg confirmed the stepping-up of arms shipments to Ukraine but would not identify the kind of weaponry to be sent or which countries would supply it.
He said: "The important thing is that NATO allies are providing significant military support to Ukraine."
But peace campaigners warned that the decision could trigger a dangerous escalation of the conflict.
Campaign for Nuclear Disarmament (CND) general secretary Kate Hudson, said: "NATO's decision to intensify the scale and type of its weapons deliveries to Ukraine is another step closer to World War III.
"Even the warnings of senior military figures are being ignored. Will the deliveries include so-called 'battlefield' nukes?"
"If they keep on escalating, at some point nukes will be the next rung on their ladder to annihilation. We have to stop this."
CND has also launched a campaign to stop banking giants Nat West Group and RBS from investing in companies that build weapons of mass destruction.
Chris Nineham of the Stop the War Coalition told the Morning Star: "As the reports mount of the horrors of war in Ukraine, [U.S. President Joe Biden] and [Prime Minister Boris Johnson] have the same irrational response – talk up war and pump more weapons and munitions into Ukraine and the wider region.
"All this can do is deepen and prolong hostilities and suffering. Responsible leaders would be doing precisely the opposite, urging restraint and searching for a path to peace."
Communist Party of Britain general secretary Rob Griffiths said: "After three decades of militarizing eastern Europe and parts of the former Soviet Union, it's about time NATO began to act as a force for peace."
Instead, Griffiths said, NATO "pours yet more petrol on the flames when the peoples of Ukraine and Russia need a ceasefire and a just and stable settlement of this conflict."
Labour leader Keir Starmer is supporting the government's stance on providing more arms to Ukraine.
In a visit to Estonia this week, Keir made it clear that "support for NATO was non-negotiable" for his party.
Ukrainian generals have reportedly visited Britain to see which armaments could be offered, including armored vehicles to offer troops protection from Russian attack.
The Czech Republic has reportedly sent Soviet-era tanks and personnel carriers to Ukraine and The Times suggested that Britain is also drawing up plans to supply armored vehicles.
The UK is already supplying equipment such as anti-tank and anti-air missiles to Ukraine's armed forces.