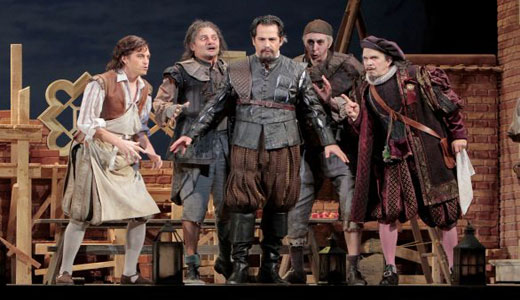 LOS ANGELES – What better way to celebrate Italian composer Giuseppe Verdi's bicentennial than with a production of Falstaff? This opera, which adapts William Shakespeare's Henry IV, Parts I and II, and the Bard's The Merry Wives of Windsor, is nothing short of a sheer delight. The title character Falstaff (baritone Roberto Frontali in makeup and a fat suit it takes 55 minutes to get into) is about insatiable appetites, in and out of bed. The whimsical story presents the somewhat stereoptypical but witty war between the sexes, pitting the frail male ego against feminine wiles and, well, you surely can guess how that one ends up, right?
Arrigo Boito's libretto is set in England around 400 years ago (although the singing is all in Italian) and also deals with aging, as the eponymous character, an impoverished nobleman who has lost his fortune (probably squandered on quenching his endless thirst and on wenching), approaches rotundity and old age. Sir John Falstaff is no longer the man he used to be — yet continues to aspire to be.
With his eternal eye for the ladies, our polyamorous anti-hero pursues not one, but two women. However, both Alice Ford (soprano Carmen Giannattasio) and Meg Page (mezzo Erica Brookhyser) are not only much younger — and thinner — than Falstaff, but both happen to be wed to wealthy Windsor gentlemen. But they merrily lead the wannabe seducer on in order to teach the epicurean rascal a lesson or two. In this merry madcap three-act opera, hilarity ensues, with a grand finale redolent of Shakespeare's Midsummer Night's Dream supernatural romp.
The lighthearted farce has a subplot wherein the youthful Nannetta (soprano Ekaterina Sadovnikova) is betrothed by her father Ford (baritone Marco Caria), against her will, to marry the much older Dr. Caius (tenor Joel Sorensen at the premiere), even though Nannetta fancies the younger, handsome Fenton (tenor Juan Francisco Gatelli). What's a lass to do?
Mezzo-soprano Ronnita Nicole Miller portrays Mistress Quickly. The down-on-his-heels Falstaff at one point tips her with a turkey drumstick — which in those days was a rarity, as those birds had just been encountered by Europeans in the New World. The drumstick bone is preserved, because at one point later in the opera Mistress Quickly reappears onstage holding it, in order to suggest the passage of time (that is, she has eaten her gratuity from Falstaff).
Adrian Linsford's costumes and sets delight the eye, including the half-timbered Tudor-style Garter Inn, where Falstaff and his scoundrel sidekicks Bardolph (tenor Rodell Rosel) and Pistol (Valentin Anikin) are shacking up. The grand finale takes place on an outdoor set with a grandiose tree called Herne's Oak in Windsor Park. The proceedings are well-directed by Englishman Lee Blakeley, with choreography by Nicola Bowie. James Conlon wields the magic wand for Falstaff — which was the very first opera he had ever seen, as well as the first opera he was hired to conduct.
The Shakespeare-tinged libretto's lines range from the droll to the whimsical to the poetic to the ironic. At a certain point one character advocates putting "a tax on fat people." At the end Falstaff sings: "All the world's a jest, man is born a joker, and he who laughs last laughs best."
Nannetta's aria may have the most sublime lines: "From our enchanted hands may words blossom… words illuminated by pure silver and gold… Magic incantations and charms. The Faeries have, for alphabet letters, flowers."
Verdi was 79 when Falstaff premiered 120 years ago in Milan, and this was the maestro's final opera, after a long and fruitful career writing almost exclusively tragic works concerning nationalism, patriotic duty, religious conviction and hypocrisy, filial piety, and of course, love. Falstaff represents him at his most blissfully eternal. Happy 200th birthday, Giuseppe!
Falstaff is being performed Nov. 21 at 7:30 pm, and on Nov. 24 and Dec. 1 at 2:00 pm by LA Opera at the Dorothy Chandler Pavilion, 135 N. Grand Ave. For more info: (213)972-8001; www.laopera.com.
The new book co-authored by L.A.-based reviewer Ed Rampell, "The Hawaii Movie and Television Book", published by Honolulu's Mutual Publishing, drops Nov. 25. See: http://hawaiimtvbook.weebly.com/