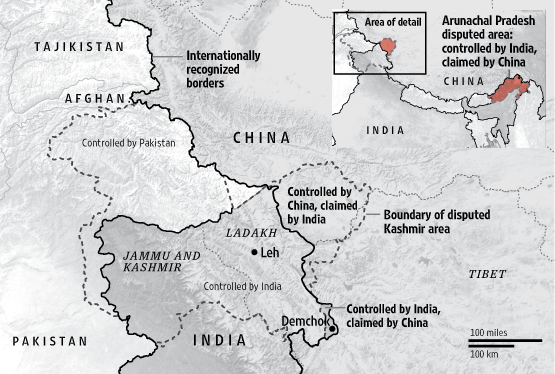 A section of media in India and abroad have hyped the border dispute between India and China these days.
The Wall Street Journal reported Oct. 23 a "brewing discord between two giant, ambitious nations" and that some "two-dozen Chinese soldiers converged earlier this year on a family of [Indian] nomads." The article continued to suggest high tensions between China and India, and the United States is being wooed by the two Asian superpowers.
In the Times of India, the dispute was portrayed as a "mini-war of words" and it harkened back to the 1962 border war. There is a longstanding border dispute in the area but how the governments are looking to resolve it is worth study.
Prime ministers of the two countries are meeting in Thailand for the South East Asian Countries confab. Both leaders have stressed the cordiality of relations and sincere desire to settle the boundary issue peacefully and in a spirit of friendship.
The border issue has been ill-defined and a problem between the two countries for many years. In certain regions of the Himalayan heights the news of the border "violations" and "trespass" are meaningless.
China is blamed for constructing a dam in the upper reaches of the river Brahmaputra that flows most of its later course in India. India's Prime Minister Manmohan Singh has clarified several times that no dam is or is likely to be constructed on Brahmaputra.
Communist Party of India's weekly newspaper said in two separate articles that the border "dispute" is being blown up as "imperialist inspired media efforts." In another article, arm sales have been characterized as the motive behind the campaign.
The Indian government has said India and China are not rivals, but both are friendly developing countries, whose trade relations have shown constant and phenomenal growth over years.
India's Minister of State for External Affairs Parneet Kaur, on an official visit to New York, said, "India is not intimidated by China and the border dispute between the two countries could be settled by talks." Noting that the media was overplaying the recent tension between the two neighbors, she added, "There has been a lot of media hype created over what the Chinese are doing." She denied that "Indian leaders were appeasing China," and added, "we have a good enough relationship to be able to sort this out across the table."