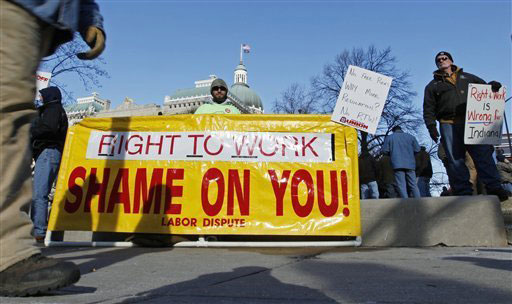 An Indiana circuit court judge has tossed out the state's new controversial "right to work" law, agreeing with the Operating Engineers that the statute violates the state's constitution.
The Sept. 10 announcement by national Operating Engineers President James Callahan, in the middle of the AFL-CIO Convention in Los Angeles, brought a rousing cheer from the delegates and guests there.
Indiana's law is one of a host of anti-worker radical right initiatives business and its GOP handmaidens pushed through various states after the Republican 2010 electoral sweep. Michigan's GOP legislature and governor enacted an RTW law in a lame-duck session late last year. Missouri's GOP lawmakers are pushing it, too.
The catch in Indiana, explained Operating Engineers Local 150 spokesman Ed Maher, is a state constitutional provision that says "particular services shall not be taken without just compensation."
Right-to-work (for less) laws make paying union dues optional for workers whom unions represent – but the unions must still represent them in grievances, bargaining, legislation, and more. RTW laws produce millions of "free riders" and rob unions of money for representation. That's why they're a favorite business cause.
Lake County (Gary) Superior Court Judge John Sedia ruled Indiana's RTW law creates "a criminal offense for a union to receive just compensation for particular services federal law demands it provide to employees." He said "the court therefore has no choice but to find" RTW "violates Article 1, Section 21 of the Indiana Constitution."
"This is a victory for the middle class," said Local 150 president-business manager James Sweeney in a statement. "These laws are nothing but thinly-veiled tools to weaken unions, and this is a big win for workers who rely on unions to provide decent wages and benefits. We pledged on the day that this law was passed that they hadn't seen the last of us, and we are delighted with this ruling."
Maher said the Indiana constitution's provision is unique, and enforcing right-to-work produced a head-on collision between the state law and the state's basic charter, though federal labor law lets states enact RTW statutes. The constitution won.
The union challenged five statutes overall, but lost on the other four. "But we were delighted" by Sedia's ruling, Maher said. "It's like buying five lottery tickets, and winning one." Sedia's ruling now goes to the Indiana Supreme Court for review.
Darron Cummings/AP